This page may contain affiliate links, through which the owner of this site could earn a commission. You can find out more here.
After being served an amazing breakfast in the riad, we decided to spend a bit of time exploring the city more. Our first stop was Rabat beach, where a number of locals were exercising, running, or playing football. We then wandered up to the Kasbah des Ouyanadas, A UNESCO World Heritage site dating back to the 12th Century. A helpful local, under the premise of a small payment of course, showed us around the Kasbah and explained about the inhabitants and history of the site. Our final stop was the huge balcony overlooking the beaches giving a sense of scale the Rabat and the neighbouring Salé. After clearing our room and packing up the car, we made our way back onto the A1 motorway down to Marrakech.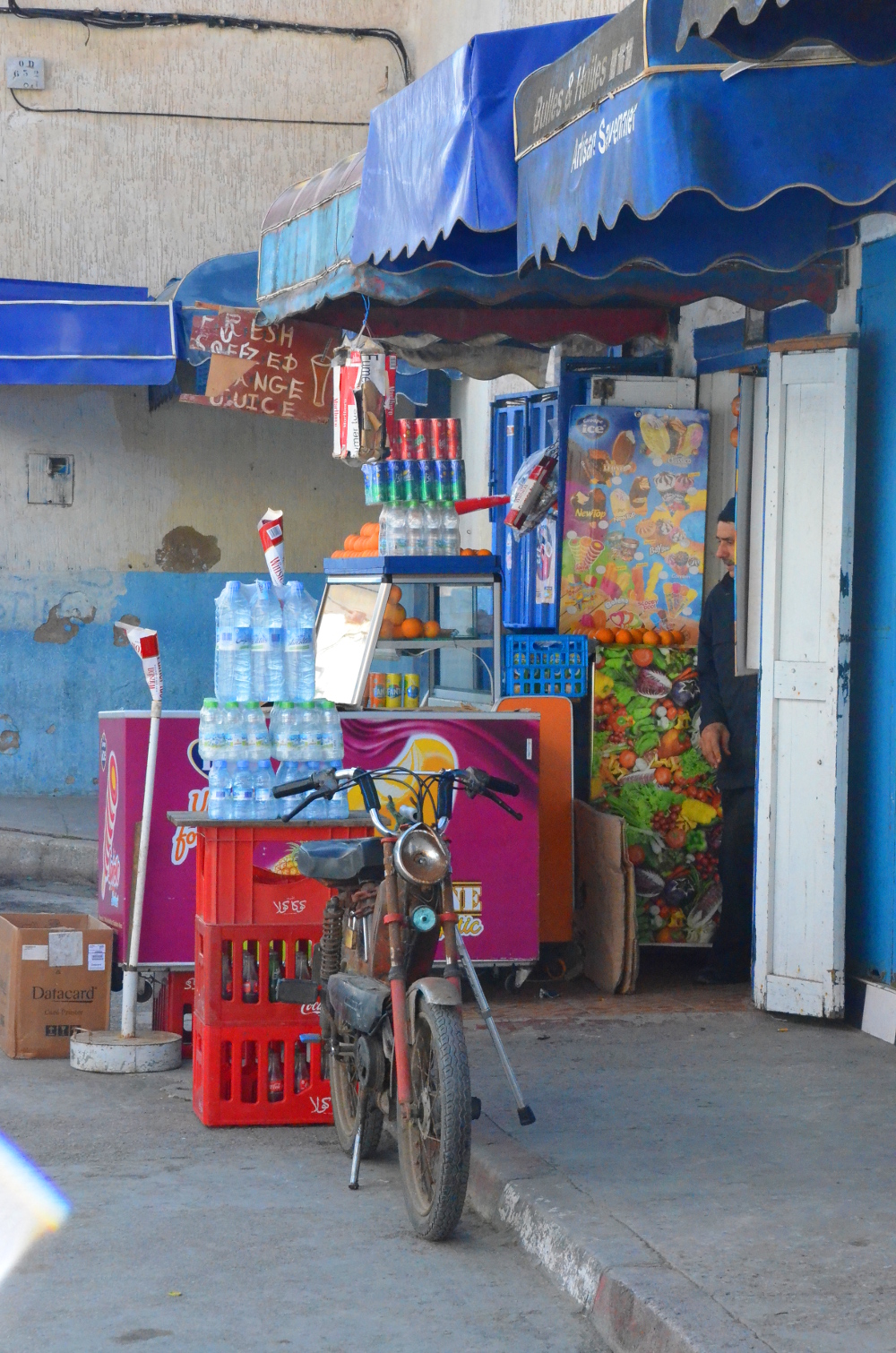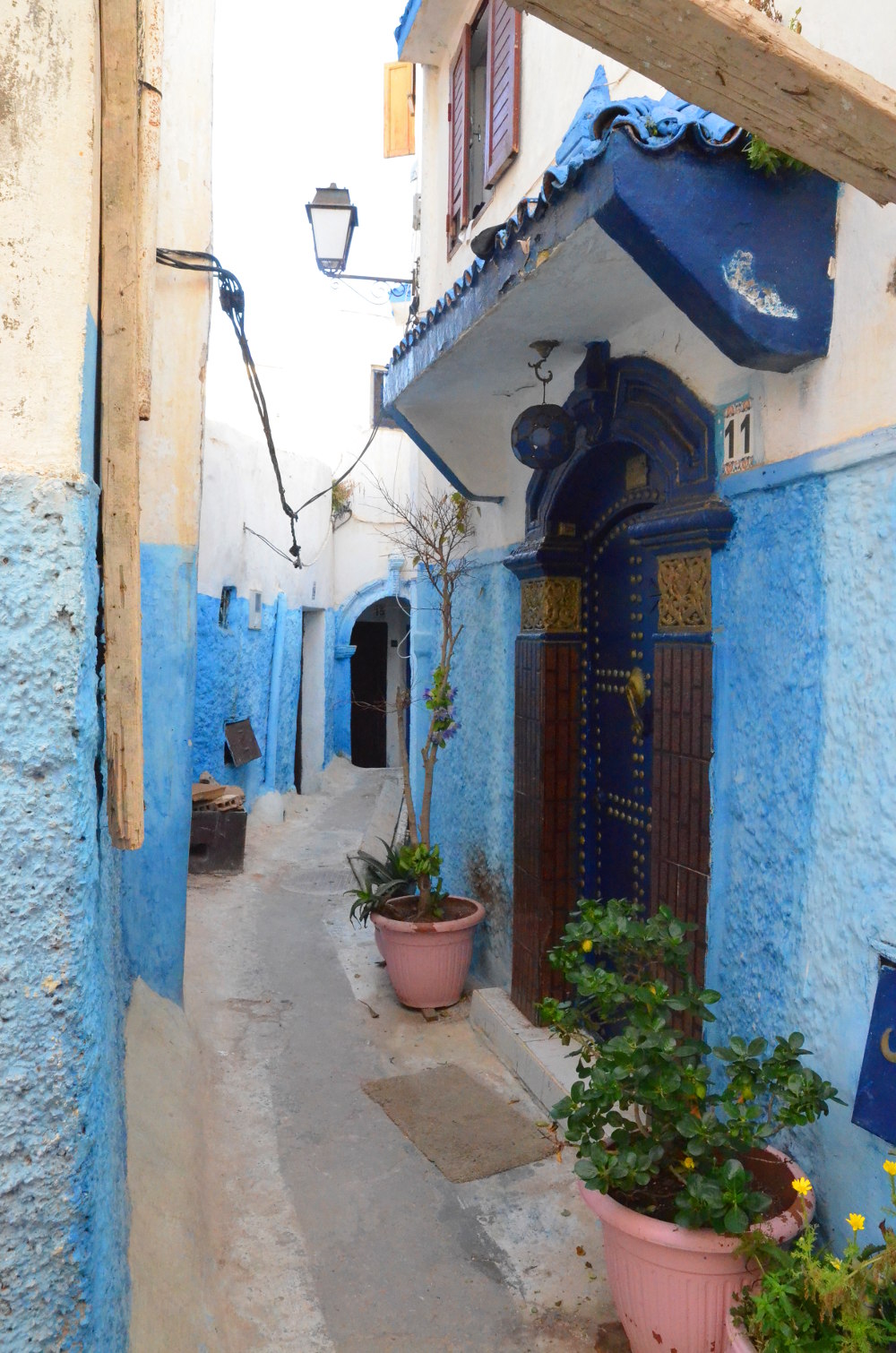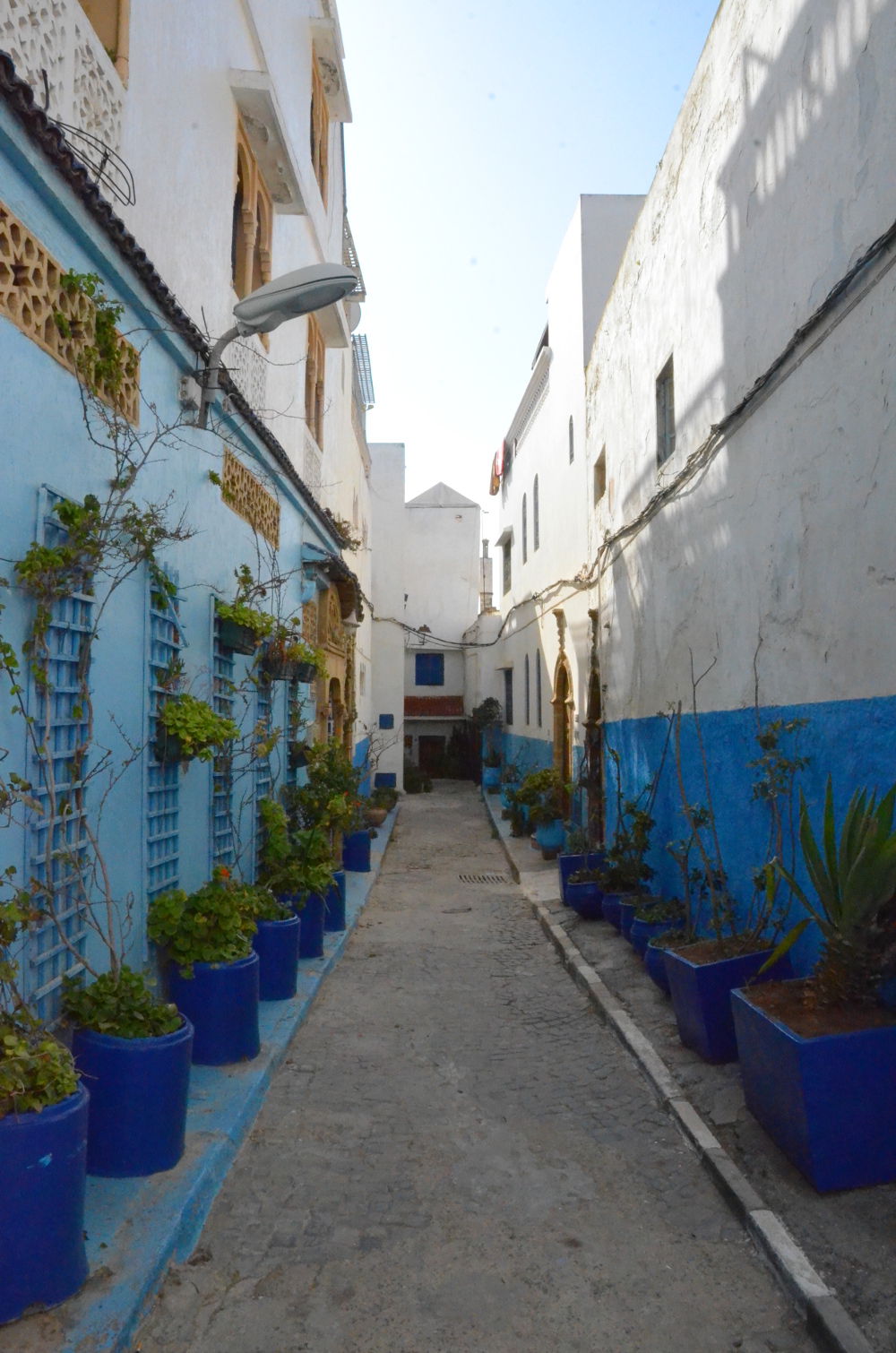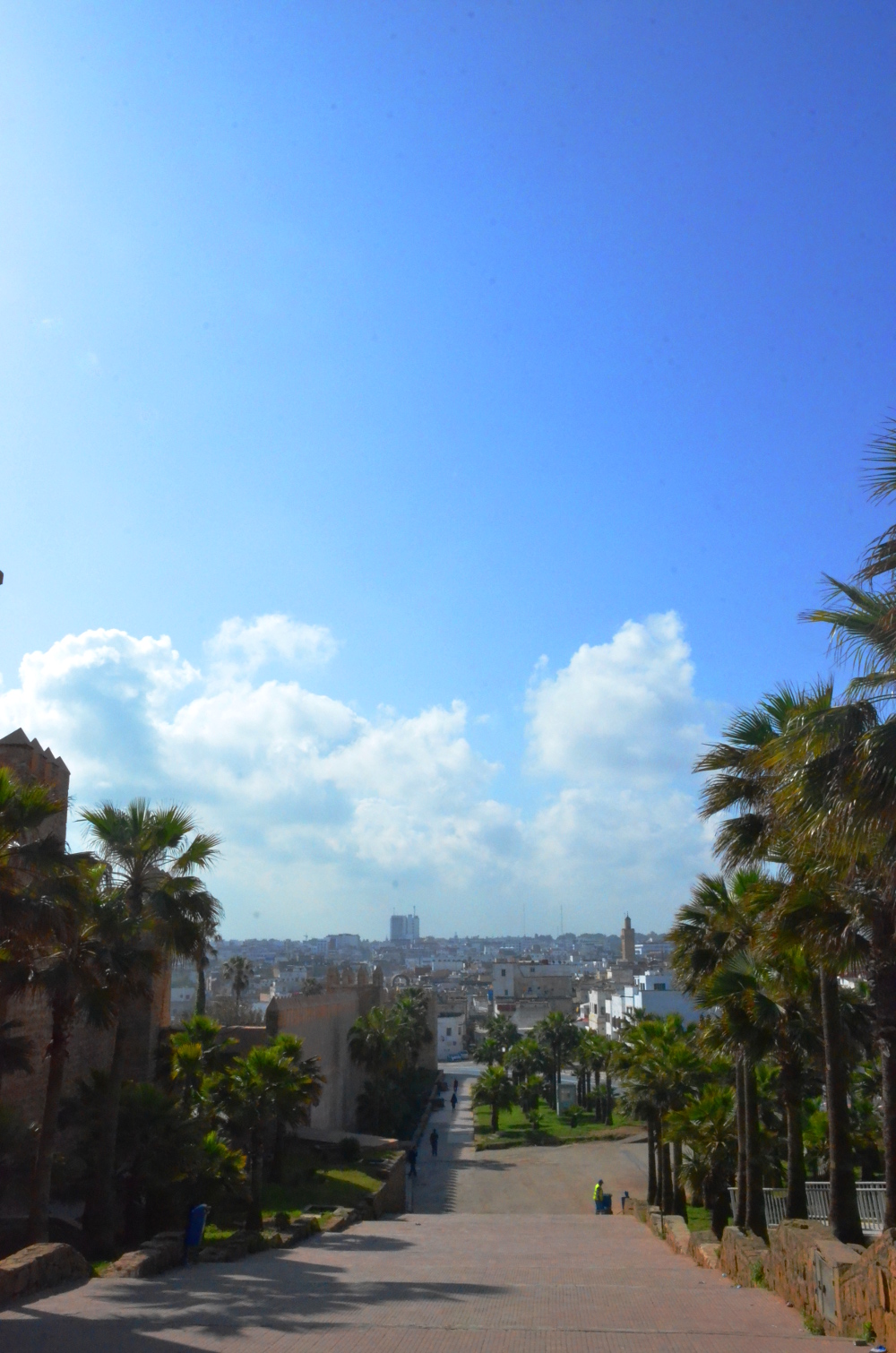 If you take one piece of advice from this blog, let it be this; if you are driving to Marrakech, meticulously figure out exactly where you are going to park and how to get there. Please.
As we neared Marrakech, our riad owner advised us on a place to meet him so that we could be taken to the pre-arranged parking space. However, after driving through the central market of Marrakech *twice*, with ever-busier and ever-smaller streets, people, donkeys, and motorbikes jumping out at us around every corner, all general road rules ignored, and torrential rain, I can confirm that the the area is not easy to navigate. However after abandoning the car and leaving it with my Dad and brother and wandering the many winding streets of Marrakech, I finally located our contact, we parked the car, and headed through the pouring rain to our second riad of the stay.
Hotel & Spa Riad Dar El Aila, again down a tiny hidden street and through a hobbit-sized door, opened up into a wonderfully spacious and traditionally Moroccan space. The hosts were incredibly welcoming again and showed us to our room on the roof terrace, where we spent an hour relaxing after the craziness of the drive to Marrakech.
Hotel & Spa Riad Dar El Aila
Sidi Ahmed Soussi, 160 Derb El Ferane Medina, Marrakesh 40000
Our rating: ★★★☆☆
Find out more. 
After collecting some recommendations, we decided to throw ourselves into the centre of Marrakech, and if we thought that the madness of Rabat had prepared us, we were wrong! The winding markets seem designed to confuse, maps didn't seem to correlate with reality, and signs didn't always direct you to the right place. But you just have to accept that this is the way you will discover the city if you don't use a guide. After wandering/being lost around the many winding market streets, we finally found ourselves at the famous Djeema El Fna; the main market square.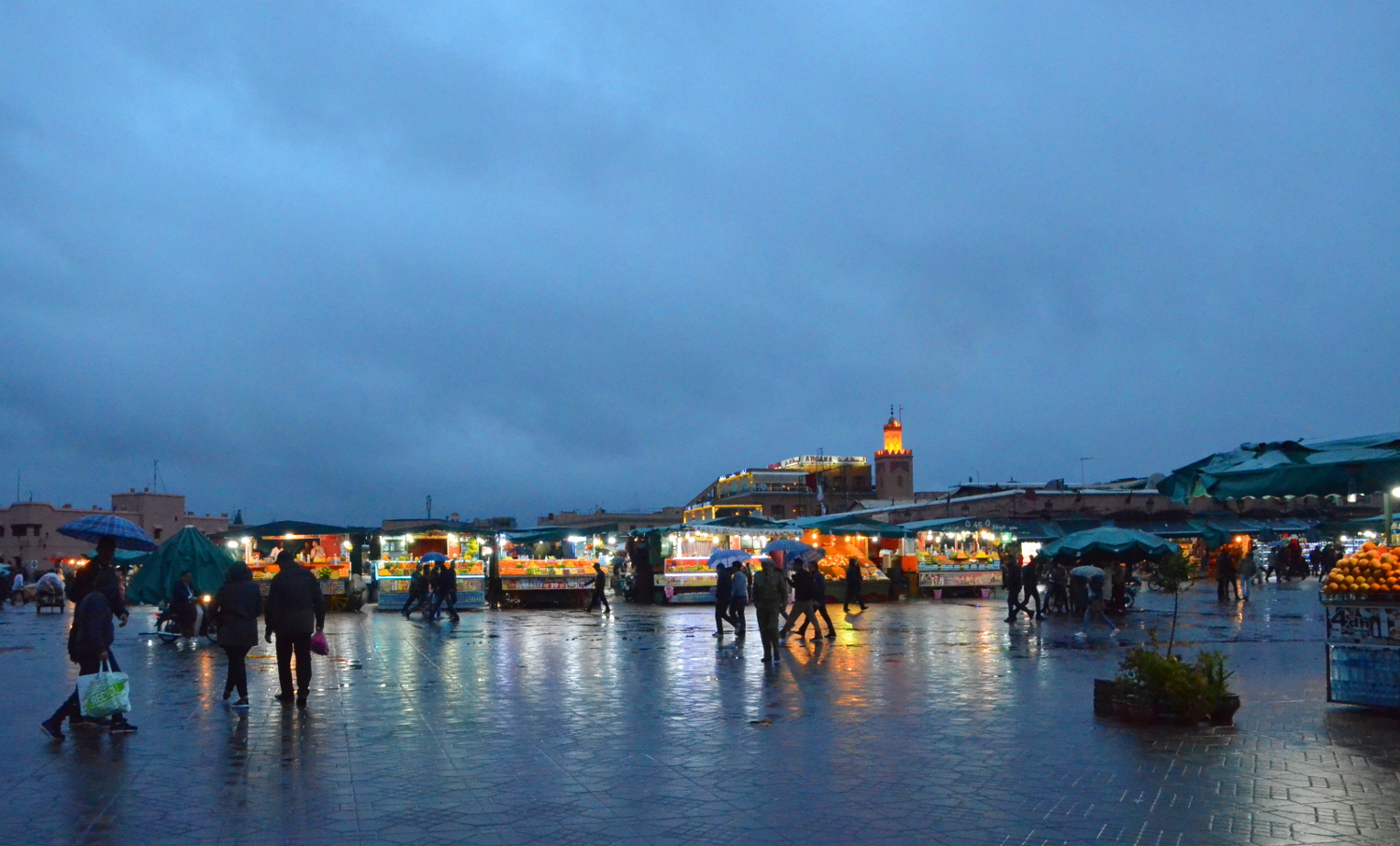 As the main tourist attraction in Marrakech I would recommend heading to the square, however it is very touristy and there are some things that would make me avoid it if I returned, namely the monkeys on chains and snake charmers. I don't think that animal cruelty should be a tourist attraction and there are plenty more authentic experiences that you can find in the city and in the rest of Morocco. However, the main markets of Djeema El Fna are traditionally vibrant and exciting, with merchants selling fantastic produce, food and drink.
We ate at Le Marrakchi, just off the main square and, despite being incredibly busy and the service being relatively slow, we had a fantastic night of wonderful food, beer, wine, traditional Moroccan live music and belly-dancing. However, after the meal finished we headed outside, and even being Mancunians couldn't prepare us for the torrential rain we faced. We somehow managed to navigate the tiny market streets under several inches of water, and found our way back to the riad to dry off and rest for the drive to Ouarzazate the next day.
Le Marrakchi
Le Marrakchi, 52 Rue des Banques, Marrakech 40000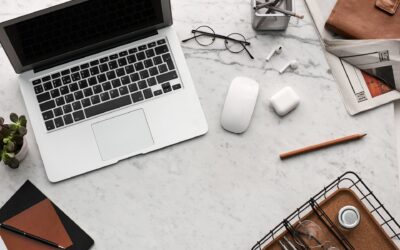 WordPress is the perfect place to build your travel blog, and I wanted to share some of my favourite plugins to supercharge your site.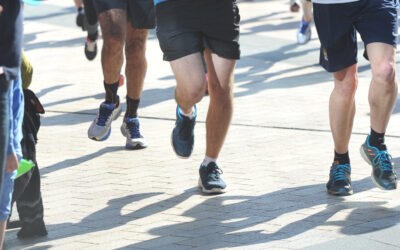 A daily blog of my challenge of running 100km in the month of June.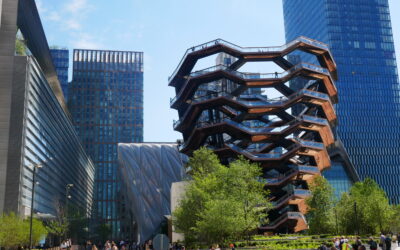 Hudson Yards, New York's newest neighbourhood, is a $25billion urban regeneration project.