Benagil Caves is fastly becoming one of the most popular tourist attractions of Portugal's famous Algarve region. Located between the popular Lagos and Albufeira, Benagil Caves are one of the most famous cave structures along the impressive limestone caves and grottos that dominate Portugal's southern coastline.
Bengil Caves
Parking
Benagil Beach
How to get there
The small village of Benagil is fairly accessible, and around a 45-minute drive from both Albufeira and Lagos. If driving along the A22, take exit 6 or 7 and head for the M1154 towards Benagil. When heading along Estr. de Benagil, there is a huge car park on the left-hand side to park for free. However, due to the popularity of the beach and the caves, the car park fills up quickly. We arrived at around 9:30 and by the time we left a couple of hours later the car park was completely full. After parking up, just head down the hill to the beach. 
How to get inside the caves
With tours taking place from most towns and cities from across The Algarve, it can be a minefield to find which is the best. If you're staying in any of the big cities along the coast you're likely to be able to find a boat-ride that will take you to the Benagil Caves, with the added bonus of enjoying the dramatic coastline. However, unless you take a swim from the boat, you will only be able to view the caves from the mouth, as all boats are forbidden to pull up on the beach.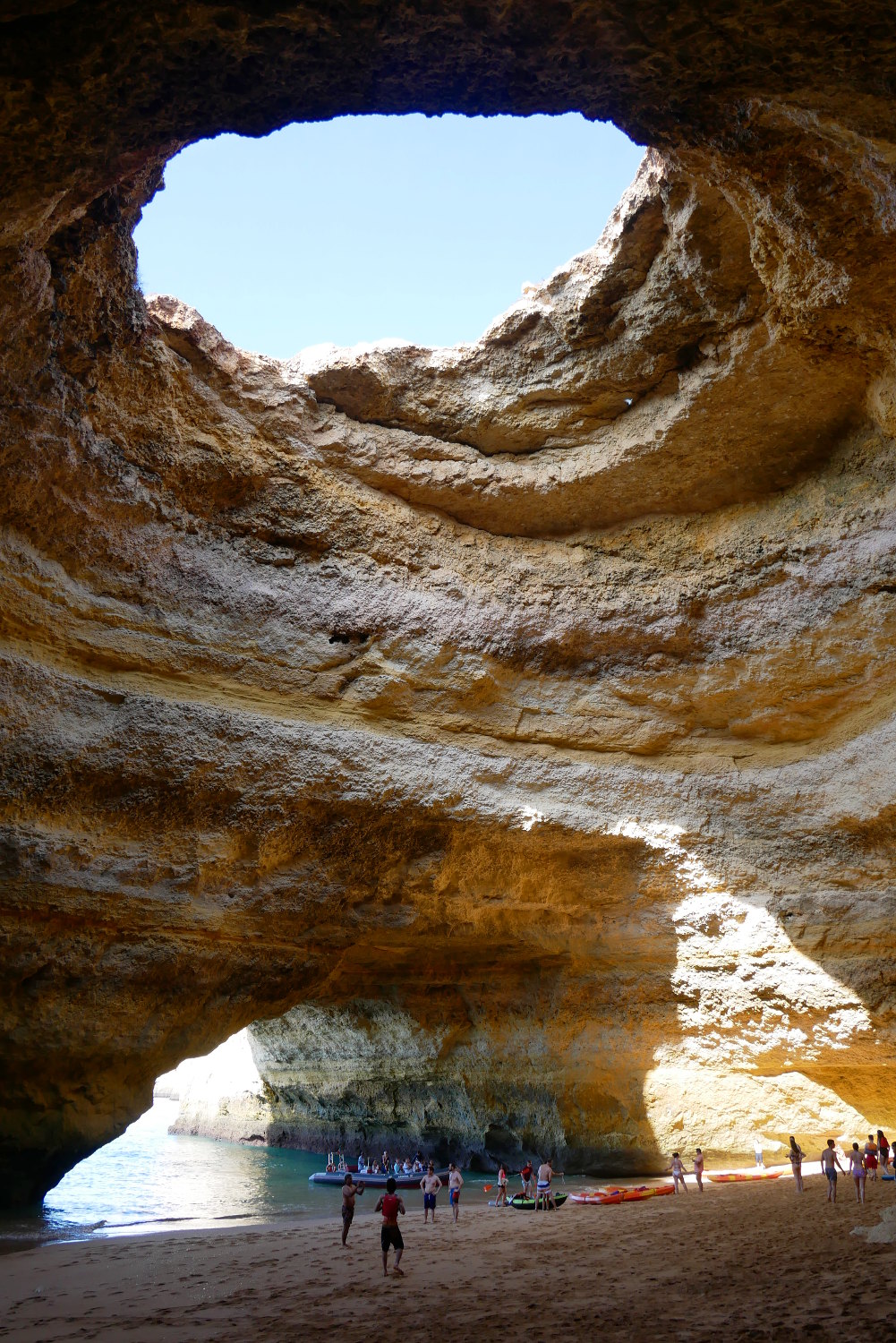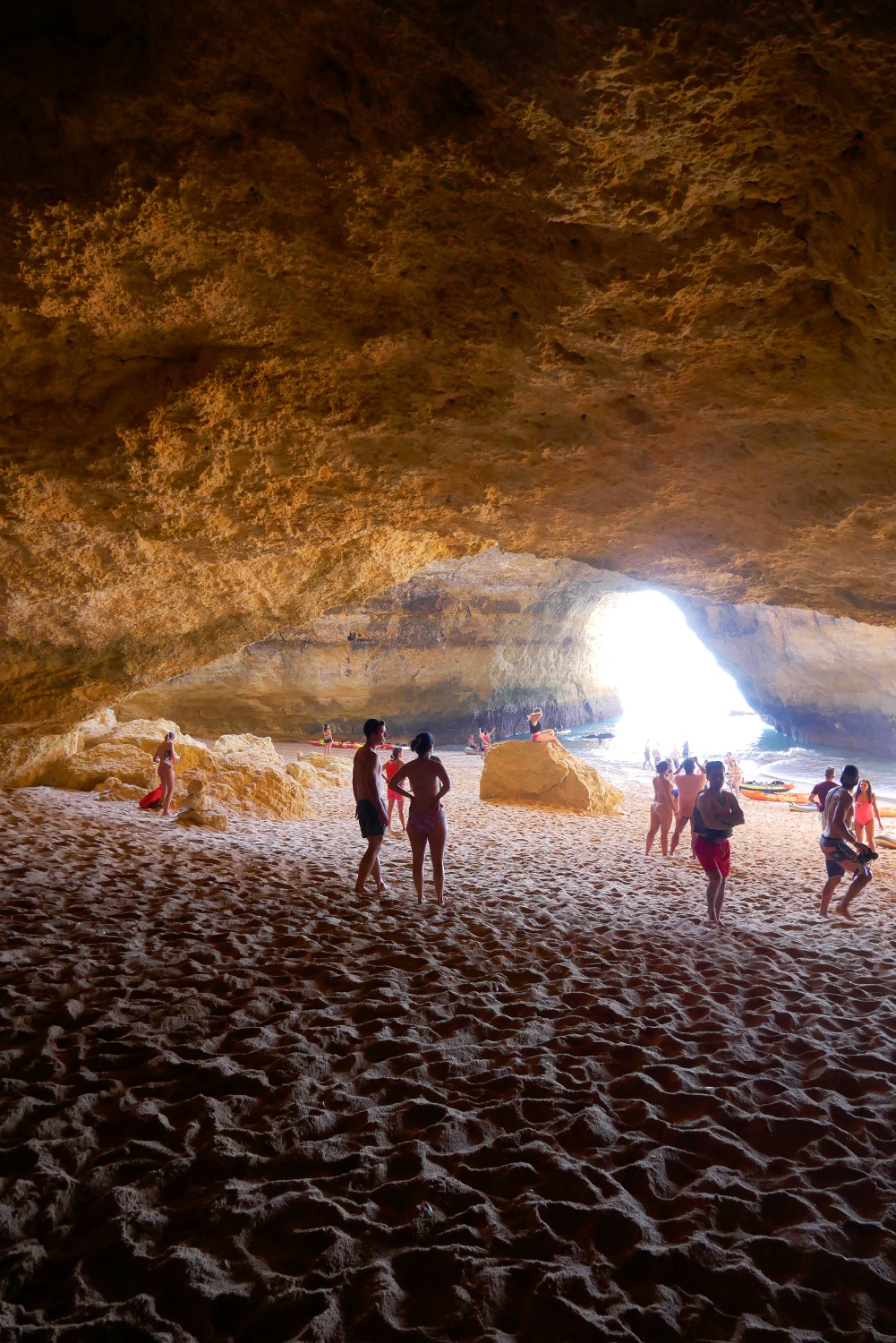 If you can get to the Benagil beach, you are able to rent a single or double kayak from the Taruga Tours stall just on the beach, at a cost of €15 per person for 45-minutes. I'd recommend booking online here as we noticed people arriving early on the day having to wait a couple of hours for the next availability. Check out the video below for how to get to the caves by kayak from Benagil beach, and what to expect when you get there. 
Note that visitors are not advised to swim from the beach to Benagil caves due to the unpredictable ocean currents.
How to get above
If you have seen any pictures of Benagil Caves, you will notice the hole in the roof. This is accessible via a small path from car park. Some dangerous areas are fenced off, but you can follow the path along the edge of the cliff until you reach the (obviously safely fenced) hole, to look down into the Benagil Caves from above.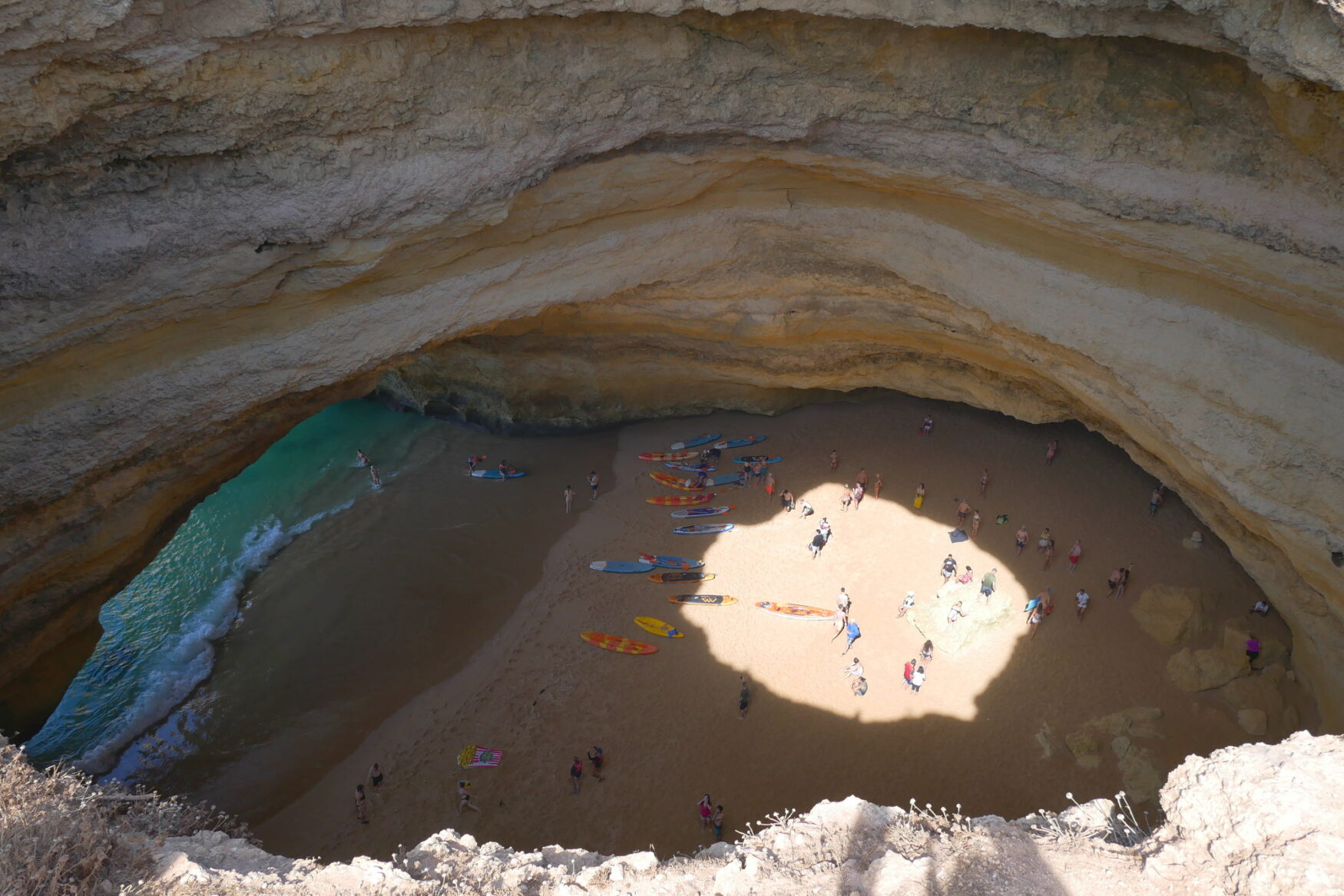 What's nearby
As Benagil is only a small village, you're not likely to spend much more time here than visiting the caves and the beach. However, the stunning Algarve region of Portugal has some great places to visit, including Lagos, Albufeira, and Portimão. Lisbon is also only 2 and a half hours drive away.