Over half a million people visit Snowdon each year, aiming to conquer Wales' highest peak. However, with various routes, accommodation options, and advice for climbing the famous mountain, it can be confusing for first-timers to plan and prepare for the trip. In this blog I've outlined a range of basic information to get you on the way to the summit!
Note: in late 2022, Snowdonia National Park Authority voted to use Yr Wyddfa and Eryri (pronounced 'Er with-va' and 'Eh-ruh-re') instead of Snowdon and Snowdonia respectively, in order to protect and promote the Welsh language and culture.
Where is Mount Snowdon?
Mount Snowdon is located in North Wales, within the 820 square-mile Snowdonia National Park. Easily accessible within a couple of hours by car from Manchester, Birmingham, and Liverpool, Snowdon is also well connected by train, with locations such as Bangor and Llandudno connecting visitors to the local Conwy Valley Line which runs through Snowdonia National Park.
How high is Mount Snowdon?
Mount Snowdon is the highest mountain in Wales, and has a peak height of 1085m (3560ft). It forms part of the three peaks challenge along with England's Scafell Pike (978m) and Scotland's Ben Nevis (1345m). These are the largest mountains in each of the three representative countries, but not the three largest in the British Isles as sometimes assumed.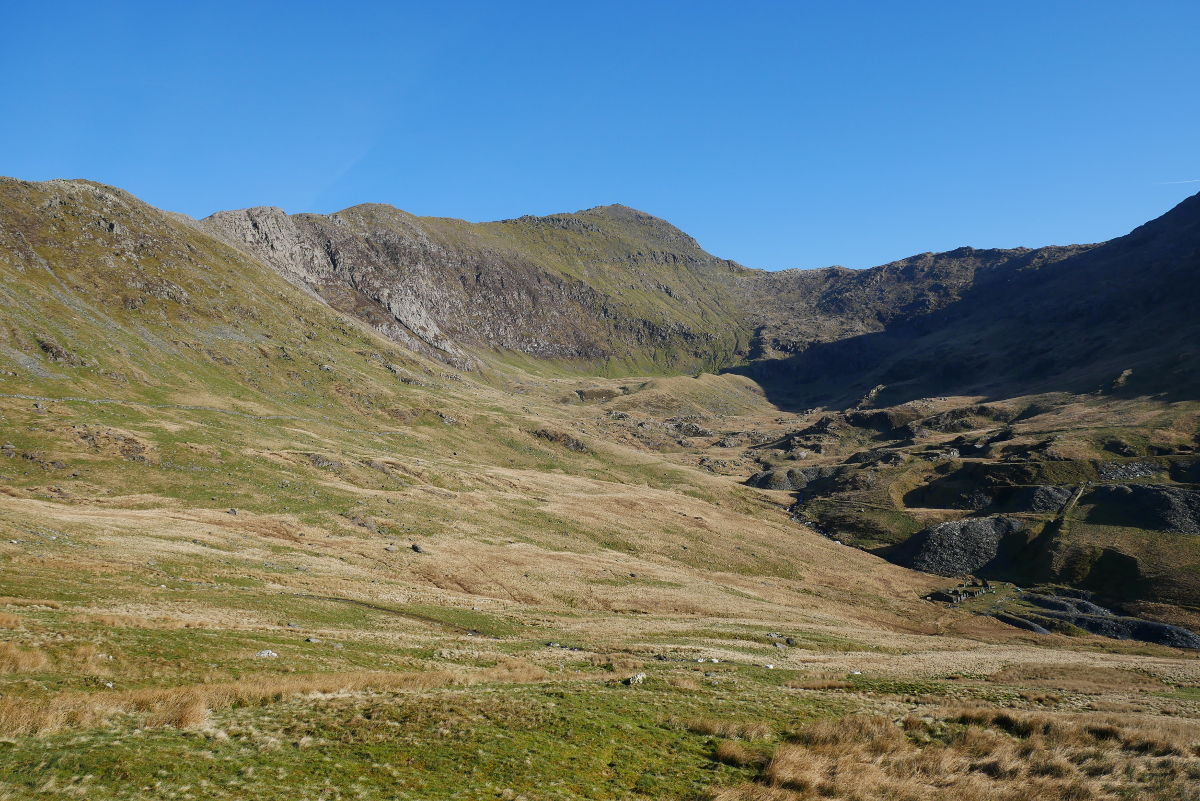 What preparation is needed to climb Mount Snowdon?
It is important to note that all routes to the summit of Snowdon are classed as Hard/Strenuous, and therefore shouldnt be attempted without planning, suitable conditions, appropriate clothing and footwear, and a certain level of fitness. 
For those looking to reach the summit of Mount Snowdon, a minimum level of fitness is required. For those that aren't used to walking long distances or climbing uphill, it is recommended that they complete shorter practice walks and routes until they feel comfortable enough to attempt Mount Snowdon. 
Weather conditions can have a huge effect on how difficult the climb to the summit of Snowdon can be, and it's therefore important to keep checking on the conditions in the days leading up, and be comfortable in changing plans should you not feel comfortable or the conditions don't look great. 
It's also important to fully research your chosen route to climb Snowdon, so that you know what to expect and don't get caught out with any tricky sections.
Which routes are available to climb Mount Snowdon?
There are 6 main walking routes available to ascend Mount Snowdon. You can find more information about the walking routes available, and plan your visit on the Visit Snowdonia website. 
The 6 main walking routes to the summit of Mount Snowdon are: 

1. Llanberis Path: The Llanberis Path is the most popular and the easiest route to the summit, and is recommended for your first climb of Mount Snowdon as the gradual climb is suitable for novice climbers. It starts and ends in Llanberis village and is approximately a 9-mile round trip. 
2. Pyg Track: The Pyg Track starts from the Pen-y-Pass car park, and is roughly a 7-miles round trip. Steeper than the Llanberis Path, the Pyg Track requires a bit more experience. 
3. Miners' Track: Also starting from Pen-y-Pass, this Miners' Track is around an 8-mile round trip. It's a relatively easy and popular route but does require some scrambling. The Miners' Path was originally built to transport copper between Britannia Copper Works near Llyn Glaslyn to Pen-y-Pass, and onwards to Caernarfon.
4. Watkin Path: Named after the rail entrepreneur Sir Edward Watkin, the Watkin Path starts from Nant Gwynant, and is around 9 miles there and back. It's one of the most challenging and steepest routes, and also requires some scrambling and climbing towards the end.
5. Snowdon Ranger: This Snowdon Ranger route starts from the Snowdon Ranger Hostel in Llyn Cwellyn, on the same site as the tavern built by John Morton, from where he guided Victorian tourists to the summit of Mount Snowdon. The route is around an 8-mile round walk. 
6. Rhyd Ddu Path: The Rhyd Ddu Path is one of the lesser-known routes to the summit. Starting from the Rhyd-Ddu car park, the route is approximately a 7-mile round trip, and originally started in the picturesque village of Beddgelert.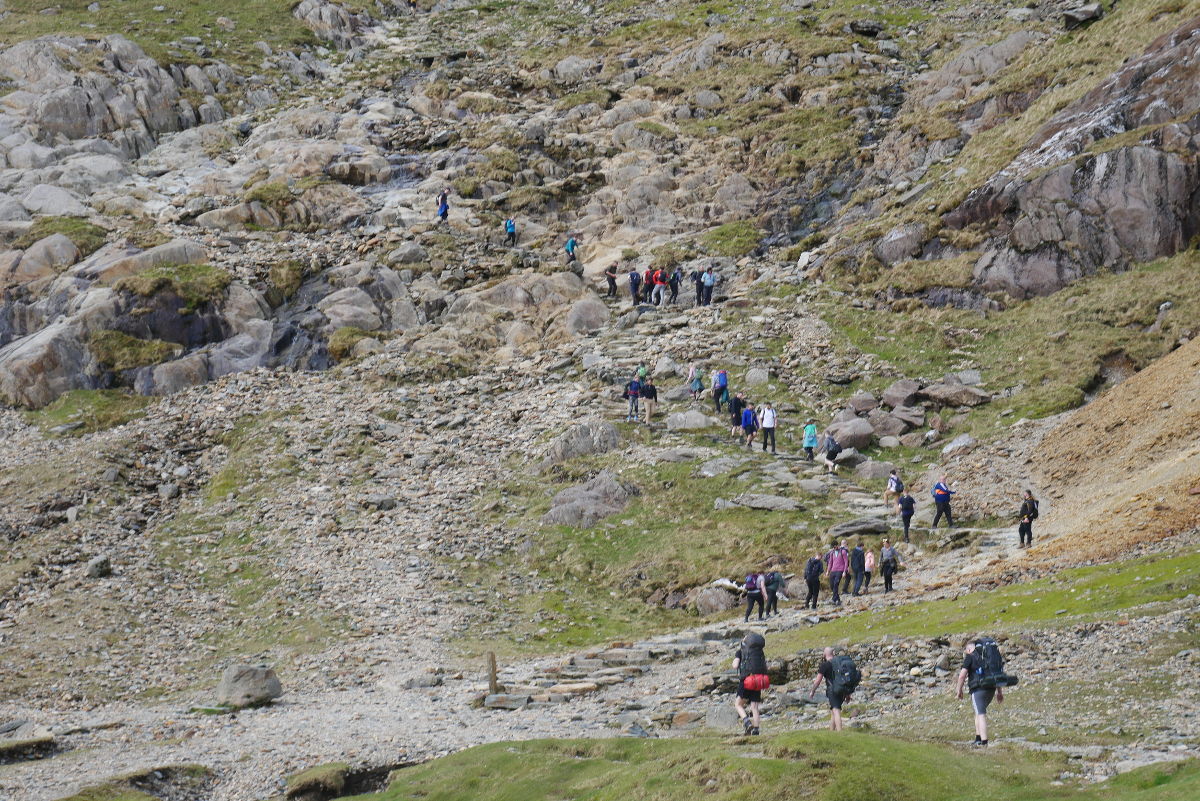 What should you pack to climb Mount Snowdon?
It is essential to wear appropriate clothing and pack certain items to ensure a safe and enjoyable climb. These can include 
1. Clothing: Wear comfortable, weather-appropriate clothing such as moisture-wicking layers, waterproof jacket and pants, warm hat and gloves, and sturdy, waterproof hiking boots. Weather conditions can vary significantly between the foot and the summit, so it's important to ensure you have enough warm clothing for when you reach the top. 
2. Navigation Equipment: A map, compass, or GPS device is essential for navigating the various routes up Mount Snowdon. A paper map is preferable to keep alongside a phone, in case of a loss of location services or battery along the route. 
3. Food and Water: Bring plenty of food and water to keep you fueled and hydrated throughout the climb. Consider packing energy bars, sandwiches, nuts, and dried fruit.
4. Comfortable Backpack: A comfortable backpack is necessary to carry your equipment, clothing, and food. Make sure it fits well and that you distribute the weight evenly throughout. 
5. First Aid Kit: A basic first aid kit with essentials like bandages, antiseptic, and painkillers is important in case of any unexpected injuries or accidents.
6. Headlamp or Flashlight: The walk can often take longer than you think, so it's important to carry a headlamp or flashlight in case you encounter unexpected darkness on your descent.
7. Sun Protection: Sunscreen, sunglasses, and a hat to protect your skin and eyes from the sun is imperative. 
8. Emergency Whistle or Alarm: An emergency whistle or alarm can be used to signal for help in case of an emergency.
9. Mobile Phone: Carry a fully charged mobile phone in case of an emergency, and make sure you have a plan for communication and charging if necessary. A portable powerbank is a great option to give you peace of mind in case of losing battery. It's important to note that for much of the route to the summit, there is little or no phone signal available. 
10. Personal Items: Bring any personal items you may need, such as medication, personal hygiene products, and a camera to capture the amazing views.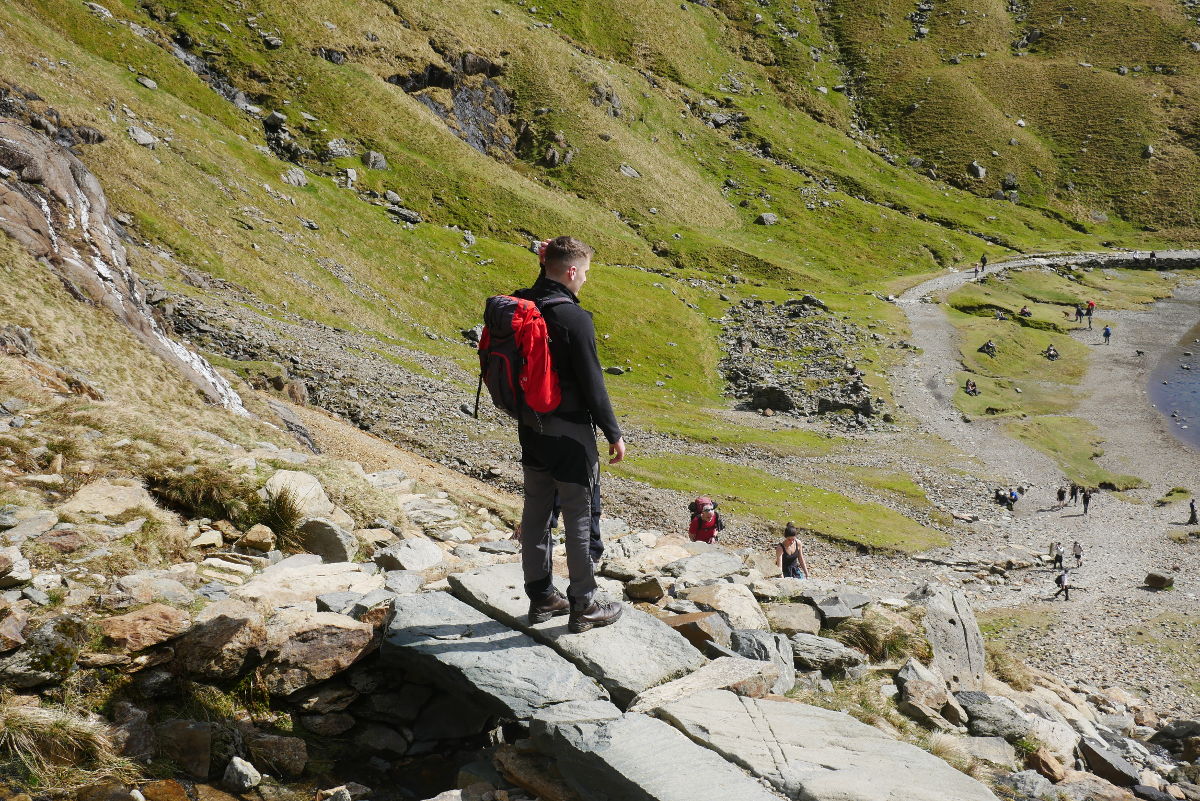 Can you get the train to the top of Mount Snowdon?
Established in 1896, the Snowdon Mountain Railway runs from Llanberis Station to the summit of Snowdon. Built over a period of 14 months by a team of 150, the journey to the top of Mount Snowdon has been enjoyed by over 12 million tourists since it was first established. 
The journey to the summit, which operates for part of the year, takes around 60 minutes, before allowing visitors 30 minutes to explore the summit, before taking the 60 minute return journey. The cost is currently £38 for adults and £28 for children on the traditional diesel service, and £50 for adults and £40 for children on the Heritage Steam Experience.
Where to stay near Mount Snowdon?
There are plenty of accommodation options to use as a base when climbing Mount Snowdon. For those attempting the Llanberis path, the obvious starting point is Llanberis village, where there are a number of guest houses and hotels, including The Royal Victoria Hotel. 
For those walking the Pyg or Miners' routes, the YHA Snowdon Pen-y-Pass is an ideally located hostel by the car park at the start of the route. Otherwise, the Sherpa'r Wyddfa bus routes connects many local areas to the popular Pen-y-Pass starting location. 
For those attempting routes to the south of Snowdon, the National Trust's Hafod y Llan campsite is perfectly located at the very start of the Watkin Path, whilst the Llyn Gwynant campsite is only a couple of miles away.
The village of Beddlegert is the original starting location for those tackling the Rhyd-Ddu route, and the small village has a few accommodation options including the Saracens Head Hotel, the Royal Goat Hotel, and numerous guest houses. Rhyd-Ddu also has a few guest houses for visitors to stay.
The Snowdon Ranger Hostel in Llyn Cwellyn is the best option, though for those that don't enjoy the hostel experience, there are a few guest house options in nearby Rhyd Ddu.