London: one of the most diverse, cosmopolitan, and exciting cities in the world. As a born and bred Mancunian, it pains me to say that London is one of the coolest places in the world to spend a long weekend or city-break. Despite this, London can be expensive! In this blog I have outlined some of the top free things to do in London, and have enlisted the help of some fellow bloggers to contribute some of their best experiences to enjoy in the city.
Free things to do in London
See the Sights
If it's your first time in London, or even if you're just looking to pass the time, visiting some of London's iconic sights is usually top of the list. Starting at Buckingham Palace, home to the British monarchy, you can appreciate the splendour of the Palace as well as enjoying the immensely popular Changing of the Guard ceremony at 10:45 daily. 
A short walk takes you to The Houses of Parliament and Big Ben, based on the bank of the River Thames, which offer that postcard picture view of London. From here you can appreciate the skyline from Westminster Bridge, or wander over to Westminster Abbey, one of the most beautiful examples of Gothic architecture in Britain today.
A short ride on the tube, or a leisurely stroll, takes you to St. Paul's Cathedral, a Grade-I listed truly stunning building that dates back over 1400 years. Visitors can enjoy exhibitions and galleries as well as the incredible interior, featuring the London skyline in the roof's dome. Another short walk through some of London's iconic streets takes you to the medieval Tower of London and Tower Bridge. You can pay to spend time inside, or just appreciate the majesty of the former prison, before crossing Tower Bridge.
Enjoy the Parks
Despite being one of the world's busiest cities, London has a plethora of open green space in the city centre. Housing Kensington Palace, the 142 hectare Hyde Park is one of the city's most famous, offering water sport activities on the lake, memorials, fountains and statues. One of the coolest things to do in the park is to seek out the resident parakeets with an apple in hand, and allow them to fly down to eat whilst resting on you.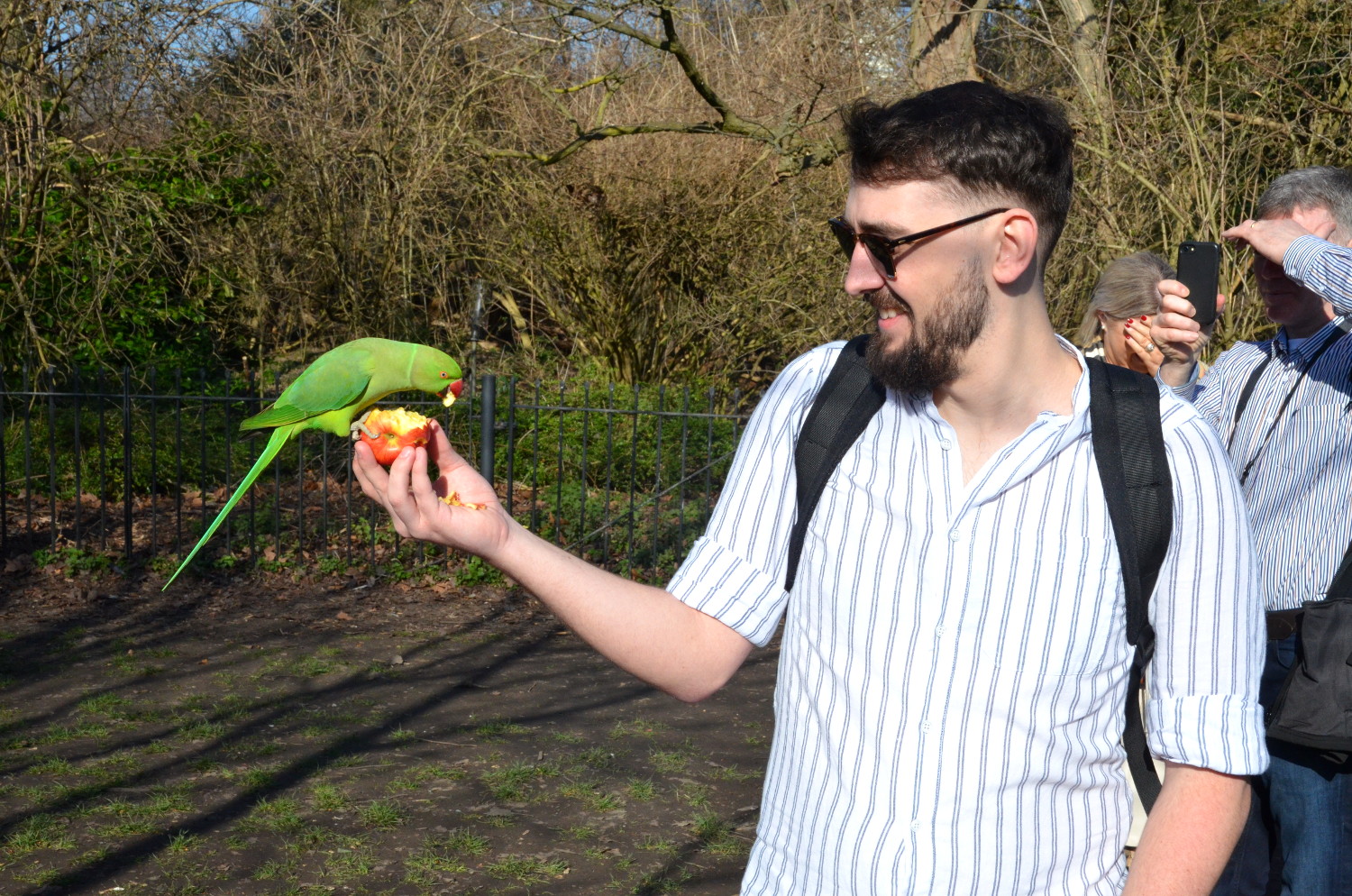 Visit the Museums
If you enjoy visiting museums, London is the place to pass the time, with the vast majority of them accessible for free. In South Kensington, there are three major museums on Exhibition Road: the Natural History Museum, a sprawling collection of 80 million items and a number of permanent and temporary exhibitions; the Science Museum, featuring objects and exhibitions from a history of science and technology; and the Victoria & Albert Museum, a world-leading museum of art and design.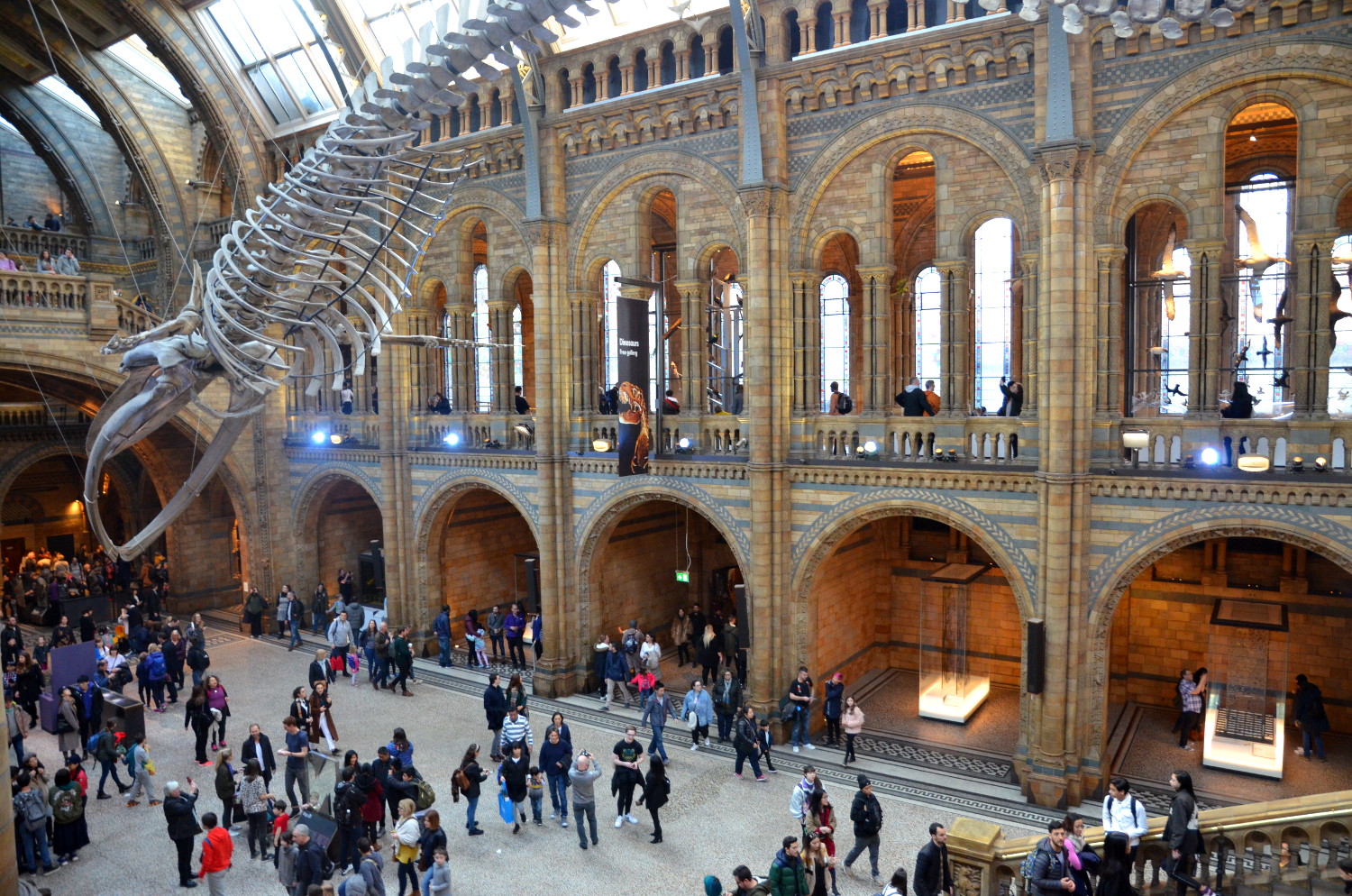 Check out some of the top tips from the blogger community below to experience the best of London for free. 
Free rooftop terrace with the best views
Opposite St Paul's Cathedral is a shopping centre called One New Change. At the top is trendy bar 'Madison' which is popular with the after-work crowd who sip cocktails as the sun goes down. There's a lift up to the bar which they like to pretend is just for them but actually it's the lift for the whole roof terrace which is free to enter. It has the best views over St Pauls that you can't get from anywhere else and there's loads of space so there's nothing to stop you coming up with a picnic really, or at least to admire the views!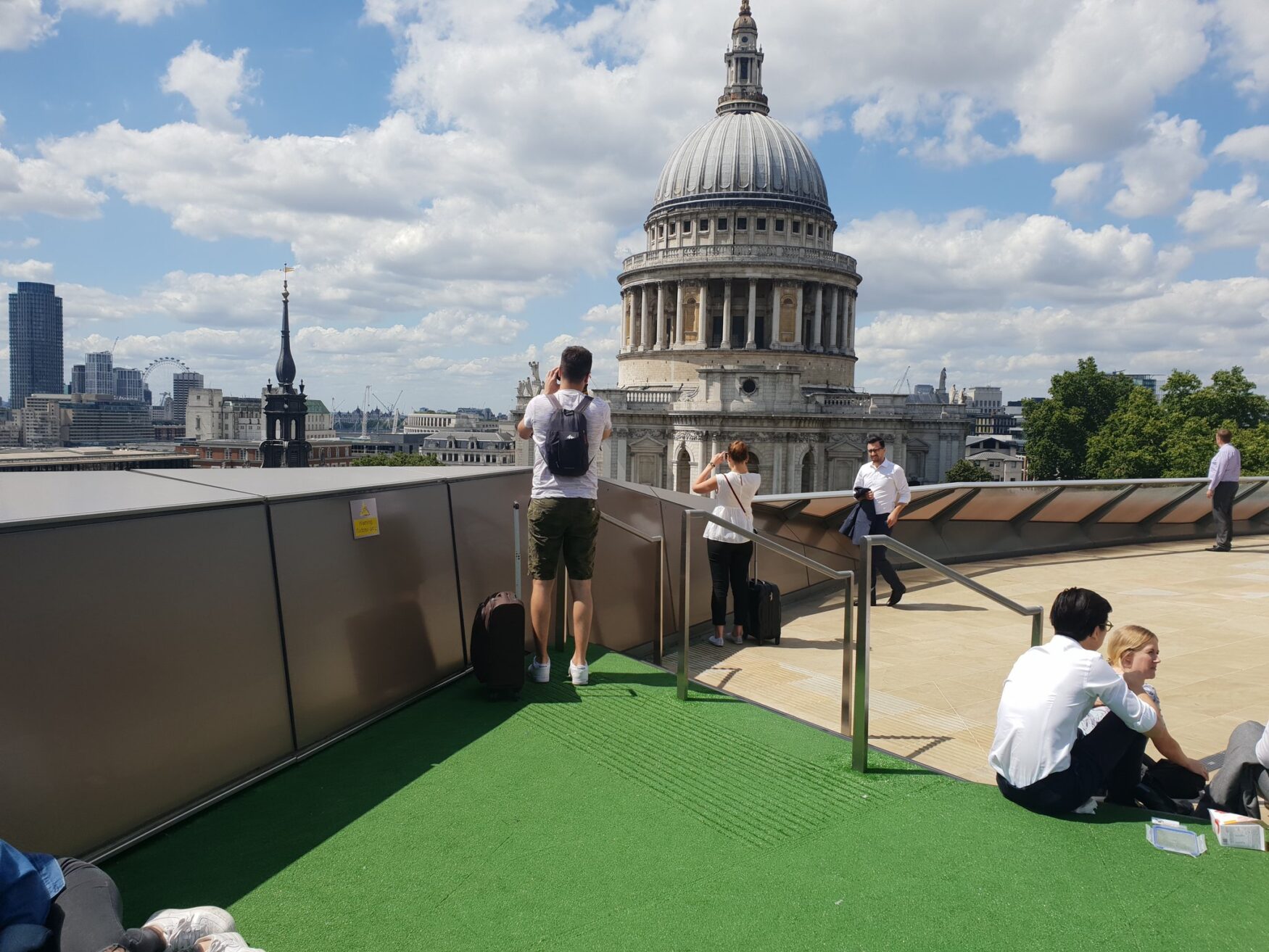 Image Credit: Alex Outhwaite
Brixton Market and Pop Brixton
Brixton famously is abuzz with life, especially in the food, music and drink scenes. The highlights for me though are Brixton Market and Pop Brixton – they're less than 30 seconds from each other so it is super easy to check out both at the same time. Both are home to independent and locally-owned restaurants and cafes, with Brixton Market also featuring numerous vintage and pop up shops from people that live in the area. It's easy to peruse the market and the rest of the arcade for multiple hours, and if Electic avenue is on you can browse all the market stalls that line the way from the Underground station to the Market and Pop Brixton.
Pop Brixton is a community-led pop-up space hosting dozens of small bar, restaurants and cafes – a number of the businesses that started in Pop Brixton have turned into full-time restaurants and eateries. The main features for me are the community aspects. On Saturdays, the local nature trust runs a 'grow your own' workshop, where you can learn about the local initiative and how to grow your own plants at home – even if you don't have a garden or much room. The other part of Pop Brixton I loved was the record fair, where you can browse through old an new records and hopefully pick up a few bargains.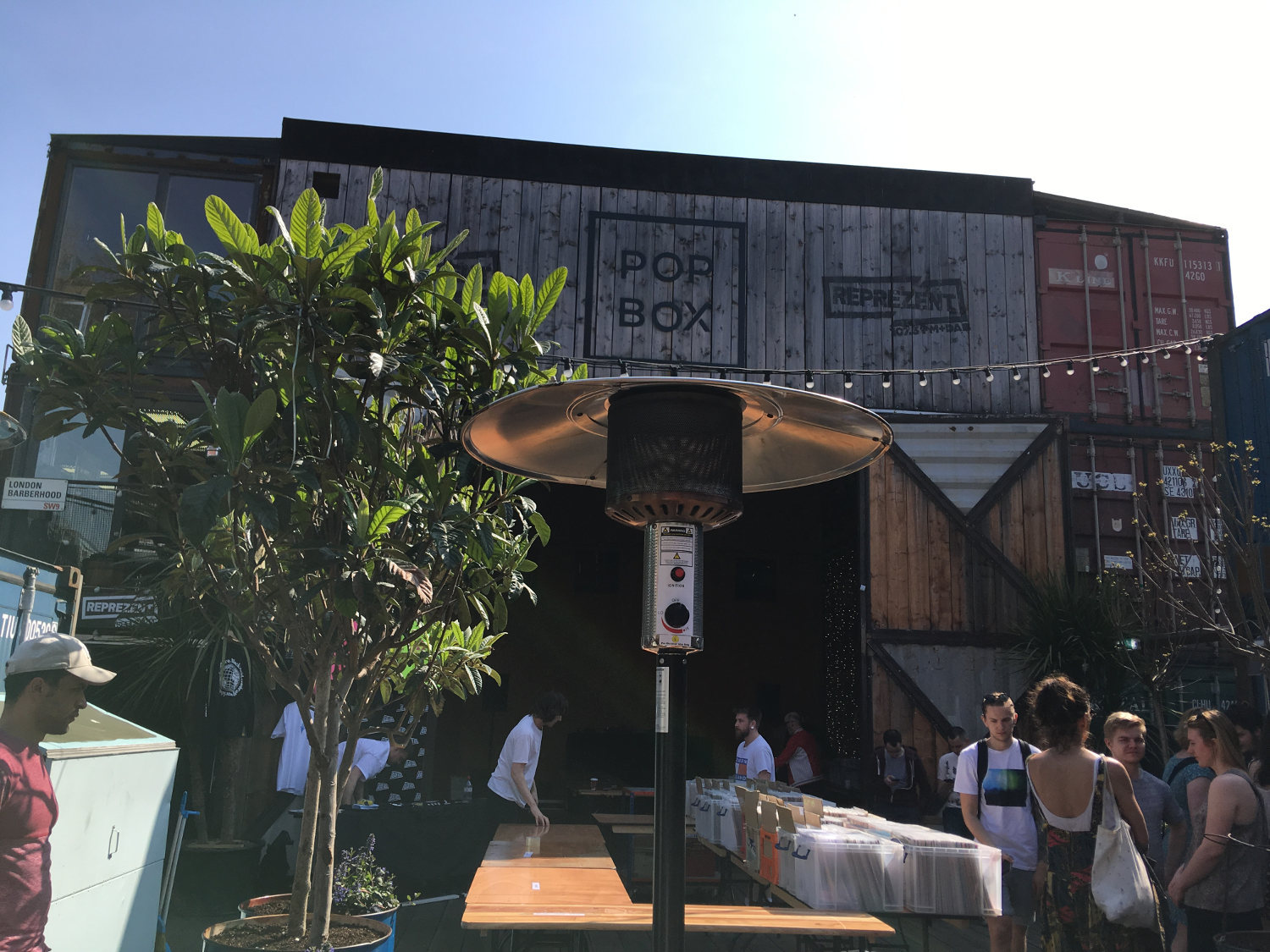 Image credit: Chris Nunn
The Truman Brewery and Shoreditch street art
Far from the main area I would hang out but certainly good for day out. Shoreditch is full of things to do and many for free. One of my favourites is going up towards the Truman Brewery – yes it is always heaving with people but hear me out – a lot of experiential firms use it to feature exhibitions, galleries or product launches, making it an amazing place to get some freebies, an unusual insta pic or check out some niche installations. Within spitting distnace, you also have a ton numerous food tents and pop up eateries – with a lot giving out samples as you walk around. 
Another thing to do in Shoreditch is walking graffiti and street art tours. There's usually a few wandering around and they're great for checking out the London street art scene. You could probably do it yourself but the tours are really useful for learning a bit more about the art, the inspirations and chatting with other people about you're looking at – especially if like me you've no idea what half of it is meant to mean.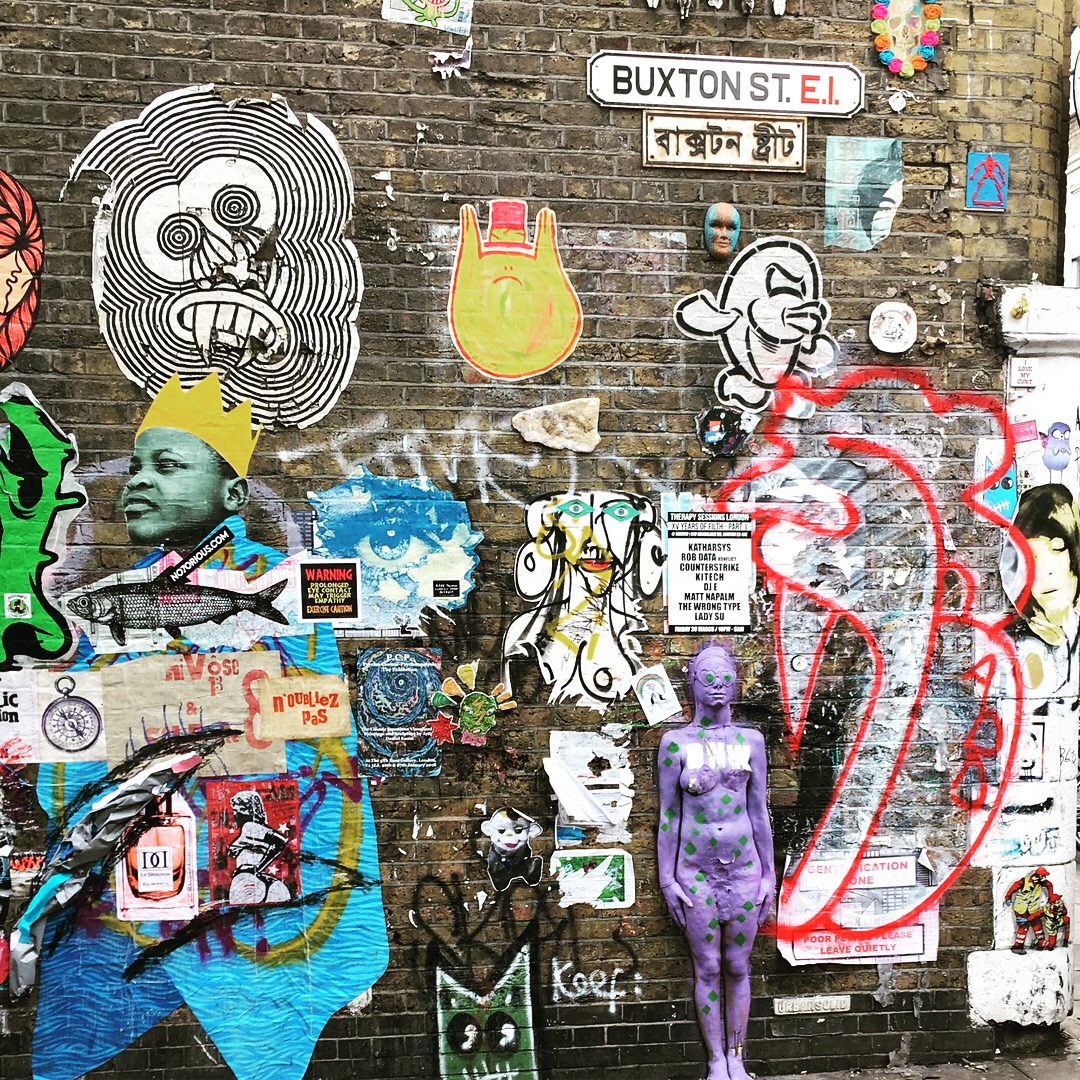 Spend time in Covent Garden, and head to Peckham for the views of the city
London is full of things to do whether you're on a budget or not, but one of my favourite free things to do in England's capital city is paying a visit to Covent Garden. Watch the street performers, peruse the markets, or just sit with a coffee in the square and watch the world go by. For an unparalleled view of the city, head to Frank's in Peckham. Although it's only open in the summer months, the view from the tenth floor across the city is incredible. The beer is cheap too, which is a rareity in London!
Visit Grant's Museum of Zoology for a quirky experience
For a quirky experience in London, try a visit to Grant's Museum of Zoology. This small natural history museum is full of animal specimens such as a jar of moles, giant centipedes and Dodo bones. It appeals to older children and those that like their museums a little bit weird. It's certainly worth an hour of your time but don't visit if you are squeamish!
Search out that street art
One of my favourite, free things to do in London, is to explore my local area in the hunt for street art. When thinking of street art you may automatically head to Shoreditch or Camden, but the South East London area is a hub for street art too. Brockley is home to the Brockley Street Art Festival and is a great place to grab a coffee and wander the surrounding streets looking for art. You'll find heaps of pieces from artists such as Louis Masai, Lionel Stanhope and Artista. Penge, Forest Hill and Sydenham also have street art dotted around, so spend a day of it and explore each of these South East London districts.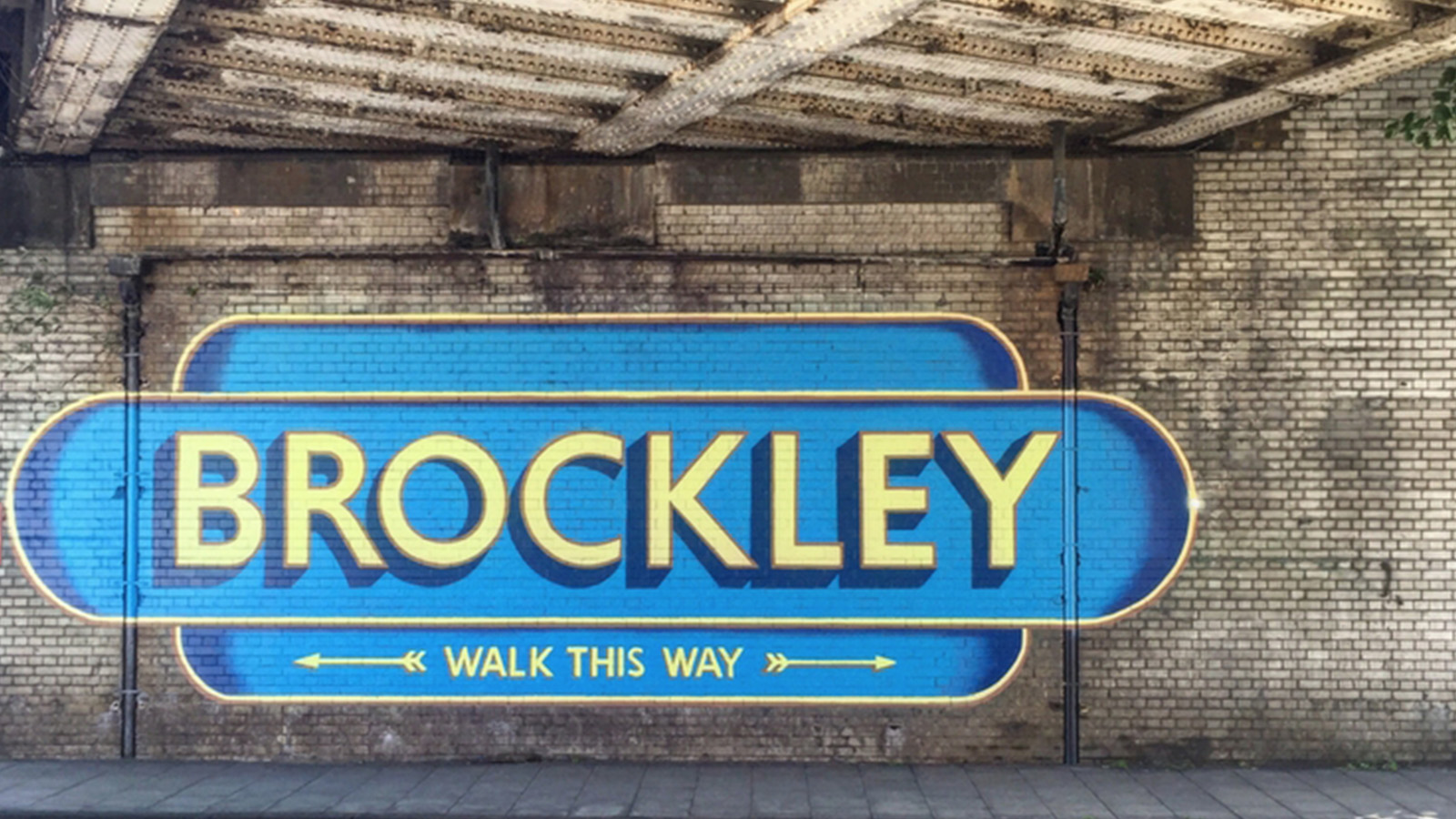 Image Credit: Sage Fitzpatrick
Appreciate the diversity Borough Market
Borough Market is one of our most favourite destinations in all of central London. Open Wednesday to Saturday the Market is home to a large number of fresh produce traders and street food stalls. Building on Borough Market's history as London's oldest food market all stallholders sell exceptional produce and are experts in their particular field.
A feast for the senses with delicious smells, vibrant colours and of course amazing tastes all around. Come here to see London's reputation as a truly diverse world city in full flow and sample an array of produce.
Borough Market is located near London Bridge underground and mainline stations and is just a small walk from the South Bank and other central London attractions such as Shakespeare's Globe Theatre, Tate Modern and St Paul's Cathedral.
Visit some of Greenwich's many attractions
Greenwich is a borough of east London, 20 minutes from central London by underground and home to a number of London's most well known attractions. In London for a number of days a day trip to Greenwich can't be missed.
Take a walk through Greenwich Park to the Royal Observatory at the top of the hill, stand across the Prime Meridian line where East meets West and take in the stunning views across London.
Visit the iconic National Maritime Museum, the 19th Century tea clipper vessel the Cutty Sark and take in the Greenwich Craft Market.
If that is not enough you can also take a Thames Clipper back to central London and see all of London's world renown history from the river Thames.
Did I say a day trip to Greenwich? You may need two!
Head to Novelty Automation for some really quirky fun
Do you want to see the quirky side of London and that English sense of humour? Seek out Novelty Automation, an arcade of satirical home made machines. Don't think arcade in terms of the latest video games but arcade as in Zoltar the Fortune Teller Machine from Big, the Tom Hanks movie from the 1980s.
Playing the machines themselves will require you to buy some tokens but it is well worth £5 to see a couple of these unique, weird and wacky machines in action. Autofrisk, the Chiropodist and instant weightless are just three of the many machines to try!
Novelty Automation is a 5 minute walk from Holborn underground station on the Central and Piccadilly lines.
Go and sit in parliament
One I only found about on a recent trip was that you can go and sit in parliament. Simply just turn up and queue to listen to a debate, or you can even ask your local MP for tickets to PMQs. It's a really interesting experience that you can get to see in the flesh.
Despite being an expensive city, there really is plenty you can do in London for free, or at least at the cost of a tube ride. Have a favourite experience? Be sure to share it in the comments below.