One week after myself and Liv finally tied the knot at Gibson Mill in Hebden Bridge, we jetted off on our honeymoon to Las Vegas and Mexico via a night at a London Heathrow Hotel. No listicles, no guides, this is just a run down of our experiences along the way.
On Saturday 4 June we packed up the car at our house in North Manchester to make the drive down to London Heathrow. On our original honeymoon booking, which we had to postpone when we postponed our wedding in June 2021, we were due to fly from Manchester, however for 2022 the flights just didn't work out the same. After some to-ing and fro-ing, we decided to head down a day earlier and booked a stay at the Renaissance London Heathrow where we could also leave our car for the 16 nights we would be away. This came to a fairly reasonable £239 which wasn't so bad and the cost was fairly comparable to hotel stays plus hotel parking. We used Holiday Extras to find the best deals but ended up booking direct with The Renaissance for the same price. 
On the way down to London Heathrow we stopped off in Oxford, around 3 hours drive from home, to meet my cousin and his partner at The Trout Inn, Wolvercote, a beautiful pub and restaurant located on the banks of the River Thames. The pub is featured in Philip Pullman's His Dark Materials prequel 'La Belle Sauvage' as the inn which Malcolm Polstead's parents own. The description in the book is pretty close to how I imagined the pub, which in real life serves a good range of beers and food. After lunch and a quick walk down the canal and back, we drove the final hour of the journey to London Heathrow.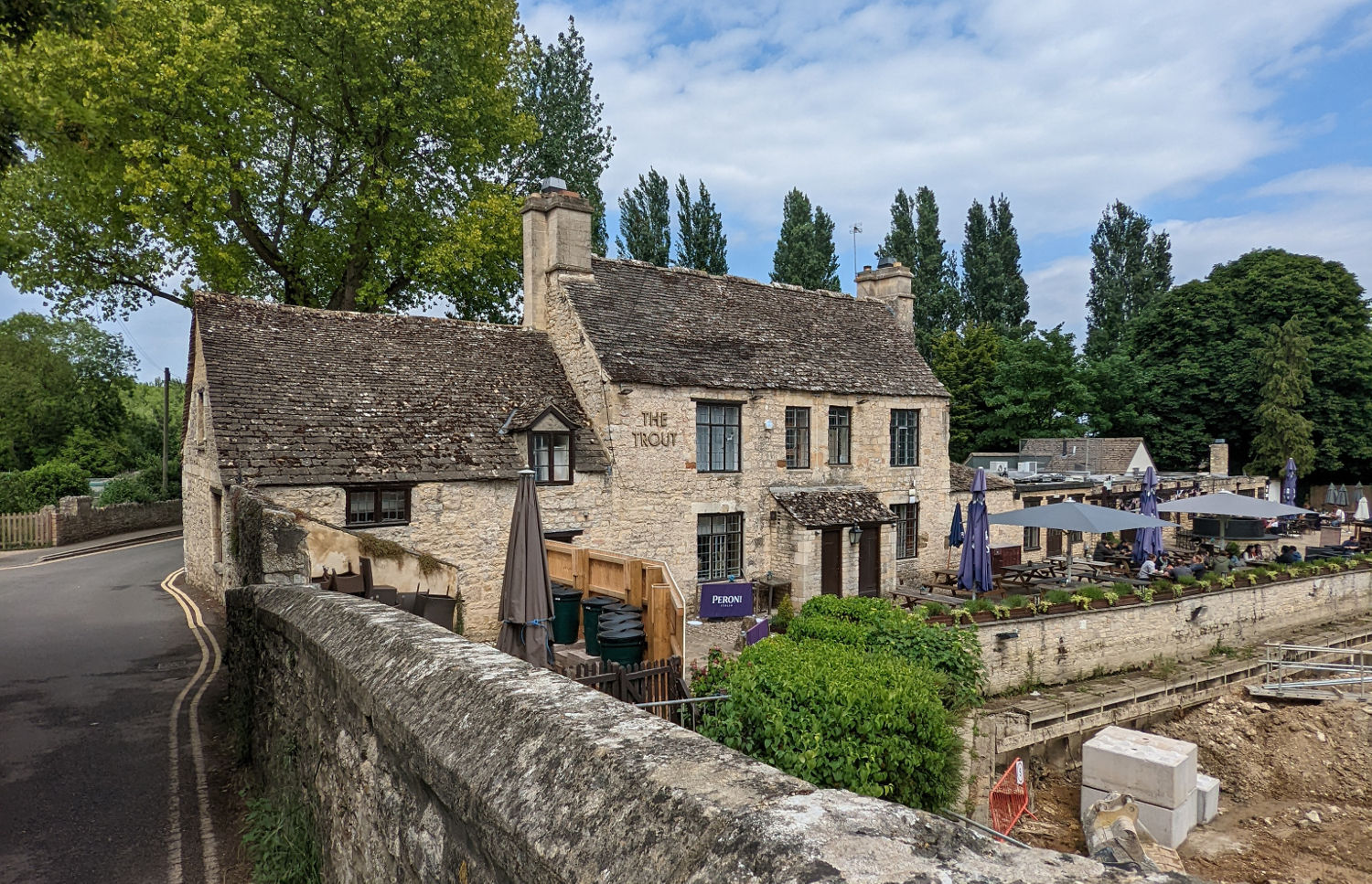 In order to get into the US on the following day, we were still required at the time to take a supervised PCR or antigen Covid test no more than one day prior to flying. As we would already be in London the day before, we decided to book an ExpressTest antigen test at a drive-through facility at Heathrow Terminal 4. It wasn't the easiest process to find out on the Government website which test we needed, but there was a useful questionnaire on the ExpressTest website that outlined which tests you need for which country. We were fairly nervous about the process but it turned out to be super easy. When we booked online we were able to book a timeslot and received a QR code. Once we arrived they scanned the QR code, checked our passport details, and then swabbed both our noses – we were all done within 5 minutes. We received the results by email around 40 minutes later with our Fit to Fly certificate showing we thankfully both tested negative. 
We checked into a decent-sized and comfortable room at The Renaissance, helped by very friendly staff, and whilst Liv had a nap I headed down to the bar and grabbed a couple of pints whilst watching the football. Liv joined me later for some food, which was fairly expensive but well-portioned, before we headed back up to get some sleep before the flight the following day. 
We had a good late check-out of midday at The Renaissance, and given that we weren't flying until 16:40, we made the most out of it. After a good breakfast (£16 for full English hot food and £13 for cold continental) we packed up the room, checked out, and relaxed in the lobby for half an hour. At around 12:30 we booked an Uber to Terminal 3 departures, which was £11.70. There is a hopper bus that you can take for cheaper, but we decided to go for the easier option of an Uber. 
After being dropped at London Heathrow's Terminal 3, we got through bag drop within around 15 minutes, which I think was aided by uploading our Covid and travel documents through the VeriFly app the night before as recommended by British Airways, and proceeded through the security within around 30 minutes. Given all of the reports at the time of travelling about the endless queues at UK airports, we were more than happy with the time it took us. 
Through the benefits I get with my Amex credit card, I get a couple of free lounge accesses per year through a Priority Pass membership, which, given the special occasion, we had saved for this trip. At Terminal 3, Priority Pass gets you access to two lounges: No1 Lounge and Club Aspire Lounge. No 1 Lounge was at capacity when we arrived but we managed to get into Club Aspire Lounge, and pass a couple of hours with free food, soft drinks, and alcoholic drinks, before making our way to the gate.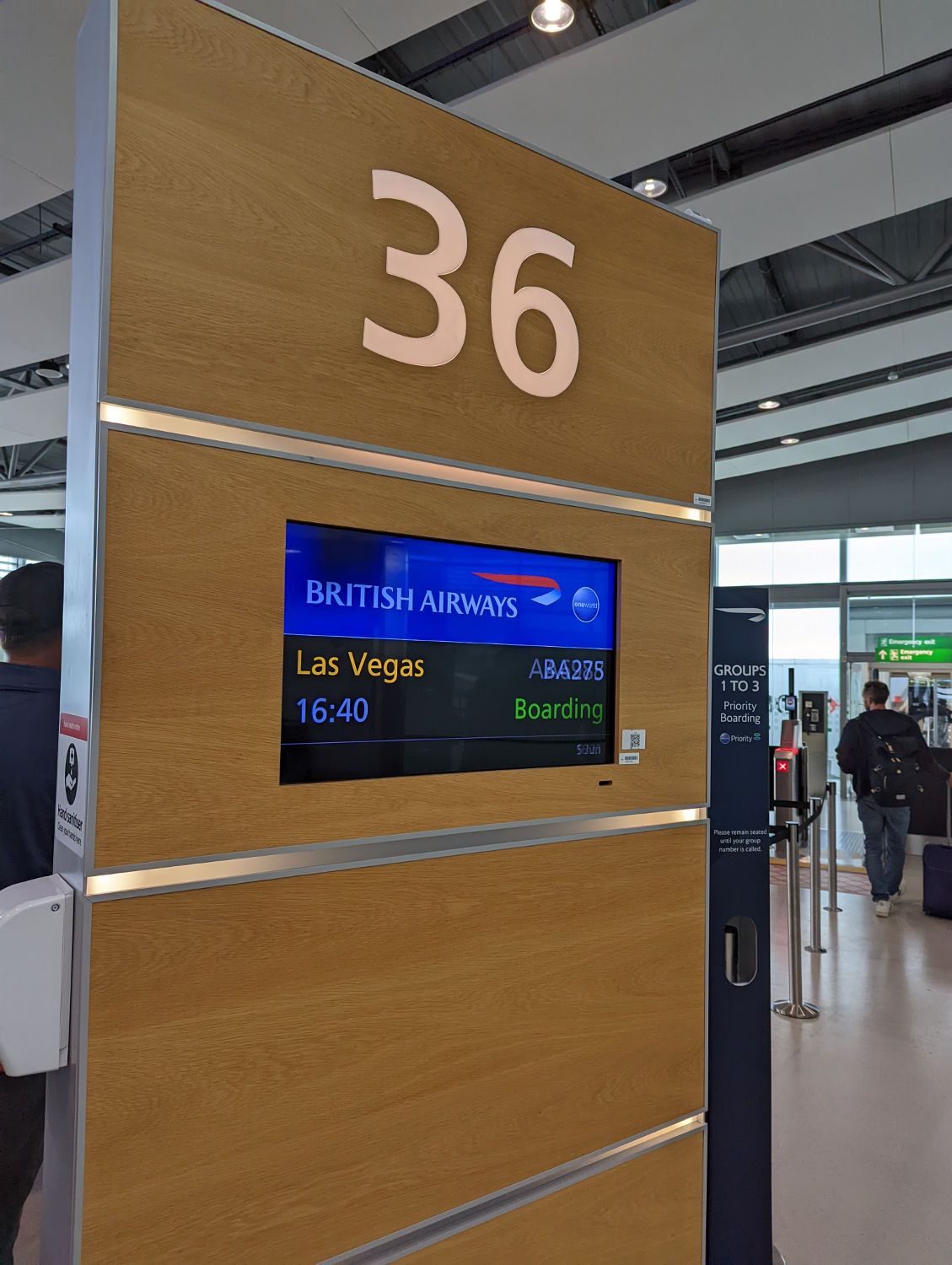 Boarding onto our British Airways Airbus A350 was stress-free from gate 36, and we took off more or less on time. The plane was definitely a more modern one, with better quality screens and seats than previous long-haul flights I had been on to the US, and we even had a spare seat next to us which is always a bonus. Once we were at cruising altitude, the free drinks came round quickly, and after ordering a beer I was asked whether we want an extra one to be getting on with, to which there was only one obvious answer!
I watched the new James Bond film on in-flight entertainment whilst Liv watched House of Gucci, which was only interrupted by dinner – a choice of Mexican chicken with potatoes or pasta, accompanied by a glass of red wine each. After this we passed the remaining hours dozing and watching more TV, before being awoken to sandwiches being handed out and landing at Las Vegas at 18:40 local time, 40 minutes ahead of schedule.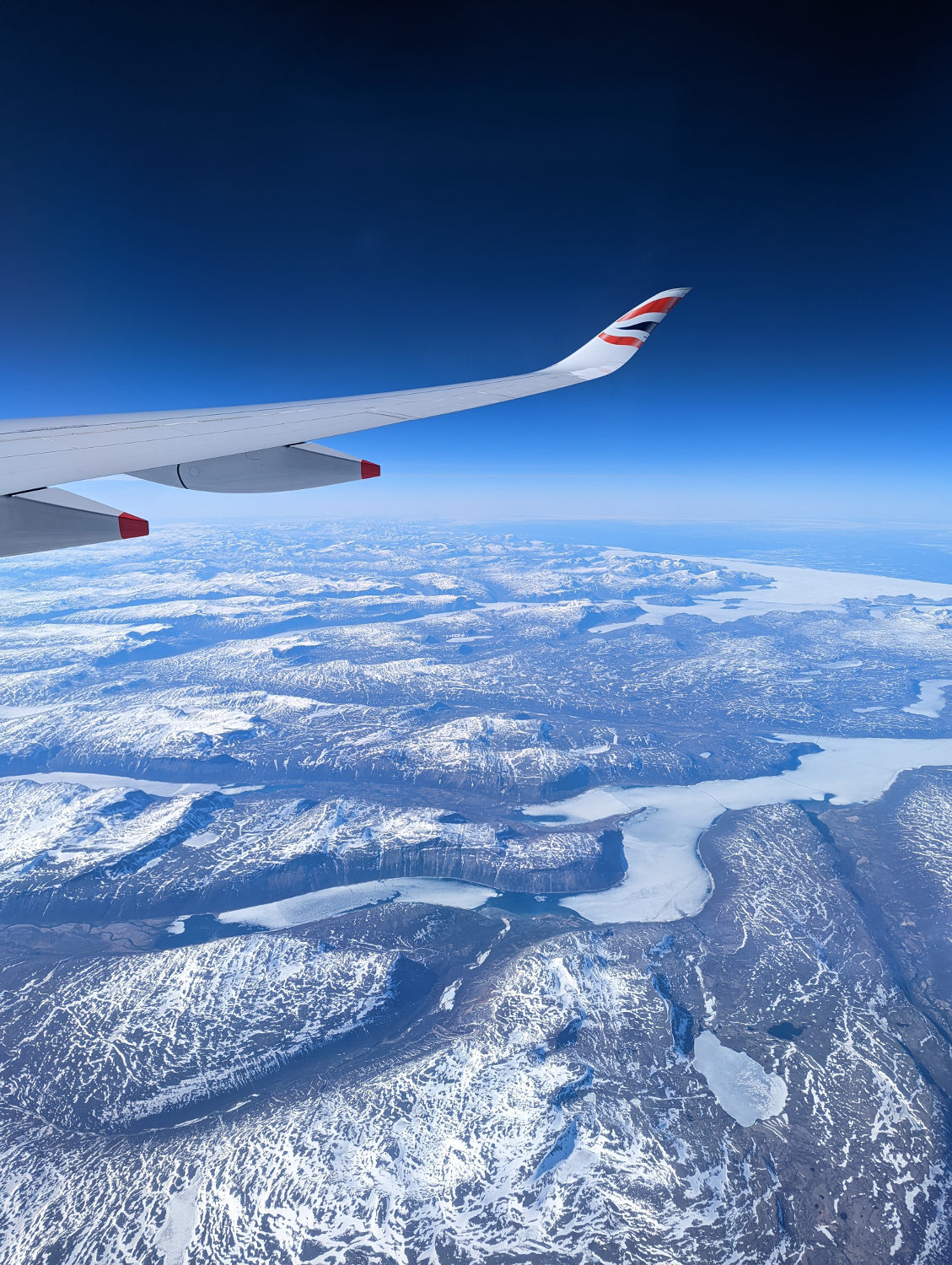 3 years ago when we landed at New York's JFK, we took over 2 hours to get through immigration, and we were nervous about experiencing the same this time. However, we were pleasantly surprised to be through immigration in around 30 minutes, picking up our luggage straight away, and ordering an $18 Uber to The Cosmopolitan of Las Vegas in great time. 
Checking in at the hotel was easy, and we even got a fantastic upgrade from the basic-level room we had booked to an incredible terrace one bedroom suite, featuring a seating area with a huge wall-mounted TV, a double-vanity bathroom with Japanese soaking tub overlooking the strip and Bellagio fountains, dressing area, comfortable king-sized bed and TV, and a terrace with the same stunning views over Las Vegas. When we got to the room on the 42nd floor we were blown away – what a way to start the honeymoon. We took showers, watched some TV, and collapsed into bed at 10pm local time, 6am UK time, after around 20 hours with minimal sleep.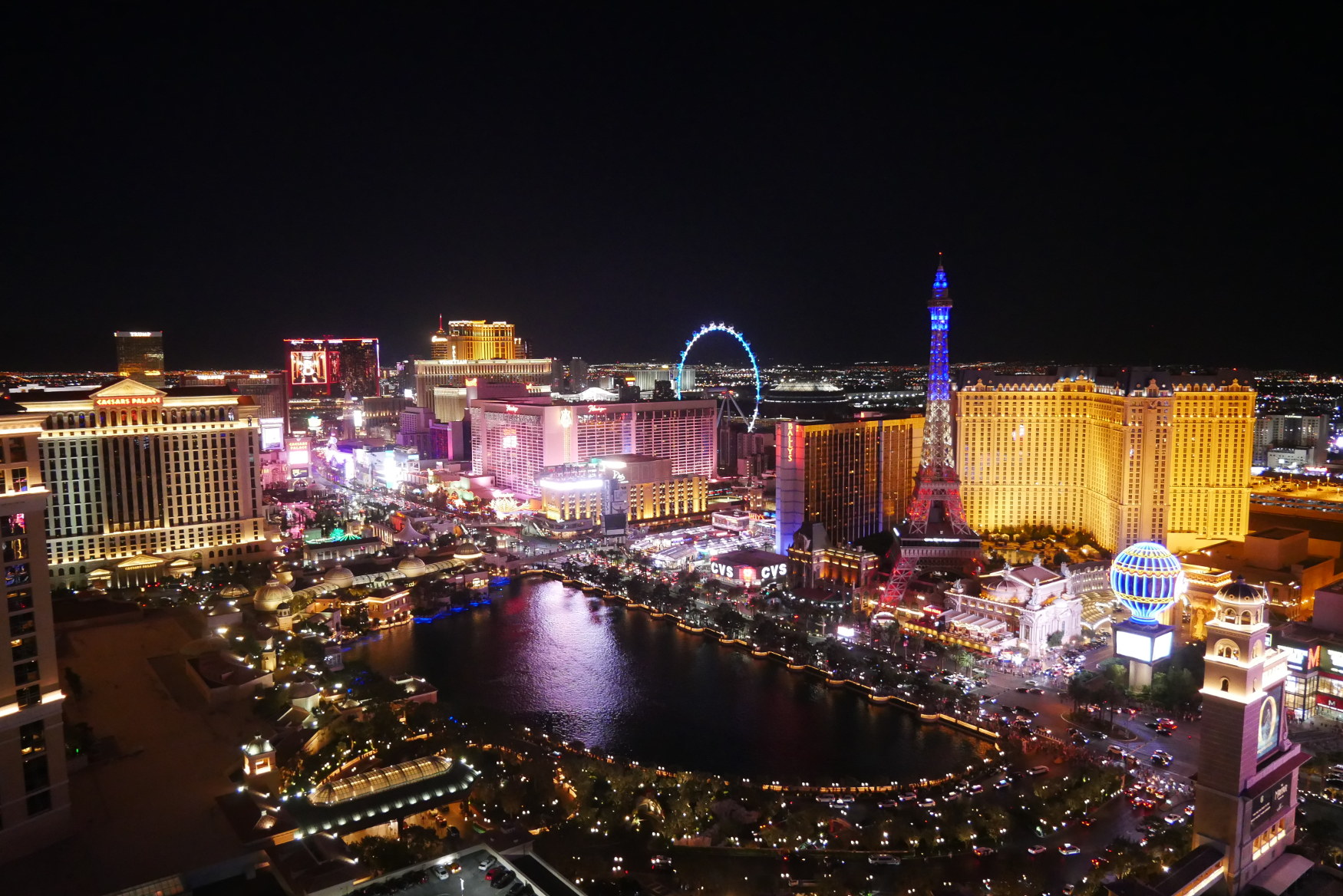 After a decent 7 hour sleep, we woke up at 5am and passed a couple of hours dozing and watching the sunrise of Vegas from our bed, before going out to explore the hotel at 7am. Even at this time the hotel was surprisingly (or unsurprisingly for Vegas?) busy. Our first pit stop was an iced vanilla latte, doughnuts and kolaches at District.Donuts.Sliders.Brew. The latte hit the spot and the doughnuts and spicy sausage kolache were spot on. After this we spent a good bit of time exploring the hotel, finding out where all of the shops and restaurants were, where the pools were located, and scoping out the casino.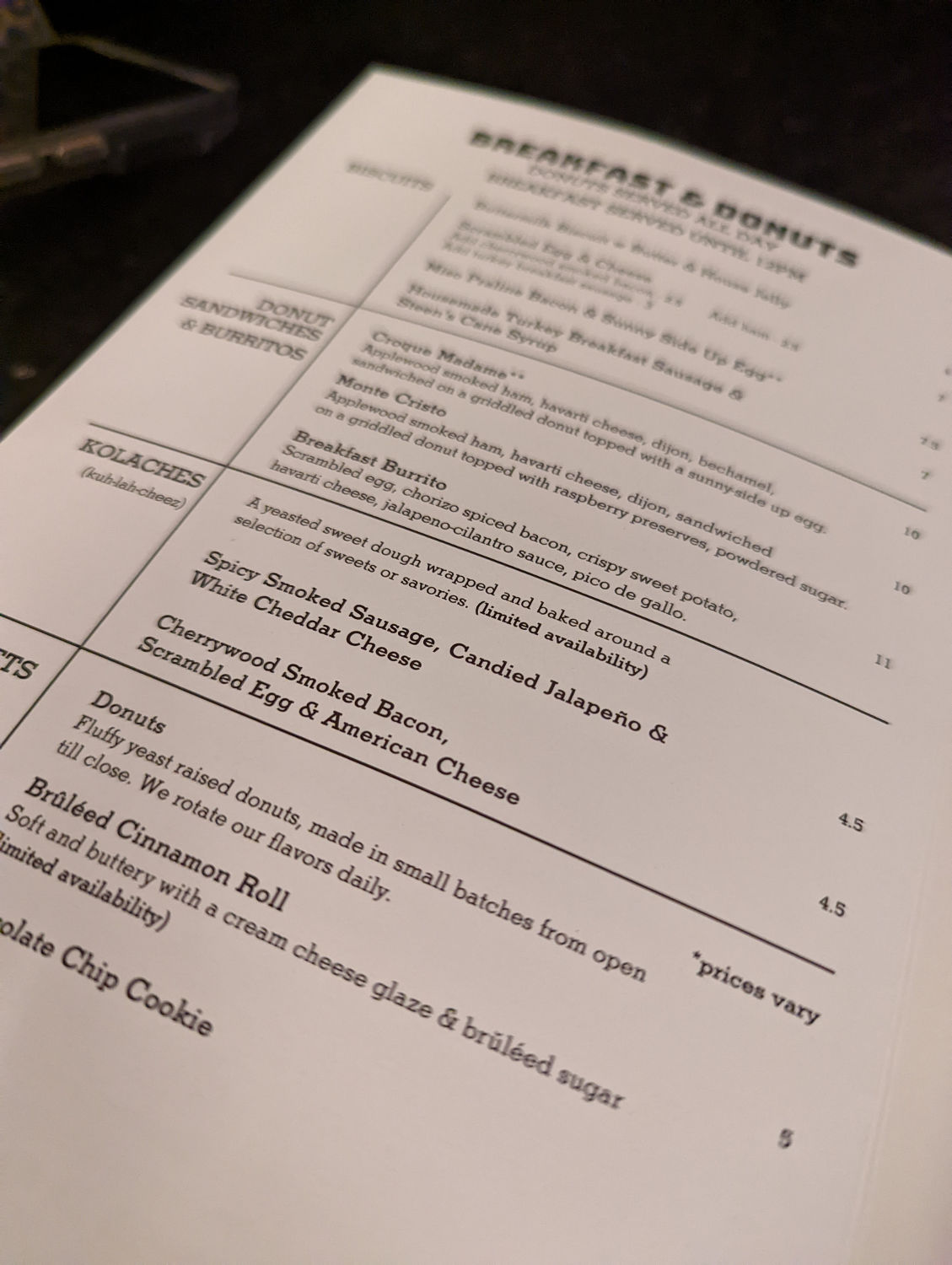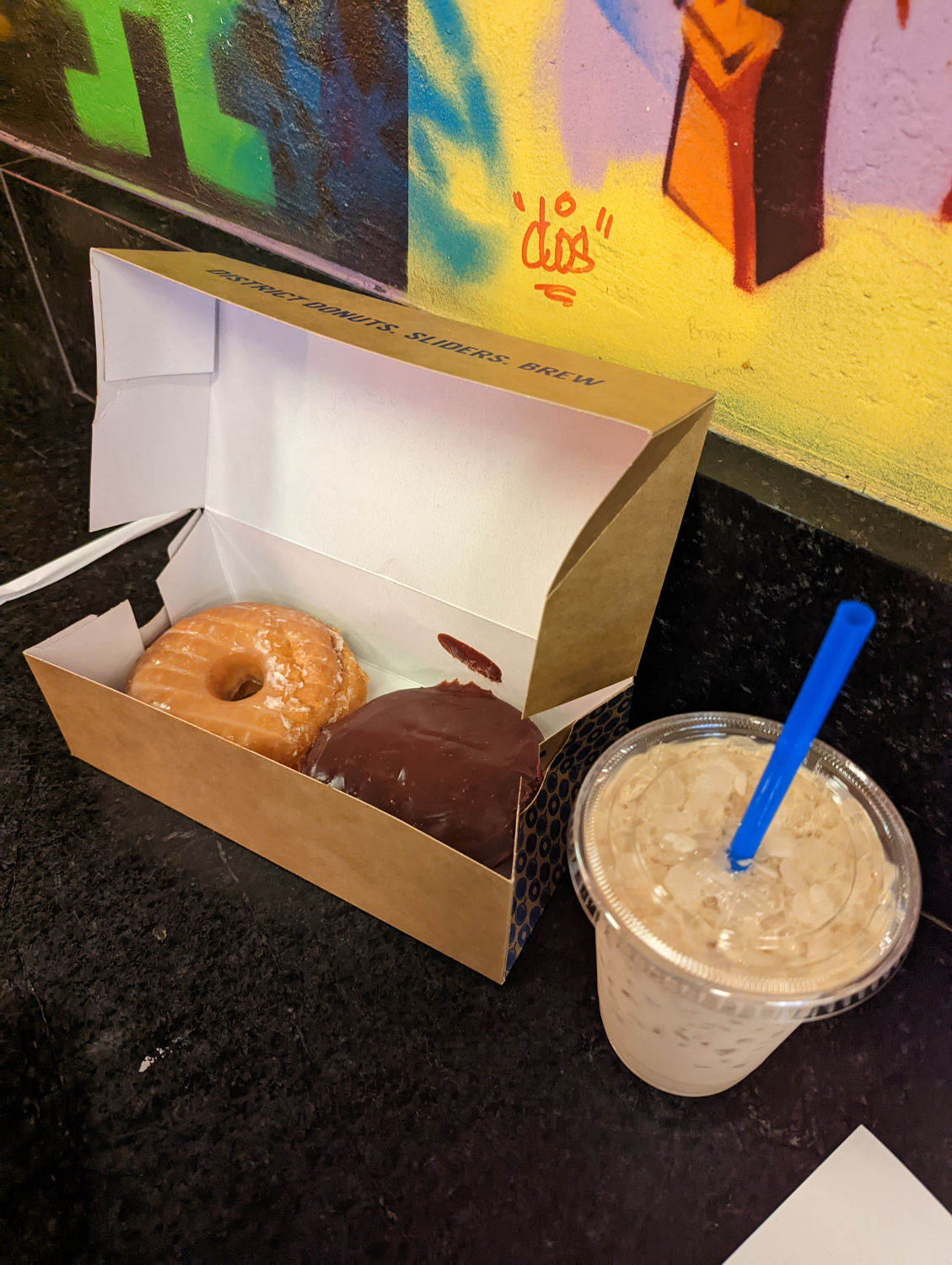 We wandered over to Walgreen's just across the bridge and got our first taste of the Vegas heat of the day – this city is HOT. After purchasing the standard snacks and room beers and taking them back to the room, we grabbed lunch at Hattie B's Hot Chicken inside Cosmo, and it was amazing. Portion sizes were huge, and you simply pick your chicken, spice, and sides, and away you go!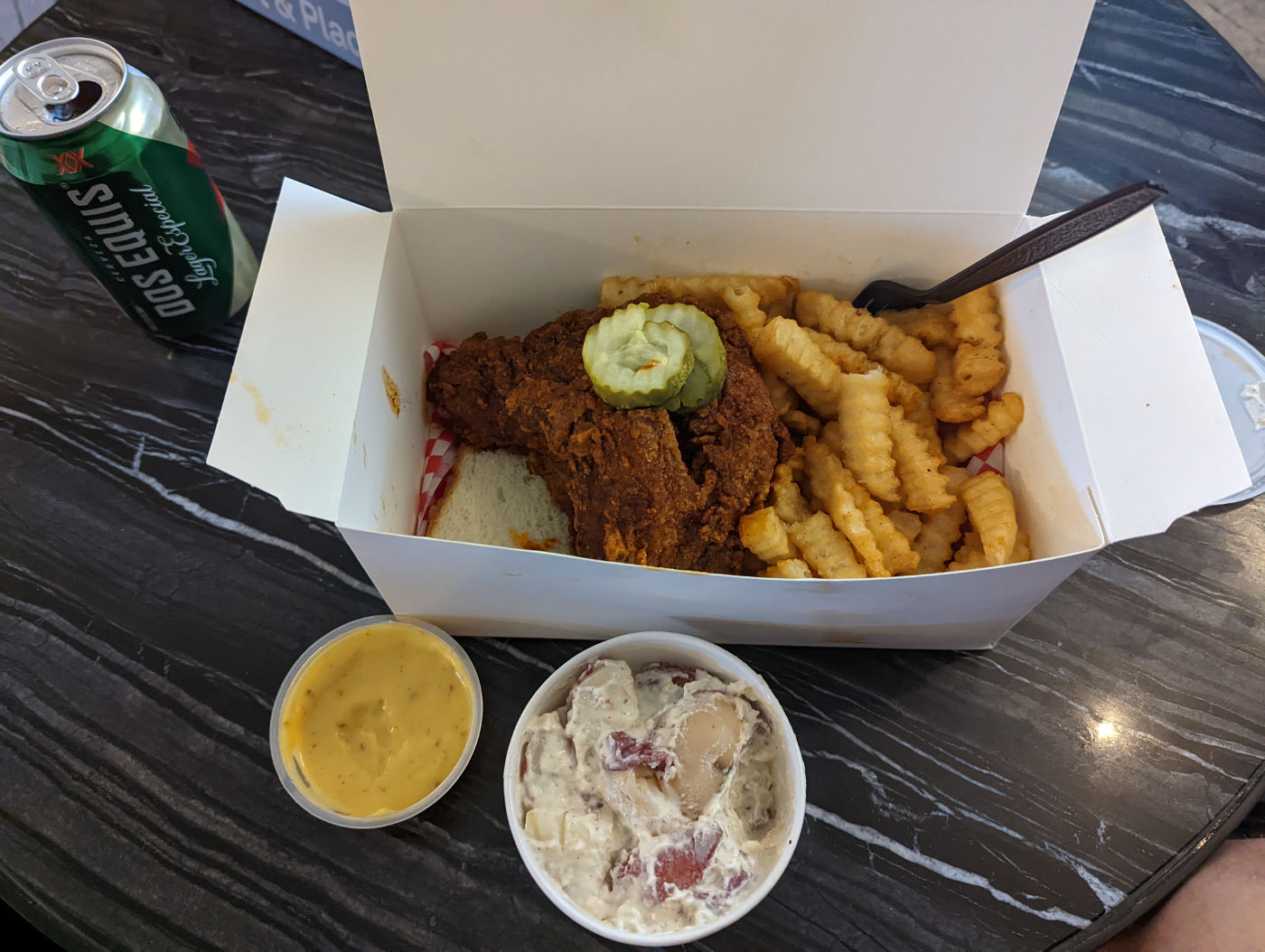 For the afternoon we spent a couple of hours by the busy pool, and the cool water definitely provided a respite from the sun. This was the first time we fully felt like we could chill after the last few months, and it was absolutely necessary. Despite being busy, the pool at Cosmo is great, even if you do have to search hard to find a pair of sunbeds!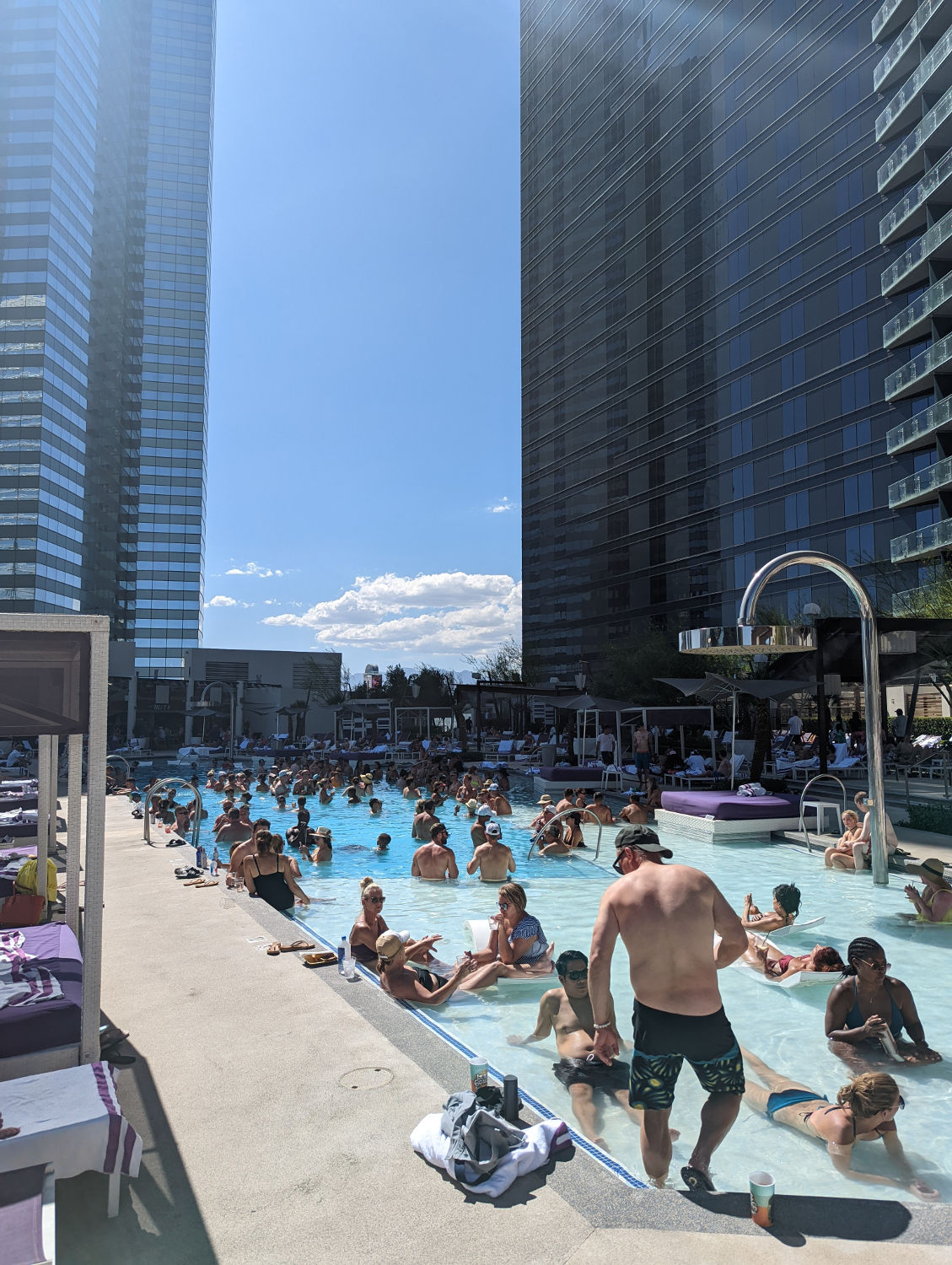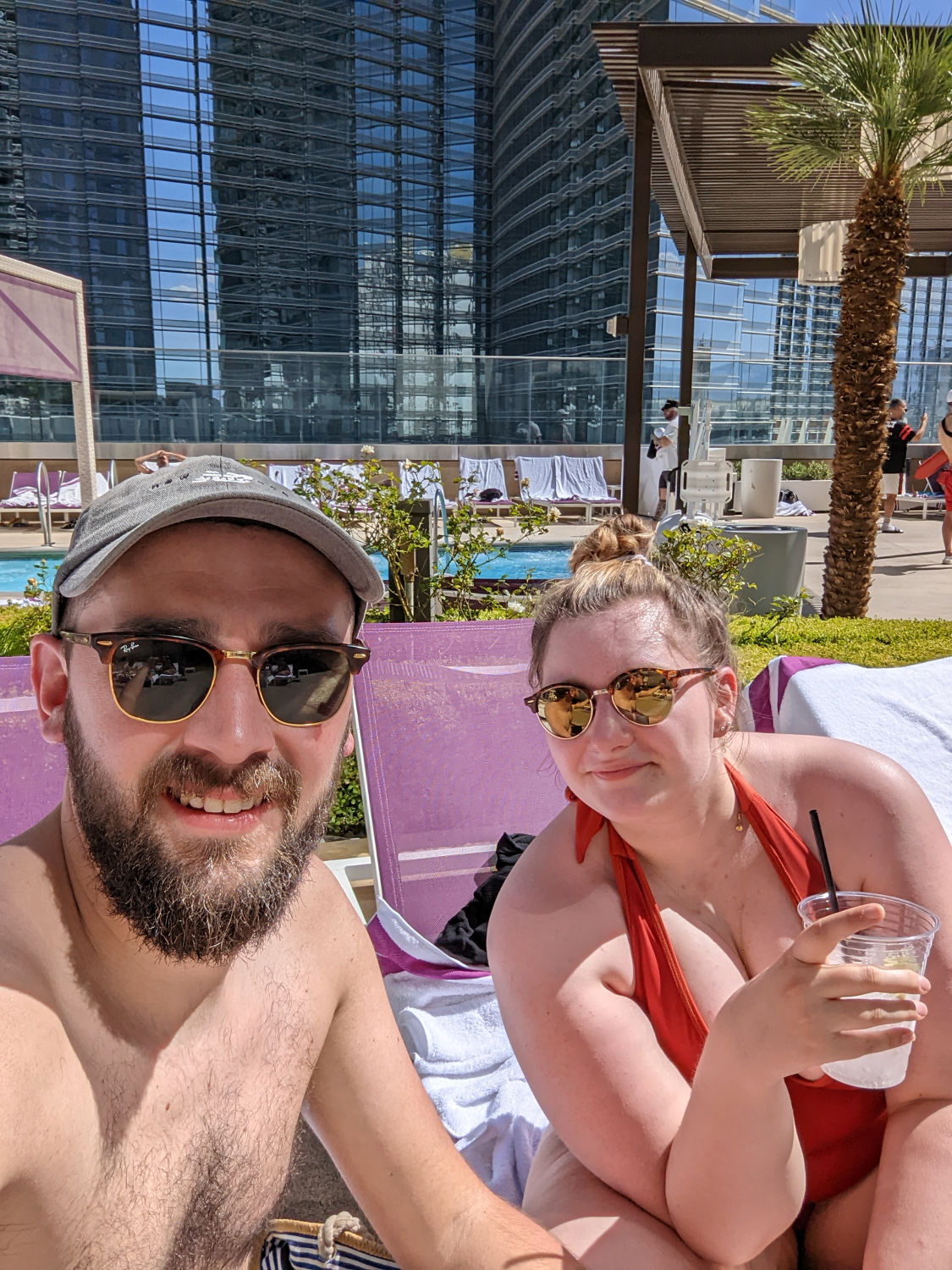 For the evening we pretty much spent it mooching around the hotel again and getting to grips with the sheer scale of it, as well as appreciating the incredible views from our suite as night fell across the city. 
The next morning was another earlyish start, and we headed back down to the restaurants in the hotel. I was very excited to try the famed Eggslut, which at 8:30am was already queuing around the corner, whilst Liv headed back to the doughnuts at District.Donuts.Sliders.Brew., without a doubt her new favourite place. My sausage, egg, and cheese muffin was very very good and worth the wait!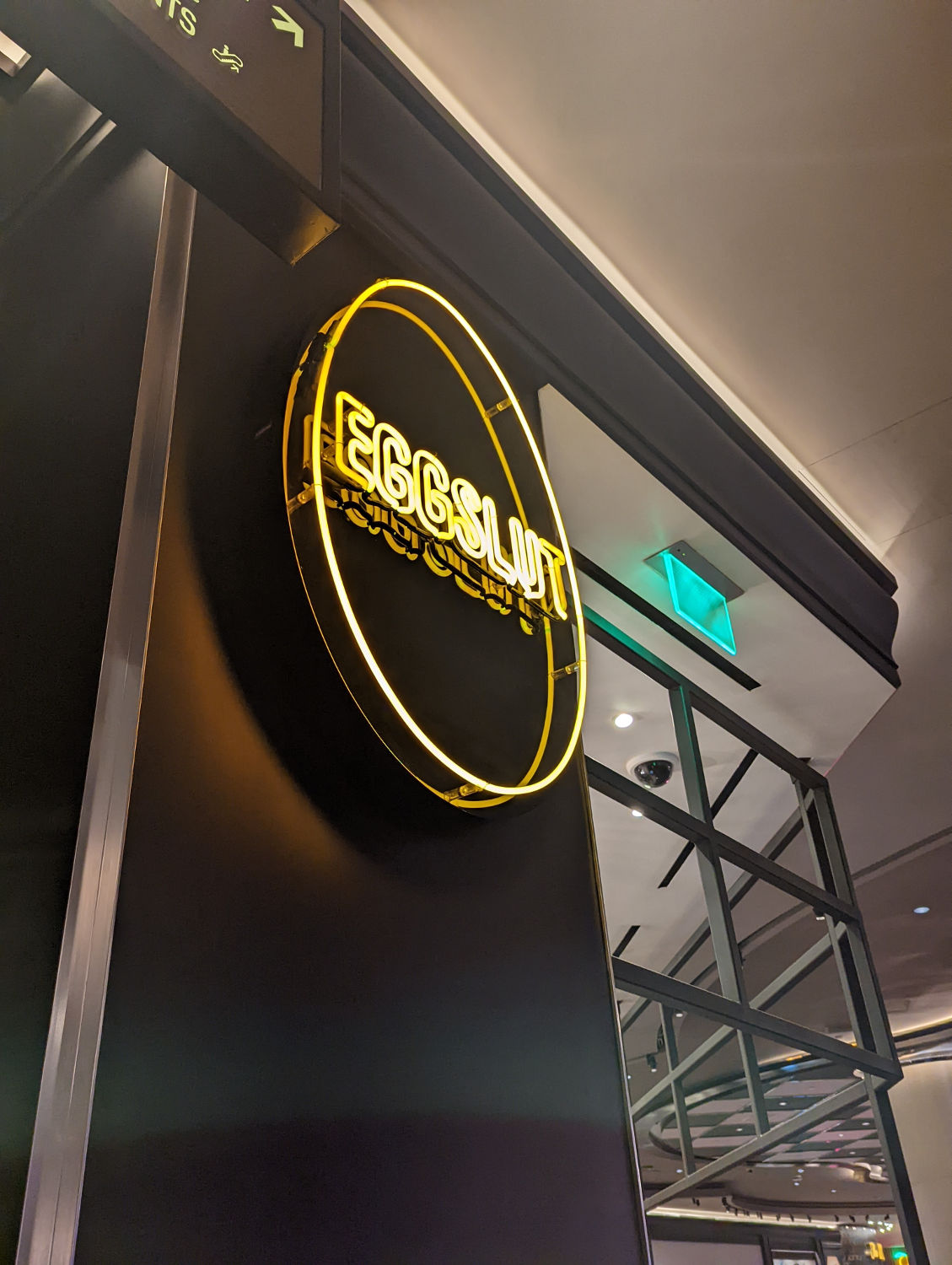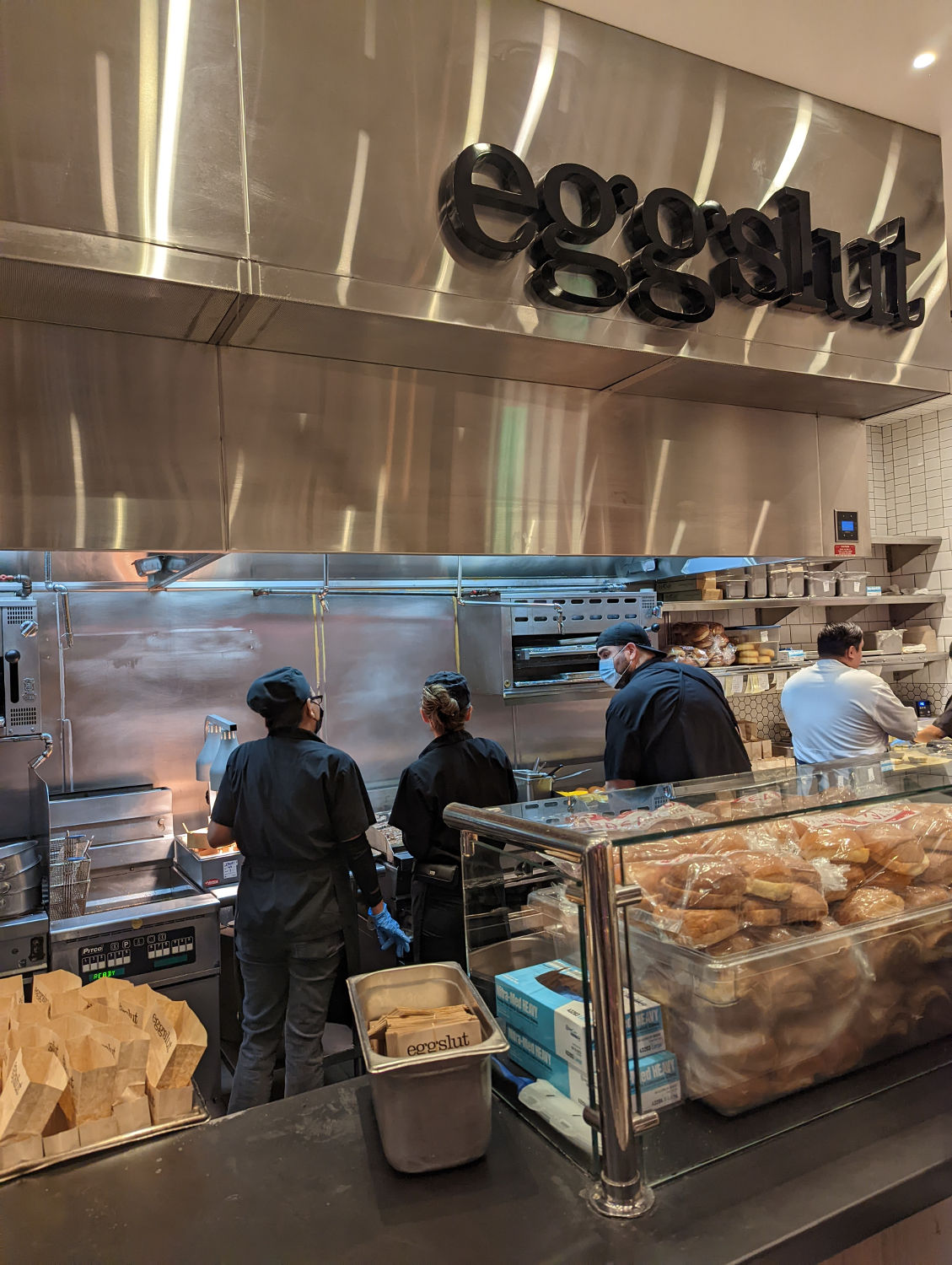 After breakfast, we explored the main hotels and casinos to the North of Cosmo, starting off with the famous Bellagio. Next we headed to Caeser's and spent a couple of hours (and a couple of hundred dollars) shopping for clothes and gifts. We also explored Mirage, the Venetian, and Paris in the 40+ degrees heat.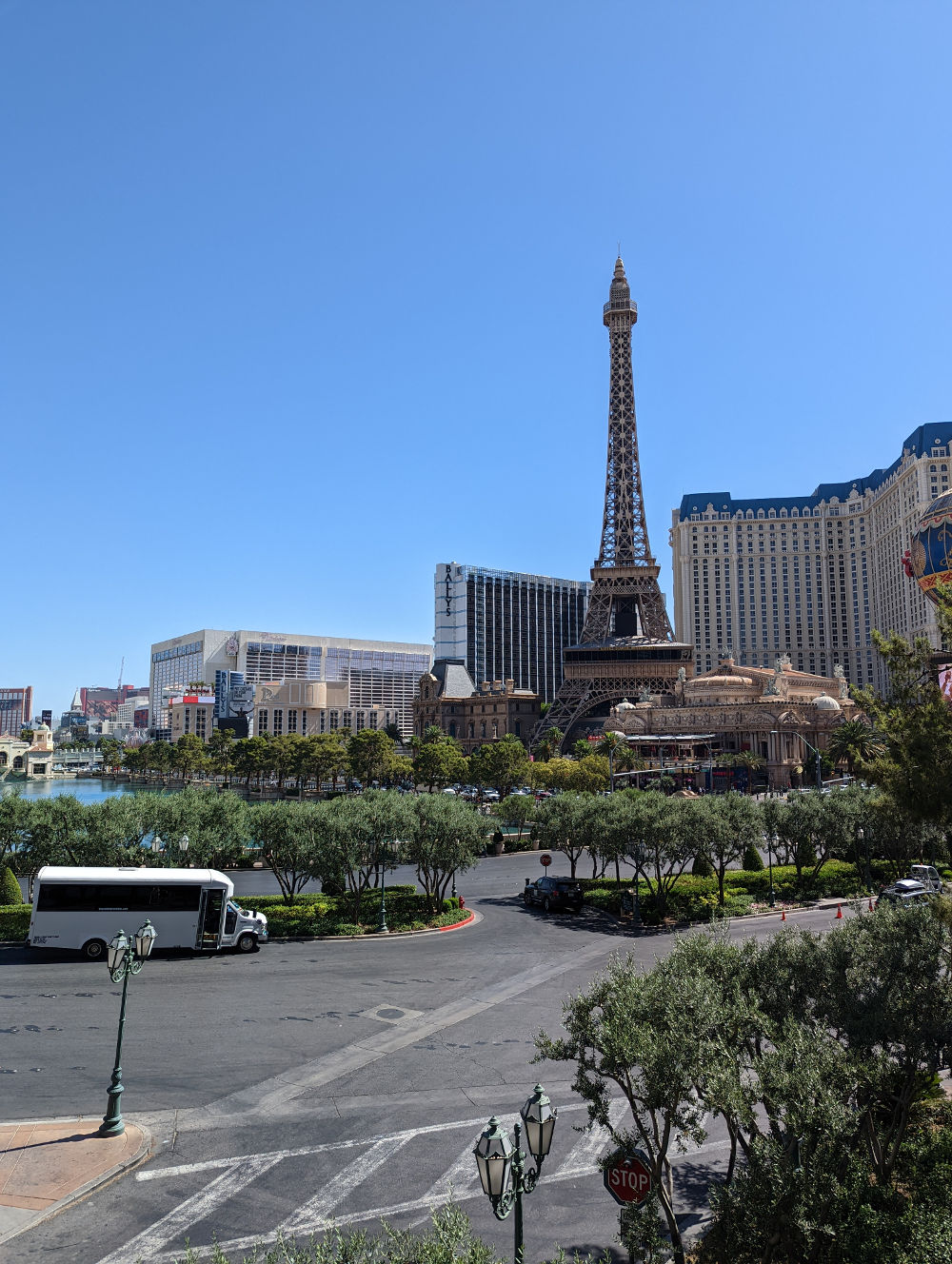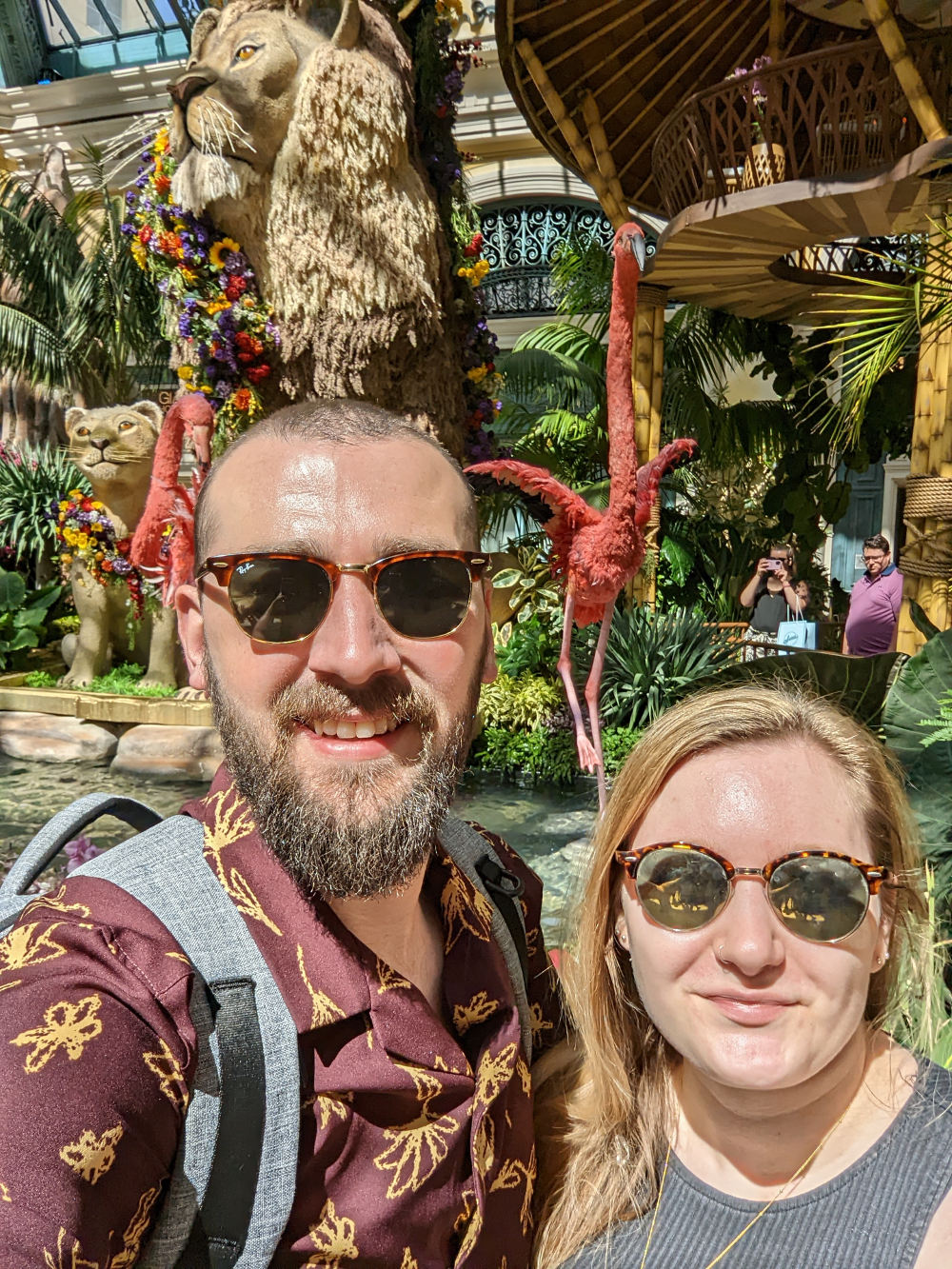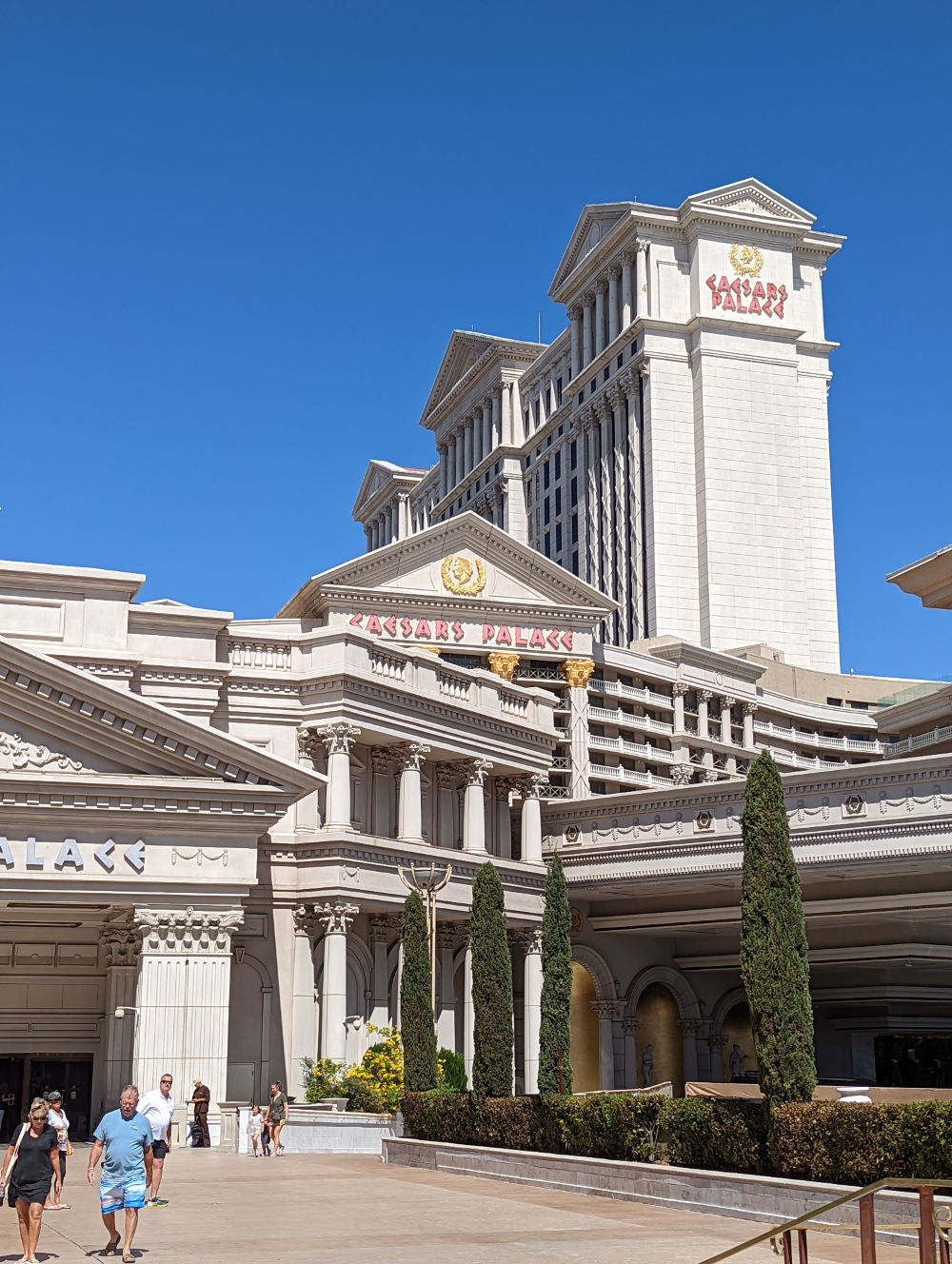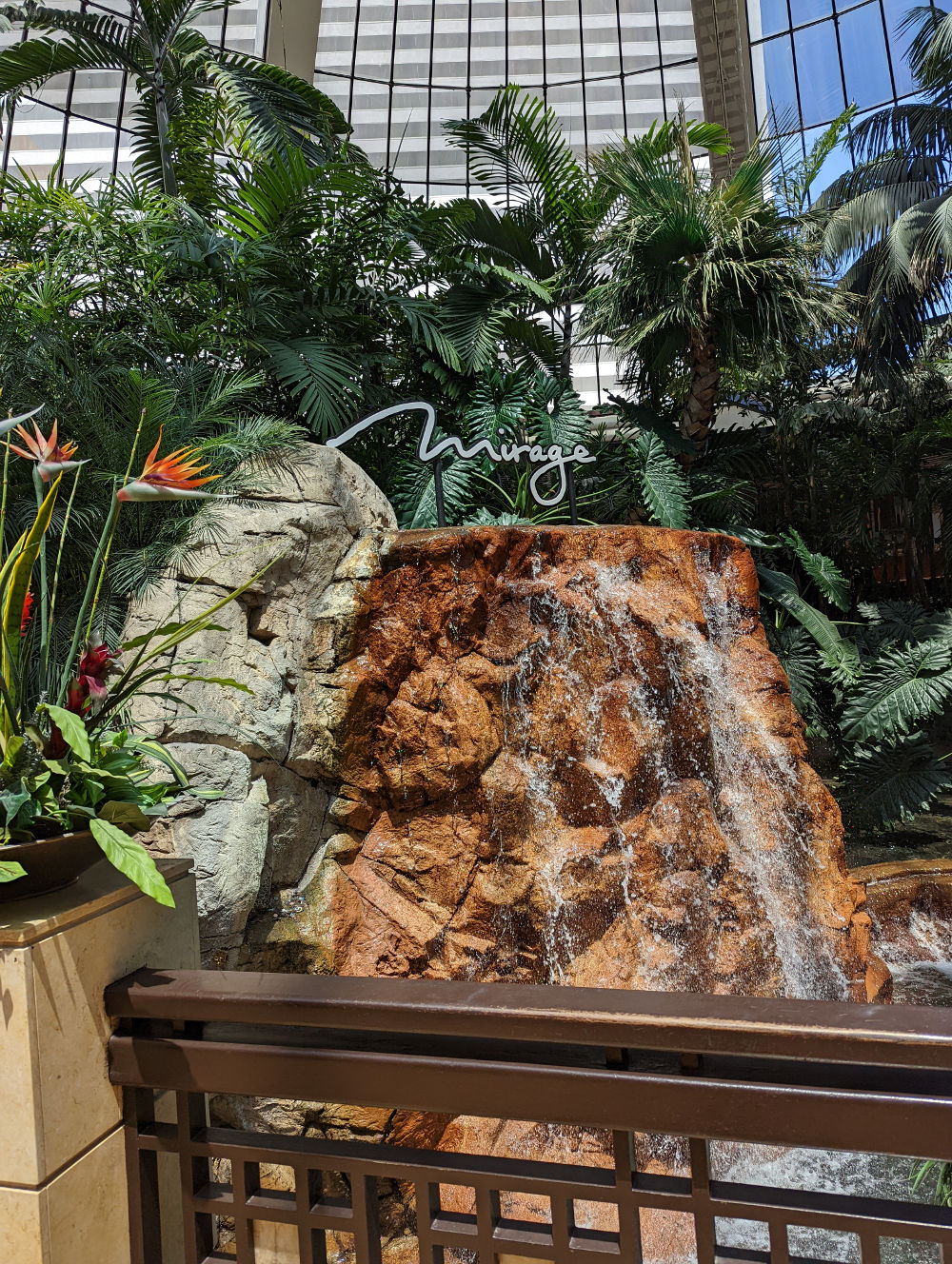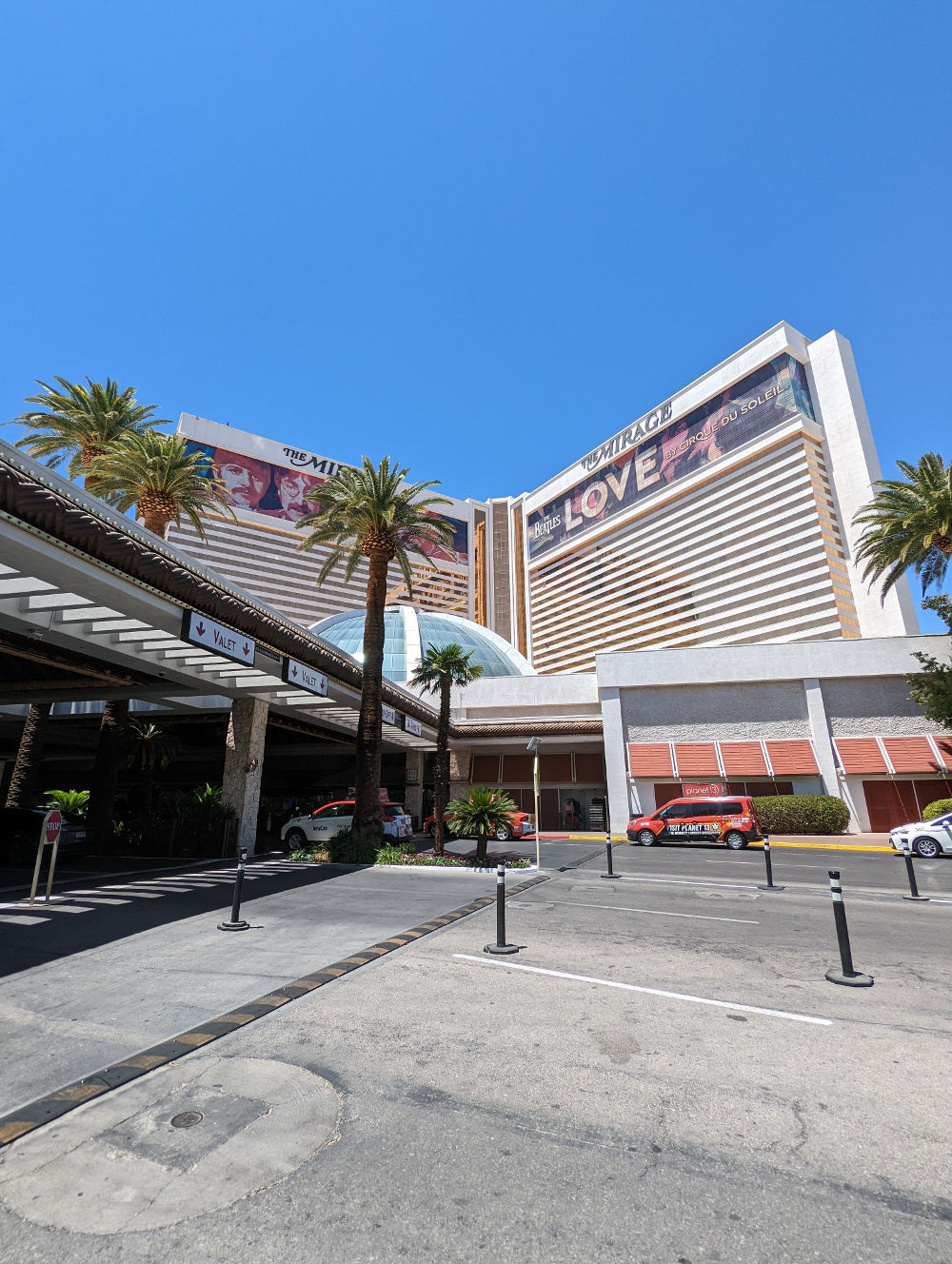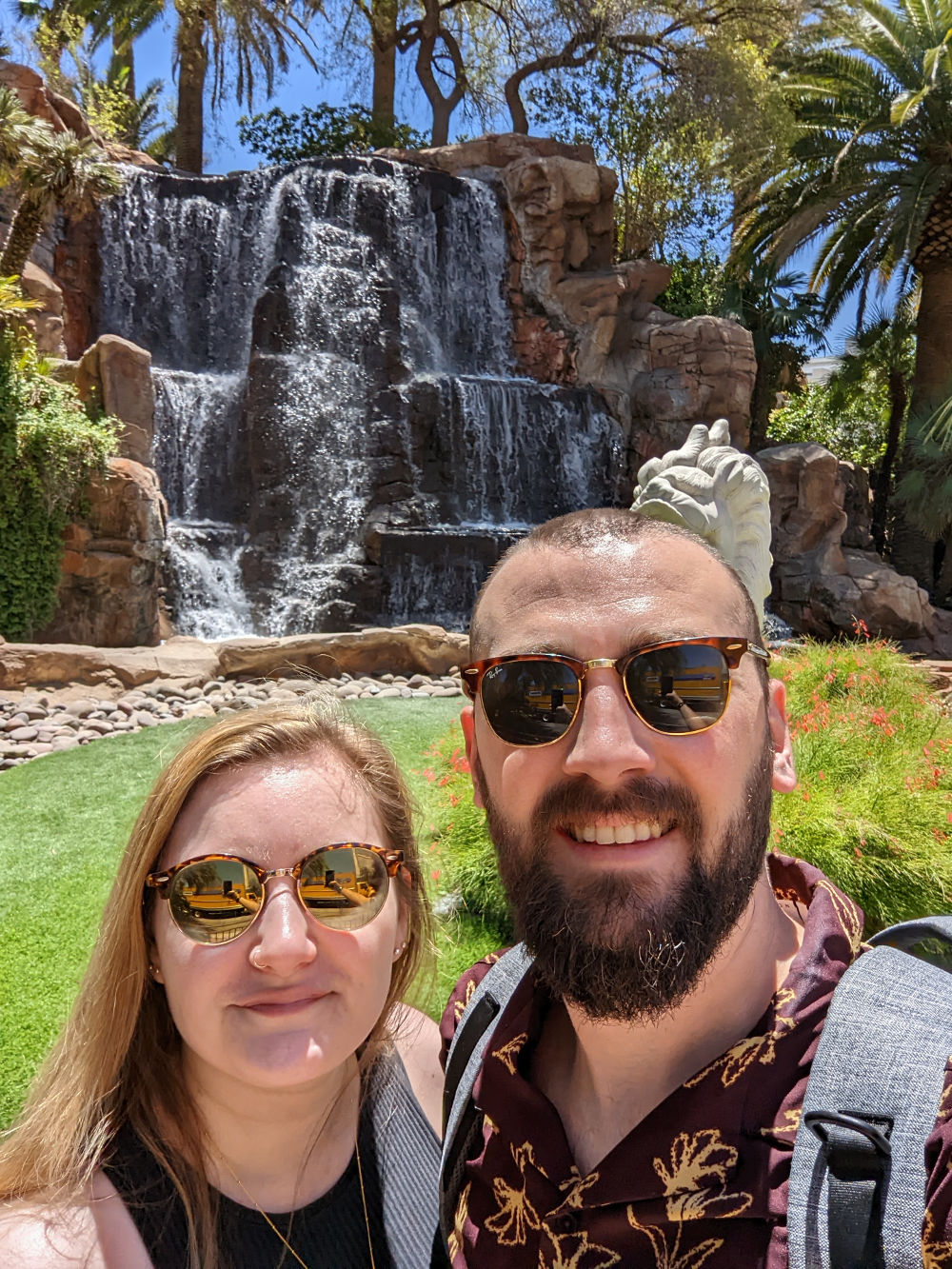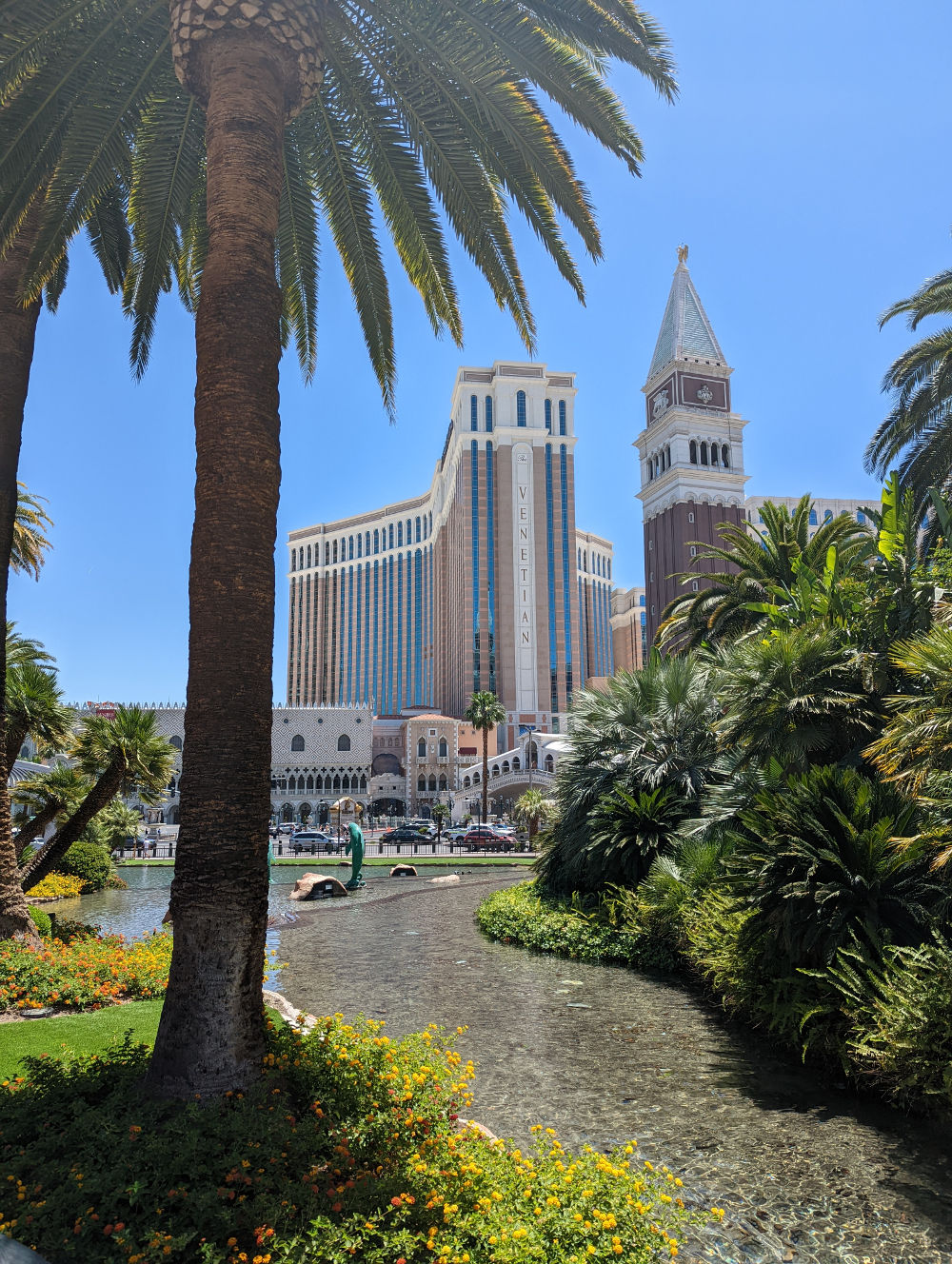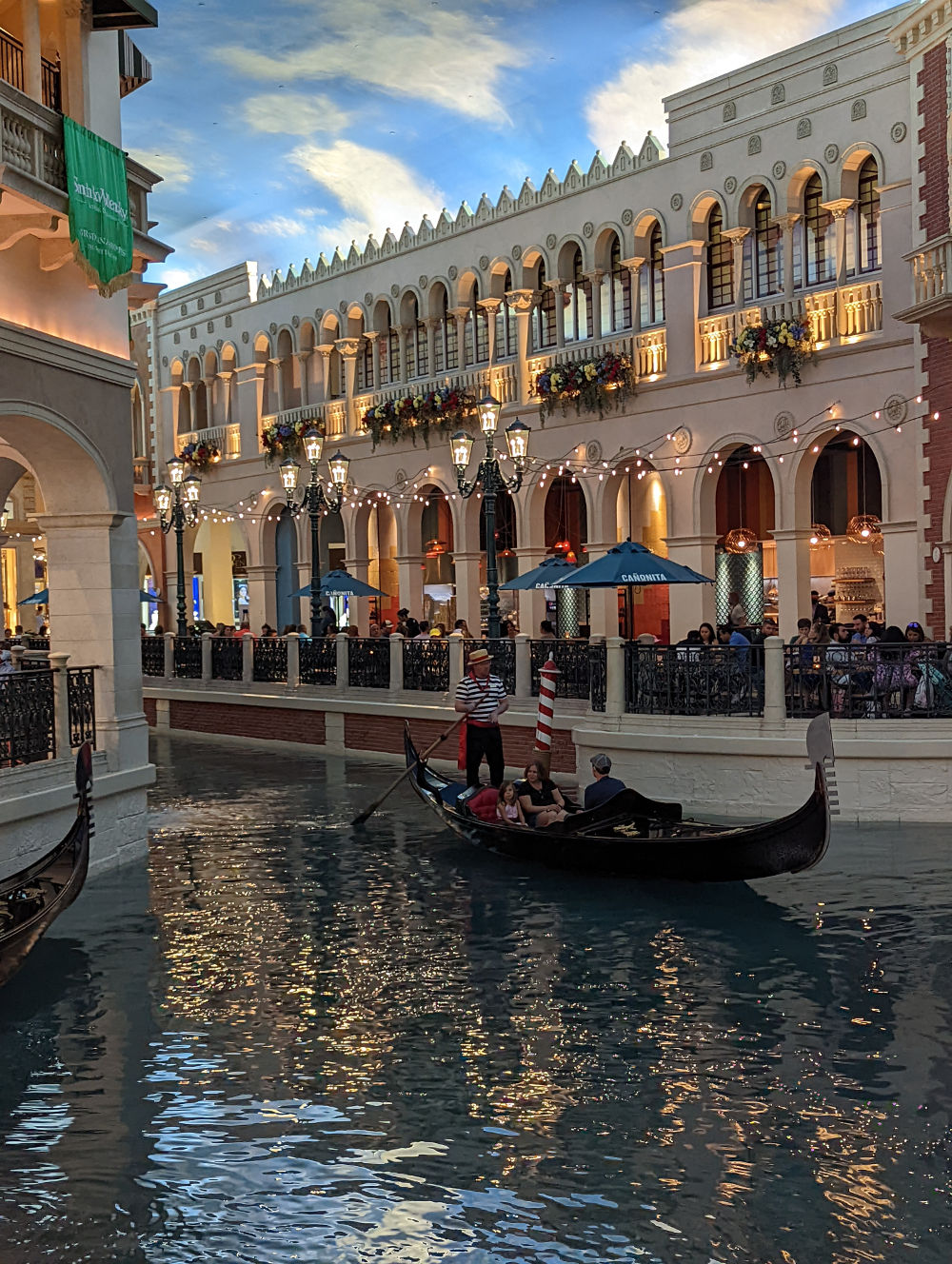 In the evening we again wandered around the hotel before ordering a steak sandwich and spagbol for room service when we'd finished. 
The following day followed a similar pattern, whilst exploring the hotels and casinos to the South of the hotel. We started off in the Starbucks located in Cosmo, where we got a couple of huge ices coffees and some breakfast to get us through the morning. We then got a little bit lost wandering through Aria, but apart from Cosmopolitan, I think Aria definitely looked the next nicest and most modern. You can definitely see the difference between the older classic hotels along the strip and the newer offerings. 
After Aria, we walked through New York New York, MGM, Excalibur, Luxor, and finally Mandalay Bay. It was quite a walk in the heat to get to all these and explore them thoroughly, but there are also monorails and trams you can get between them.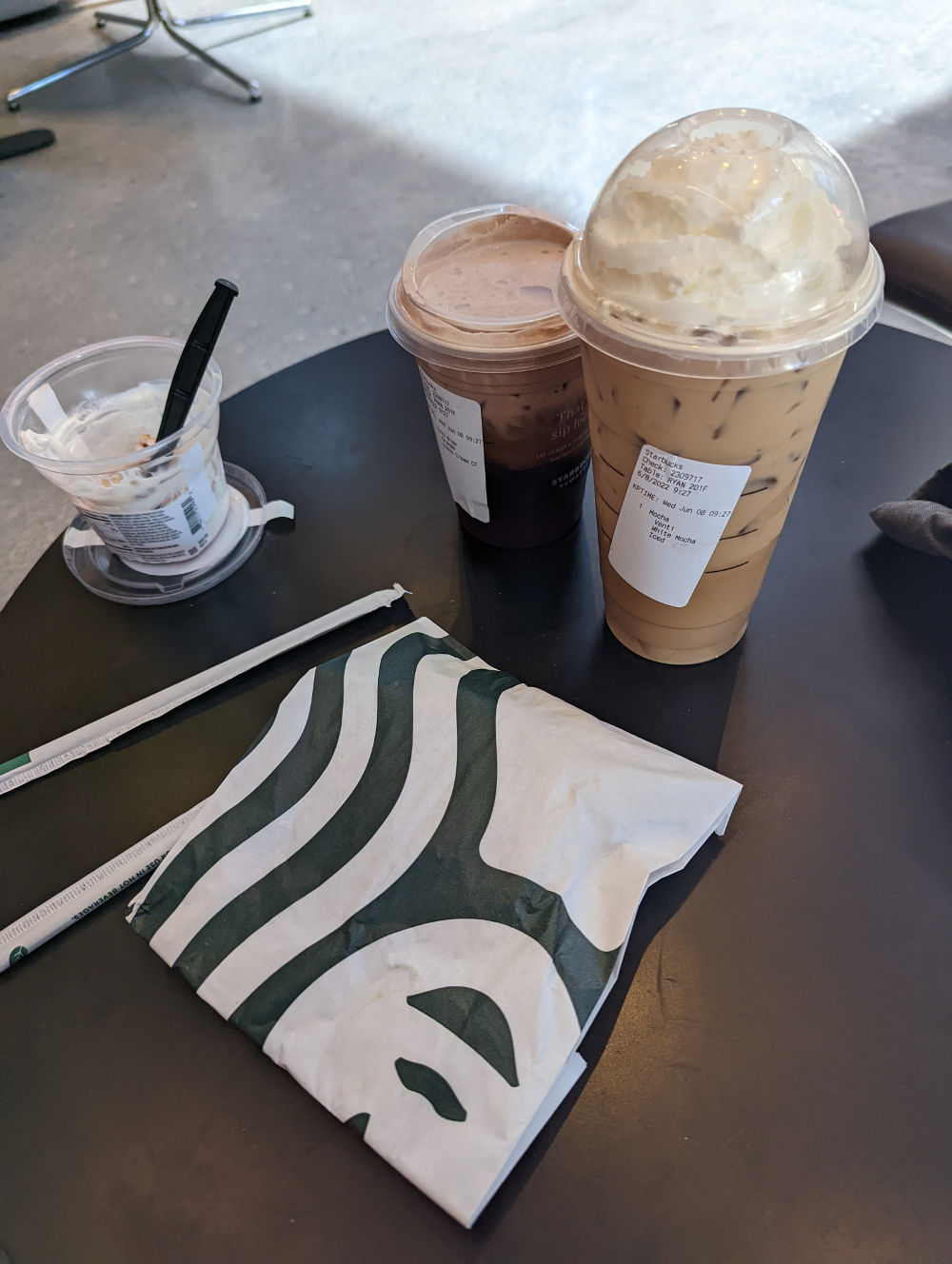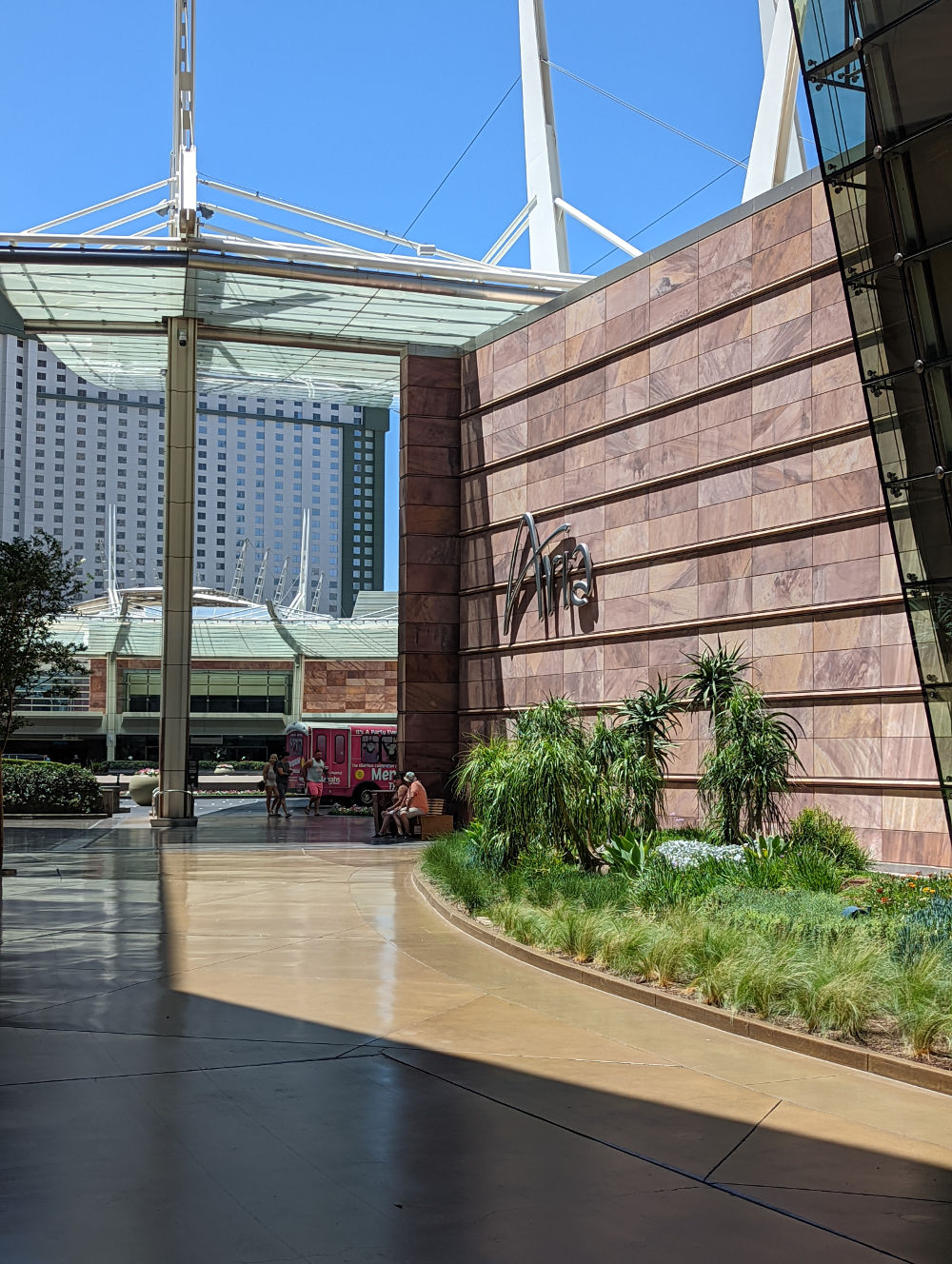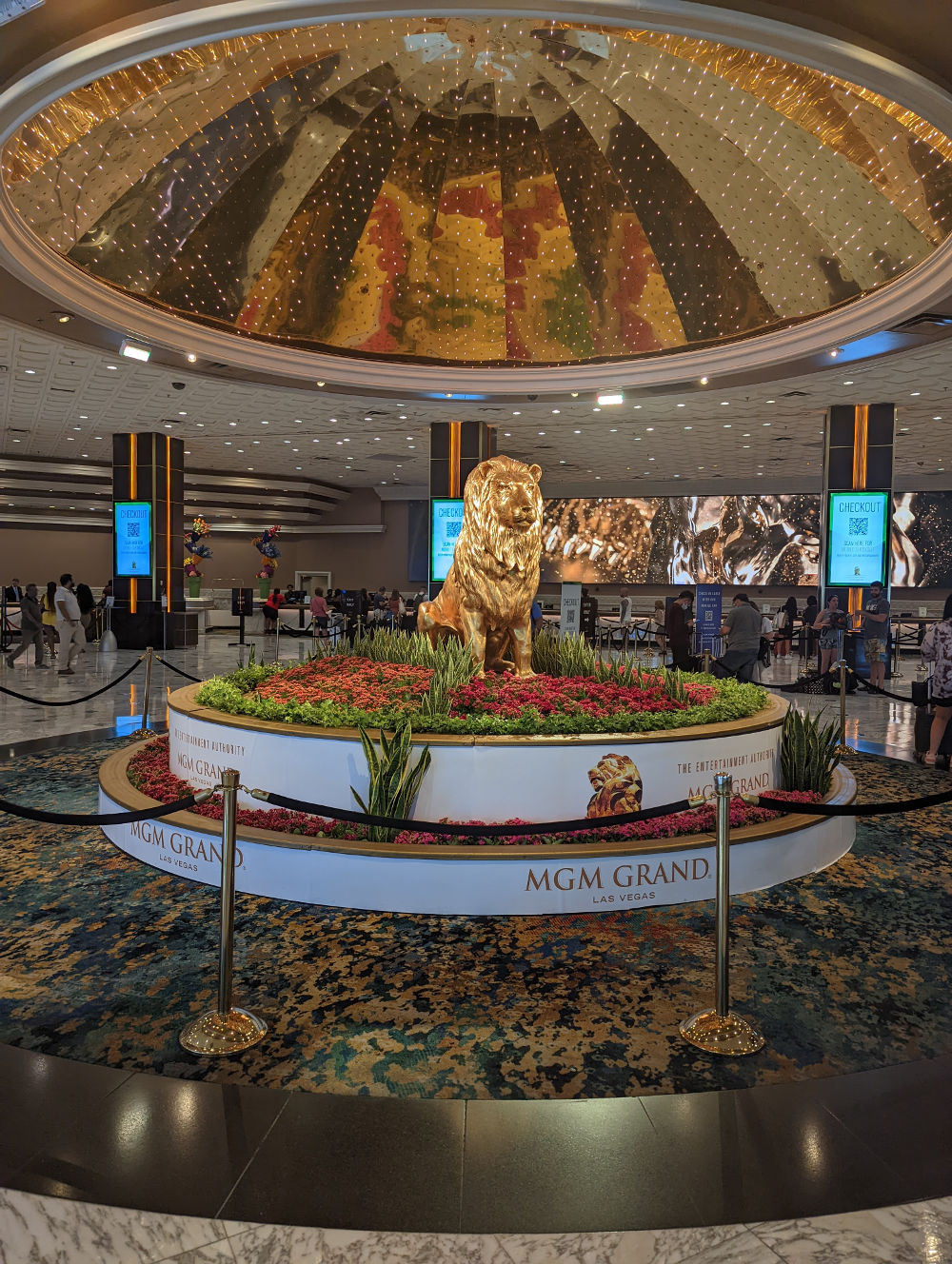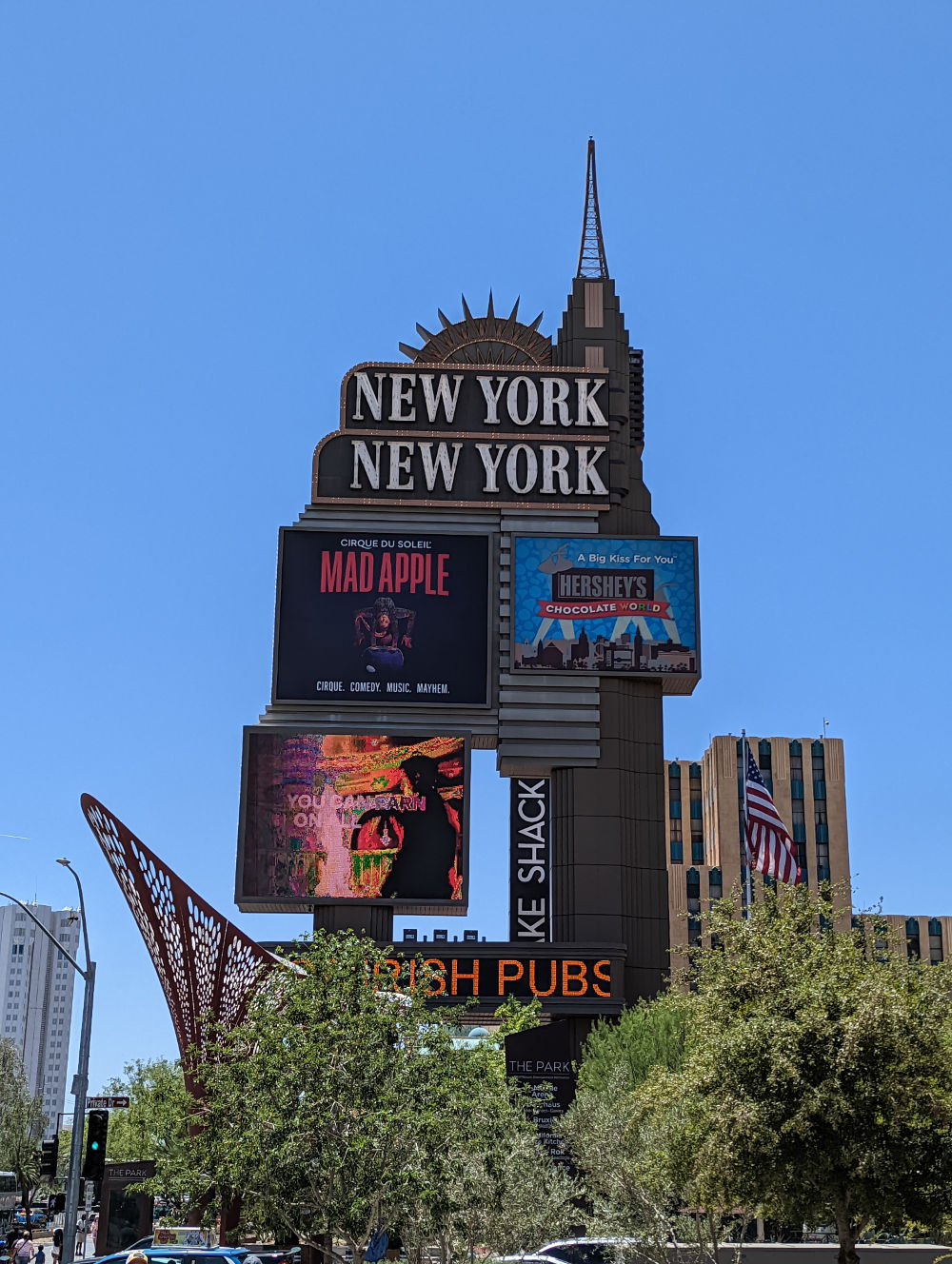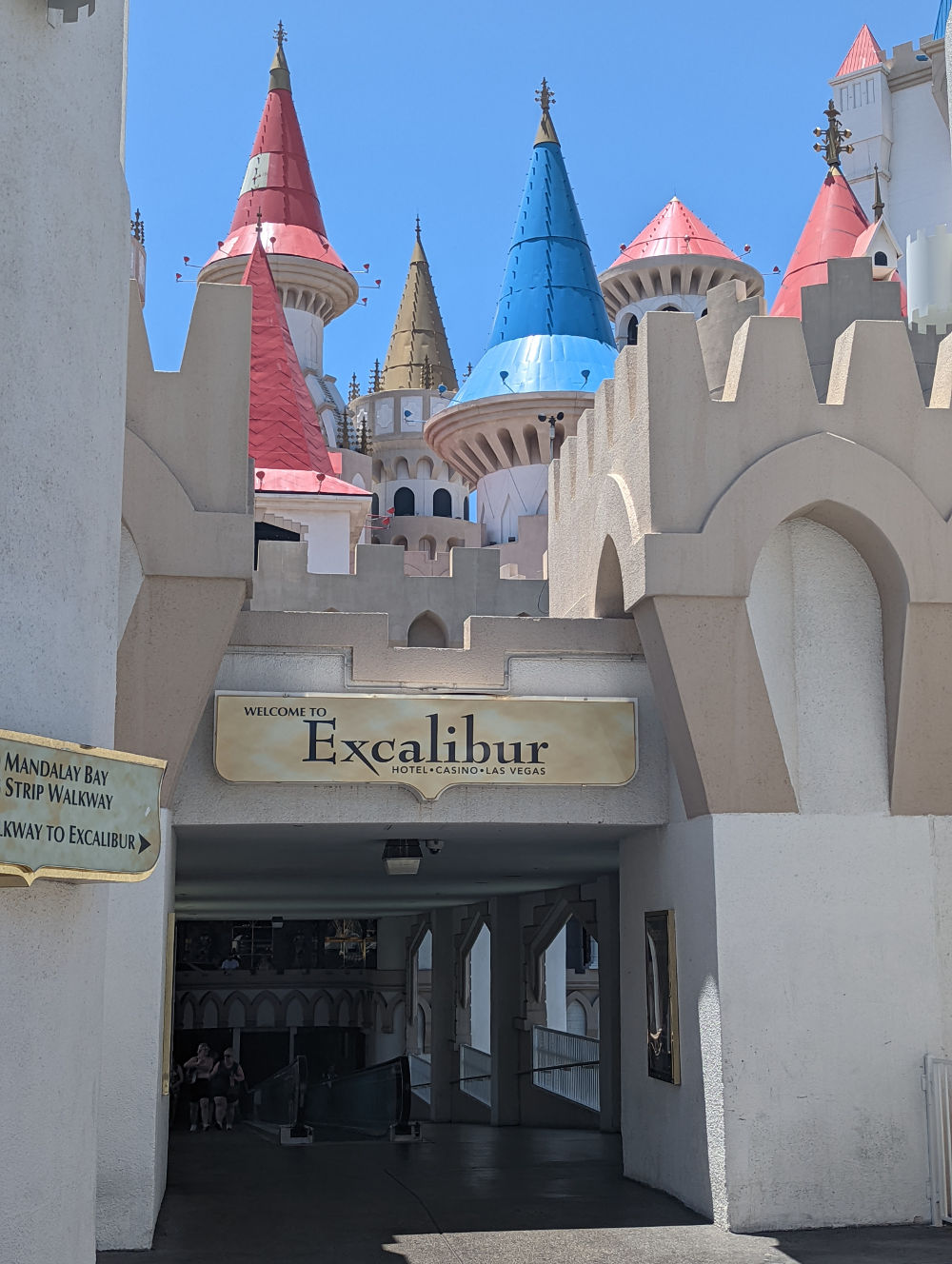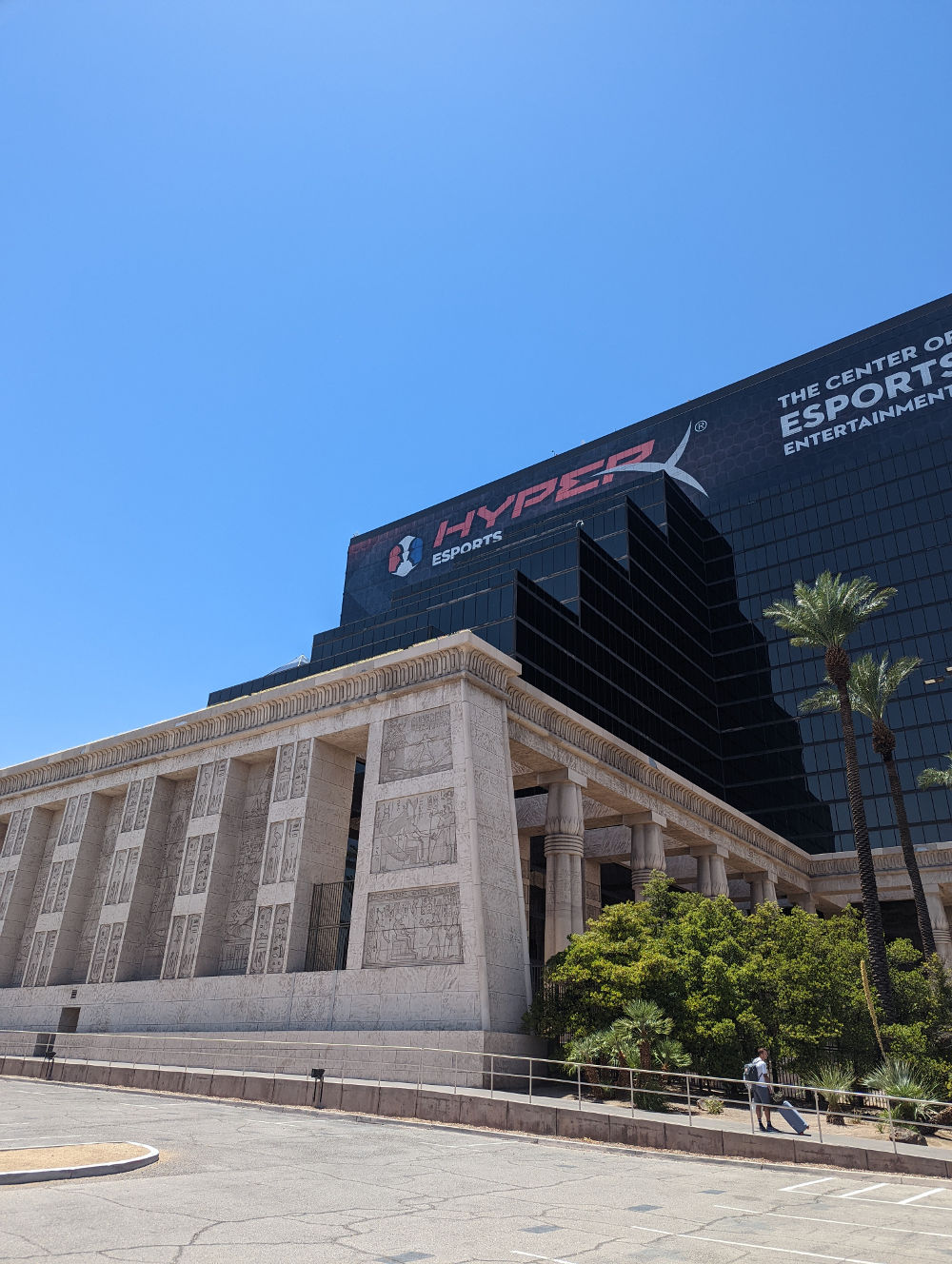 After getting an Uber home I had a swim whilst Liv headed back to the room for a nap. It can be tough finding beds at the pools, but worth waiting until you can find one and keep cool in the pool. We tended to stay in the Chelsea pool, which at a certain point in the afternoon ends up in the shade as the sun passes behind a neighbouring building. 
For the evening we hit the slots and roulette machines, and just soaked up the atmosphere on our last night in the city. Once we'd run through our money, we decided to grab a burger from Holstein's within Cosmo. The burgers were really good and the place had incredibly friendly staff, as did the majority of places we visited within the hotel.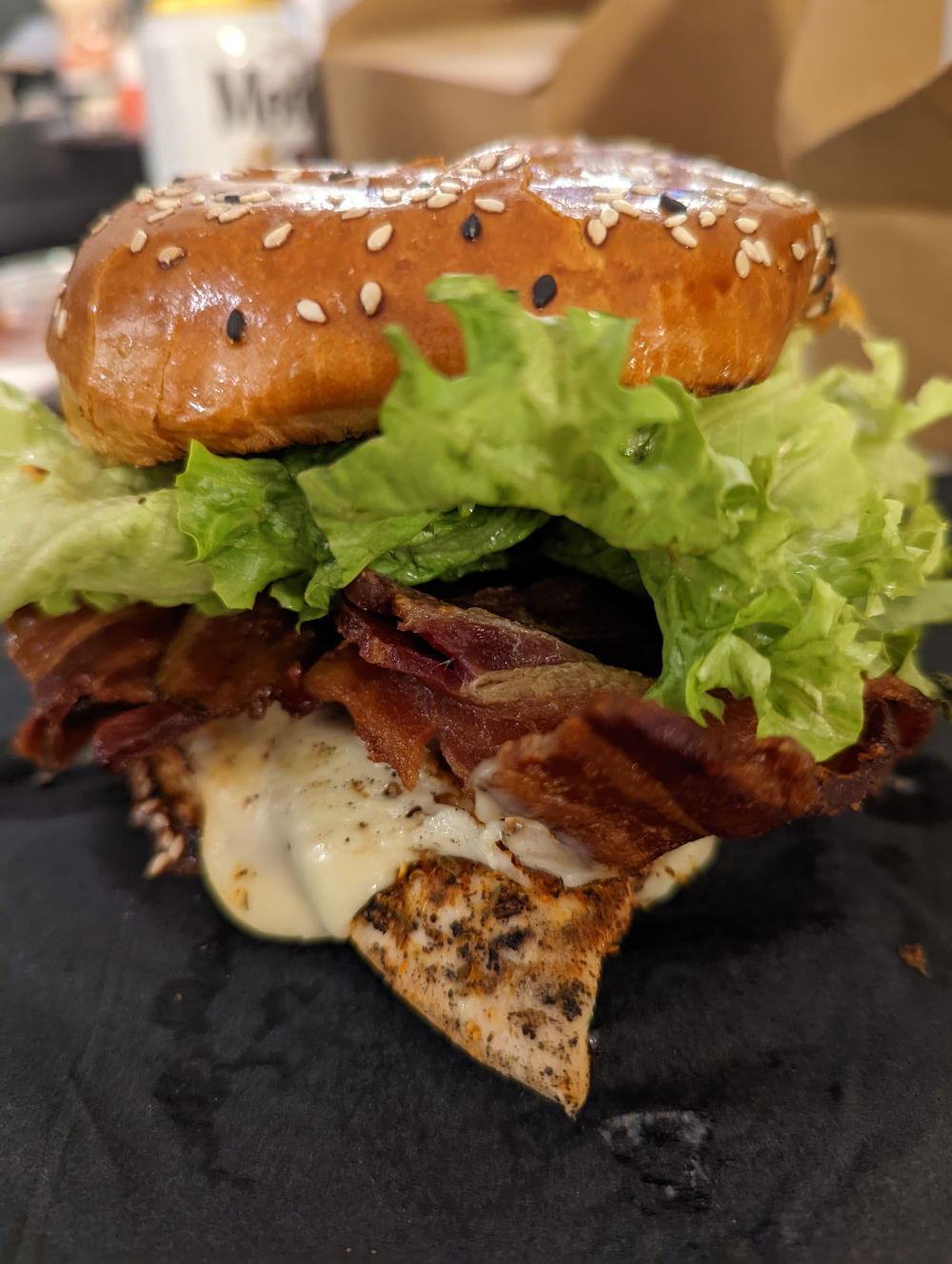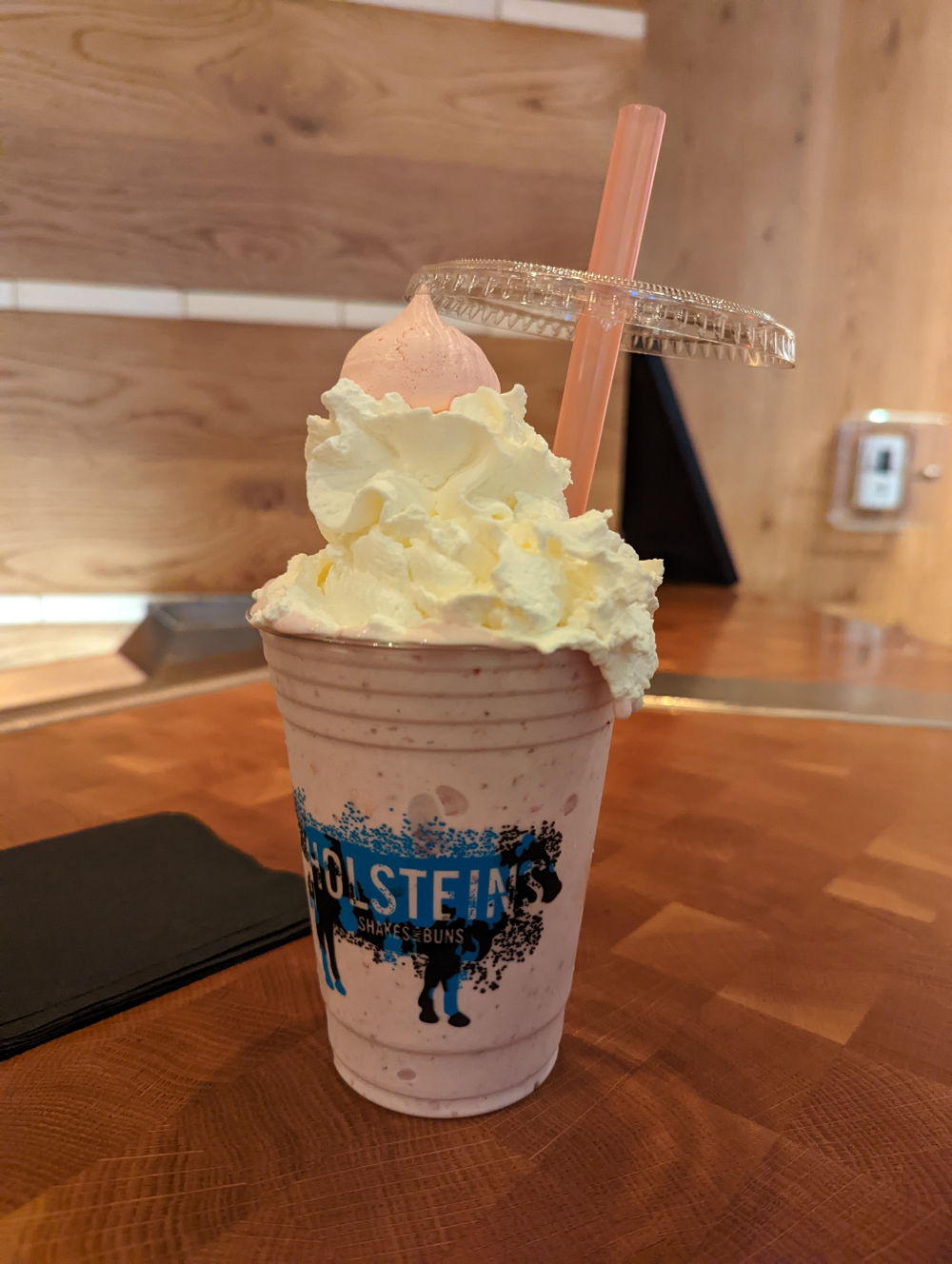 The following morning was an early 7am start as we had a morning flight to Cancun. We packed the room up fairly quickly, reluctantly checked out of one of the best hotels we have ever stayed in, and ordered an Uber to the airport. Our driver Anthony, after learning that it was our honeymoon, had plenty of advice to offer from his own incredible 60 year marriage. The main takeaway was to have fun every day, and never lie and lose trust. Wise words from the wise man who has retired to Vegas and spends his afternoons playing golf and driving an Uber to pay for it. That is certainly the life.  
We hadn't managed to check-in online for our American Airlines flight from Las Vegas to Dallas, due to the booking being made through British Airways. Liv can be a nervous flyer so we were hoping that we would just be able to choose our seats when checked in so that we could at least sit together. Unfortunately we were unable to access the seat map when checking in on the machine, as it was 'unavailable', and it gave us seats nowhere near each other. We headed to bag drop and as our cases were a couple of lbs overweight we were made to unpack and add it to our hand luggage. Frustrating, but certainly not the most frustrating aspect of our flights..
After repacking our cases we went back to the desk to drop our, thankfully underweight, cases off. We asked the attendant whether we could move our seats to be sat together, and was told that she wasn't able to, but that the agents at the gate would do this for us. Of course, when we got to the gate we were told that this was something that they couldn't do either, and there were many people complaining for the same reasons. Not a great introduction for our first ever American Airlines flight. 
Despite a very bumpy first hour on the plane, Liv was thankfully fine and the 2 and a half hour flight passed fairly easily. Despite the poor service from the agents and the inability to book seats together (which we were happy to pay for), the free drink and pretzels along with the free online entertainment via the app made for a comfortable, albeit very full, flight. 
We had less than one hour for our connecting flight from Dallas, so when we were stuck on the plane and the attendant announced that there was a mechanical issue with the stairs meaning that we would be stuck for a short while, it's fair to say that the nerves were slightly jangling. After finally disembarking, we ran through the terminal to the airport tram as we had to switch terminals for our connecting flights. Thankfully we managed to just get to the gate as the last passengers were boarding, and took our seats together at the back of the plane for our second short(ish) flight of the day.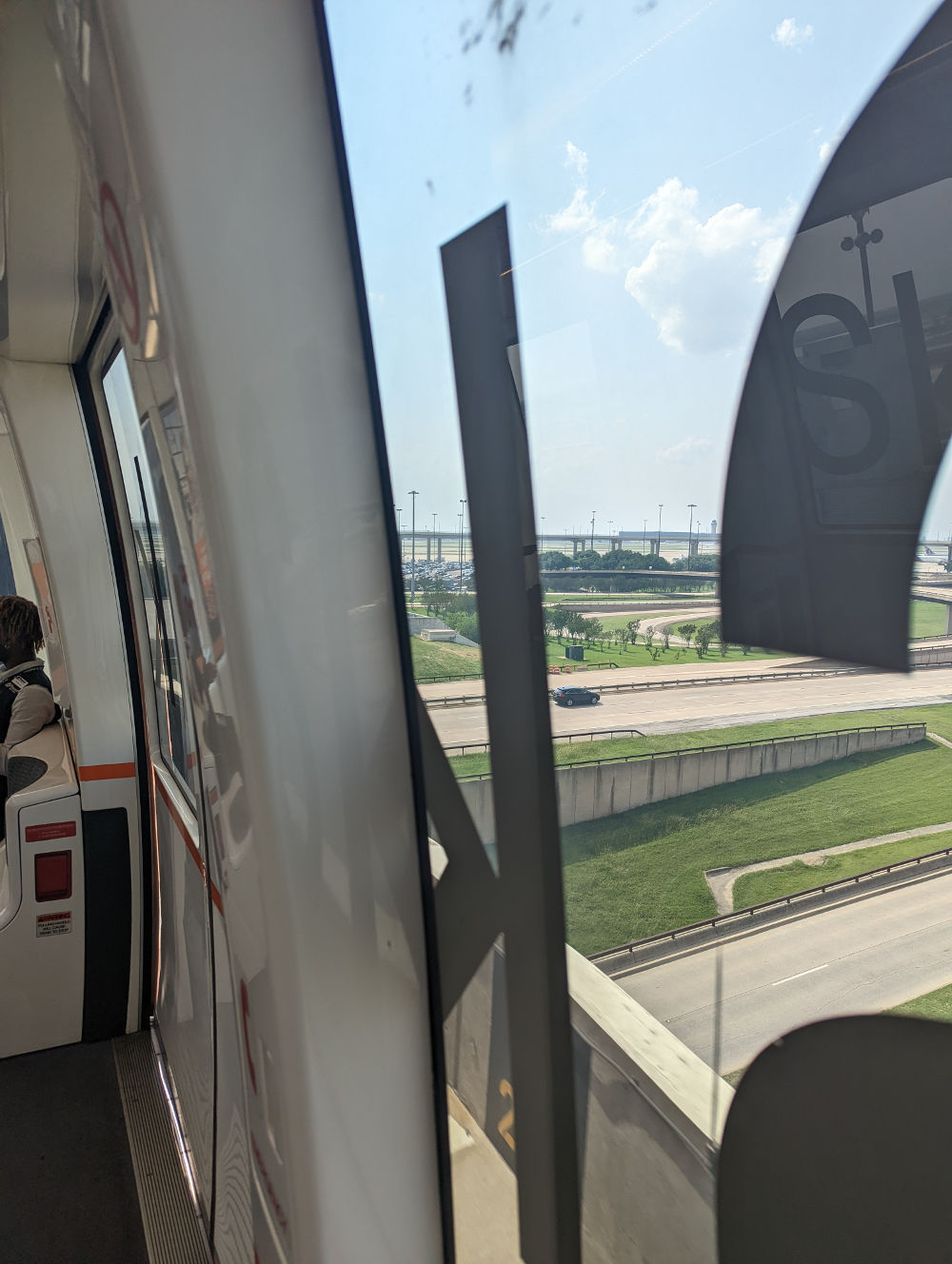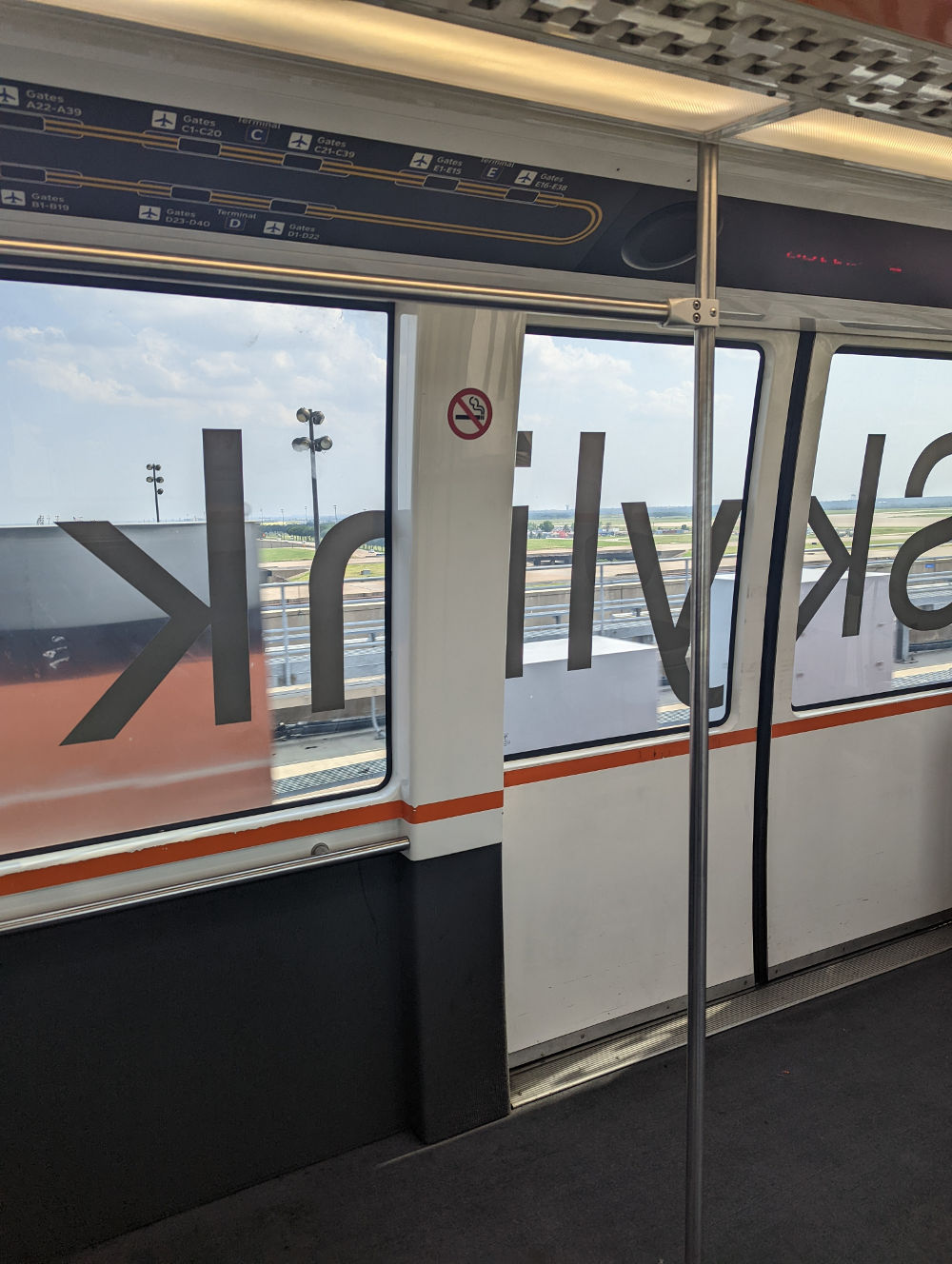 On the early evening descent into Cancún, the weather looked fairly gloomy. Given that it was the start of the region's low 'rainy' season and our weather apps had consistently shown cloudy days for the duration of our stay, I was definitely concerned that we had made the wrong choice for our honeymoon. Not to ruin the rest of the blog, but we had absolutely nothing to worry about and had ten glorious days of heat and sunshine!  
Unfortunately they had run out of immigration forms on the plane so we had to wait until we were off the plane and into the security hall before we could fill these out. Security was fairly quick and was done in around 30 minutes. However, what waited for us when we exited the airport could only be described as mayhem. On top of the very humid evening air, as soon as you leave the airport you are greeted with numerous drivers, agents, and tour companies vying for your custom. We had a transfer pre-booked through Blue Bay Travel, but were completely overwhelmed with the amount of people hassling for our attention. Thanks to a friendly member of the airport staff we were directed to our respective tour company and met our guide who then ordered our transport, which took around 20 minutes to arrive. If I can offer a piece of advice for those passing through the airport, it's to keep your wits about you, and don't be afraid to be firm if you know what it is you need to be doing!  
Our driver turned up and through his minimal English and my minimal Spanish we had a good chat about life, relationships, and the main sights in and around Cancun. He slightly worried Liv with stories of wild alligators, which we never did determine if were true or not! On arrival to the Excellence Riviera Cancún, our first impressions were how grand it was! A huge driveway was flanked with huge iron gates and a guard, who spent a while determining that all of the paperwork from the driver was in order, checking that the tour company was correct, and confirming our names and booking details before allowing us through. Whether the guards were there to protect from rogue people or the wild alligators, we felt incredibly safe during our time in the resort! 
Our driver led us up the long sweeping drive, where we were met by two bellboys as soon as we exited the taxi. They took our luggage, and handed us both a well needed glass of champagne! We tipped the driver, and were directed into the grand entrance of the hotel to check in. The whole process was easy, and the reception staff were amazingly polite, helpful, and friendly, a theme that would undoubtedly be repeated throughout our stay at the resort. After checking in, we were directed to the Martini Bar to get a drink, the first of our first all-inclusive holiday together, before the bellboys met us again with our luggage and walked us through the resort to our room, decorated with 'honeymoon' banners on the door. 
Our room, a two-storey rooftop terrace suite with plunge pool and oversized jacuzzi, again was wonderful. The ground floor consisted of a bathroom with double vanity sinks, separate toilet, large shower room, and separate oversized jacuzzi bath; bedroom with large bed and TV, sitting area with a sofa and separate desk; and a balcony overlooking one of the pools. The rooftop terrace had a huge floorplan with a seating area underneath a slotted wooden veranda, a bed, separate seating area overlooking the pool area, and of course a fantastic plunge pool. In the room we had swan towels laid out on the bed, a well-stocked free mini bar including beer, white and red wine, tequila, rum, vodka, and soft drinks, and a fruit basket and chilled bottle of champagne laid out.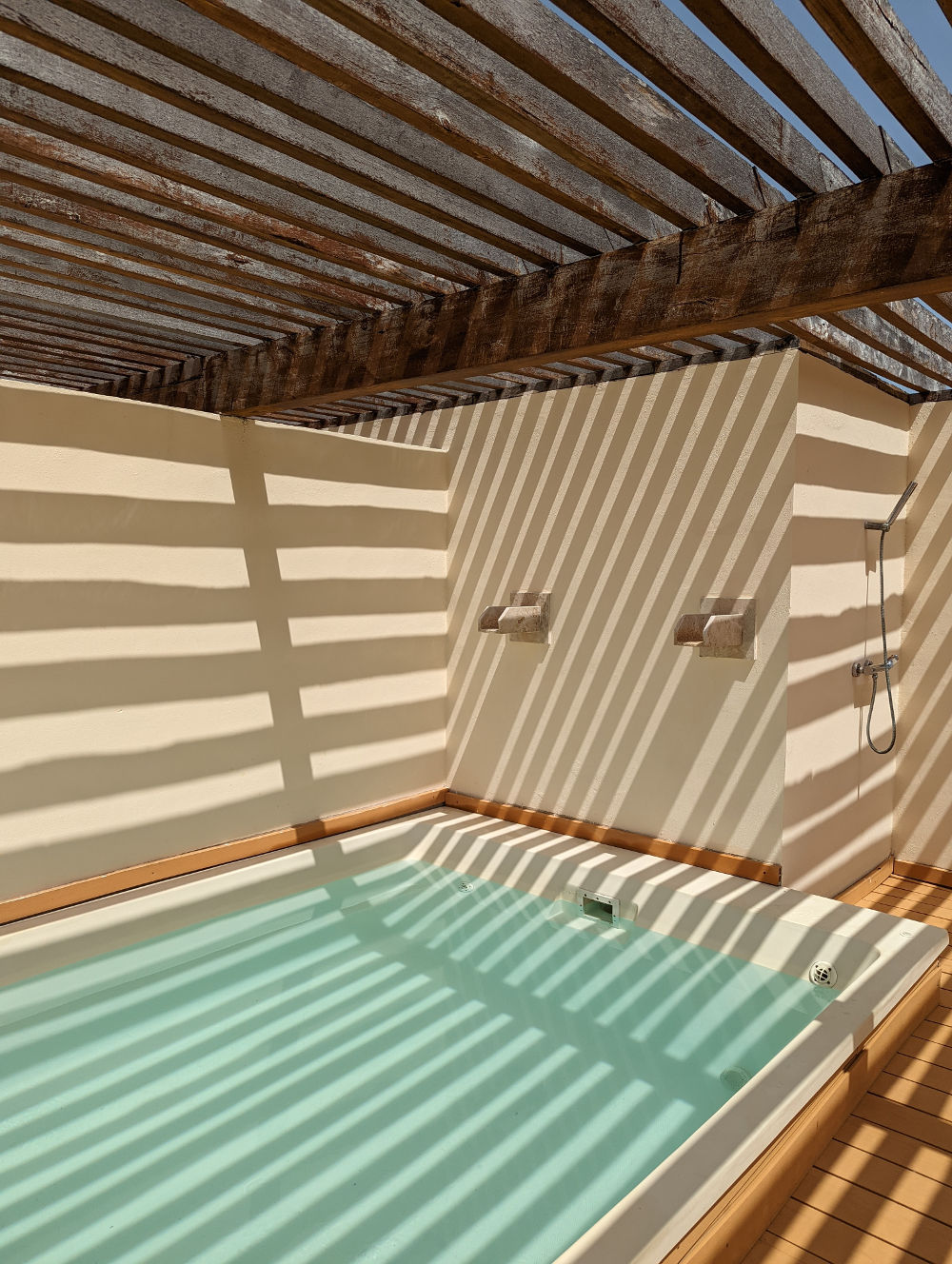 After a long day we showered, ordered room service for our tea, and relaxed on the balcony and in our room for the night. 
The following 10 days were the most chilled we have been in the 13 years we have been together. Normally, I have to have *multiple* projects to keep me busy, and I find it desperately hard to relax and do nothing, but the stunning climate, amazing hospitality, and relaxation after 2 years of planning a wedding, house extension, work and more, resulted in us being more than happy to do very little every day. 
Each morning we would go to The Kitchen Table for our breakfast, which offered a buffet of pretty much every breakfast dish imaginable. There was a hot counter with bacon, sausage, eggs, and other items, along with a chef cooking up any eggs you care to ask for. There were fresh juices, yoghurts, pastries, waffles, fruits, meats, cheeses and breads, and much more. And, of course, there was champagne readily on offer to make that breakfast extra special. We also utilised Aroma, the small coffee shop by reception, which offered great iced coffees, pastries, and sandwiches. 
There were plenty of options for lunch. Our favourite had to be Las Olas on the beach, serving up tacos, nachos, burgers and more with live entertainment and stunning views out to sea. Often we would be served by the staff around the pool and order similar dishes from our sunbeds. The VW campervan food truck by Prelude at the main square also served up great burgers, nachos, and hot dogs. Sol, by the main pool, had great wood-fired pizzas where you could enjoy beers and cocktails at the bar whilst you waited.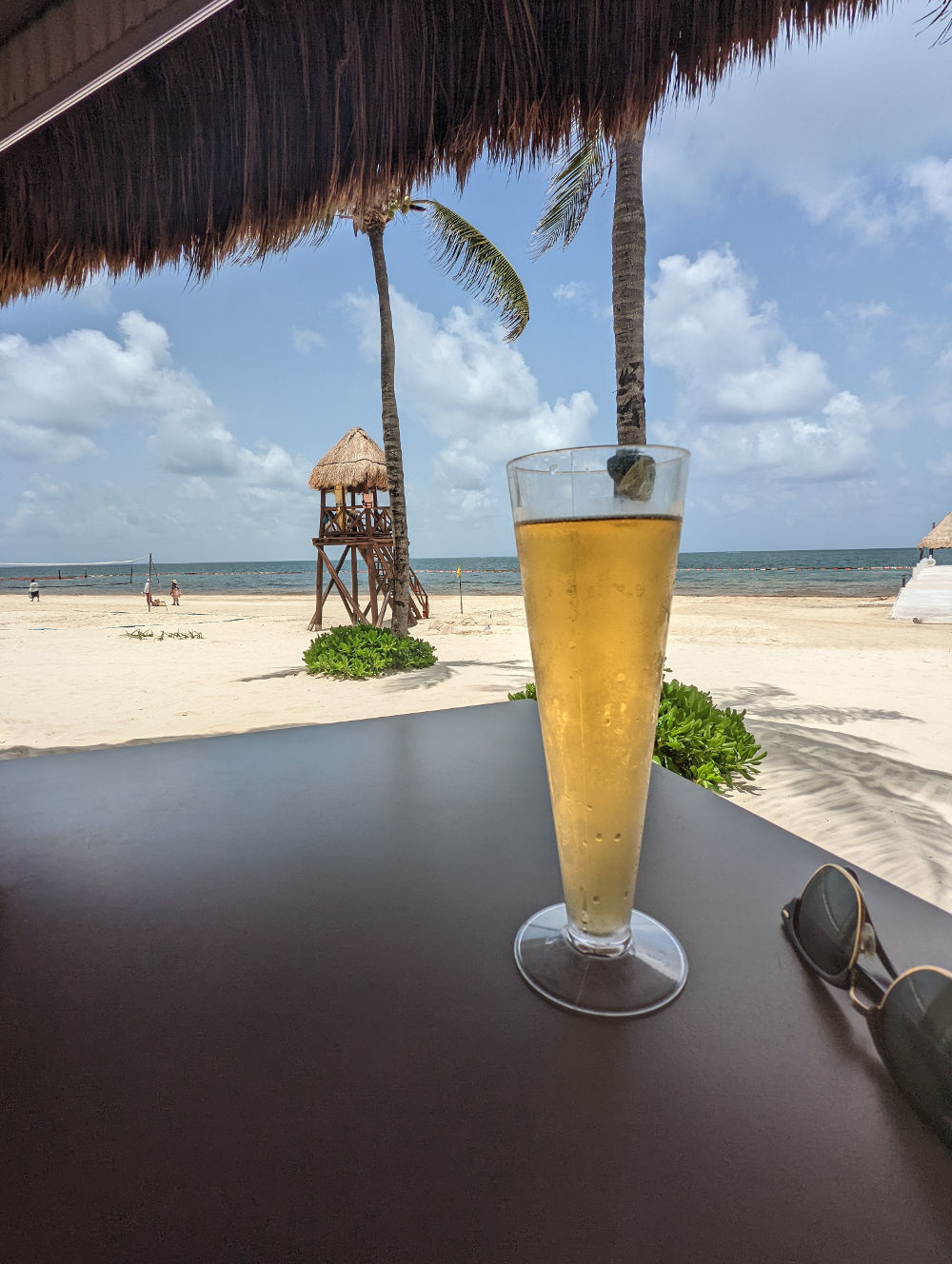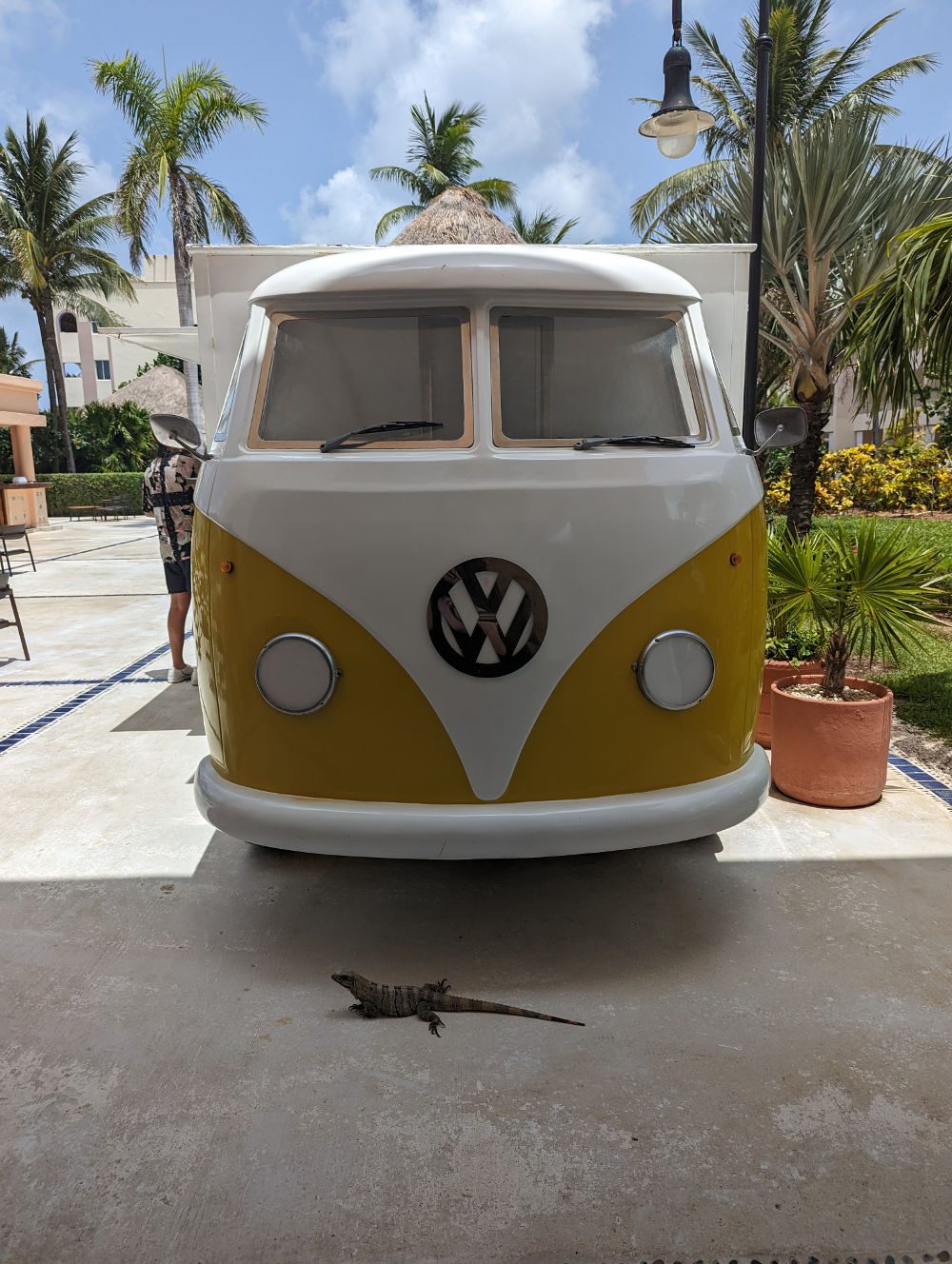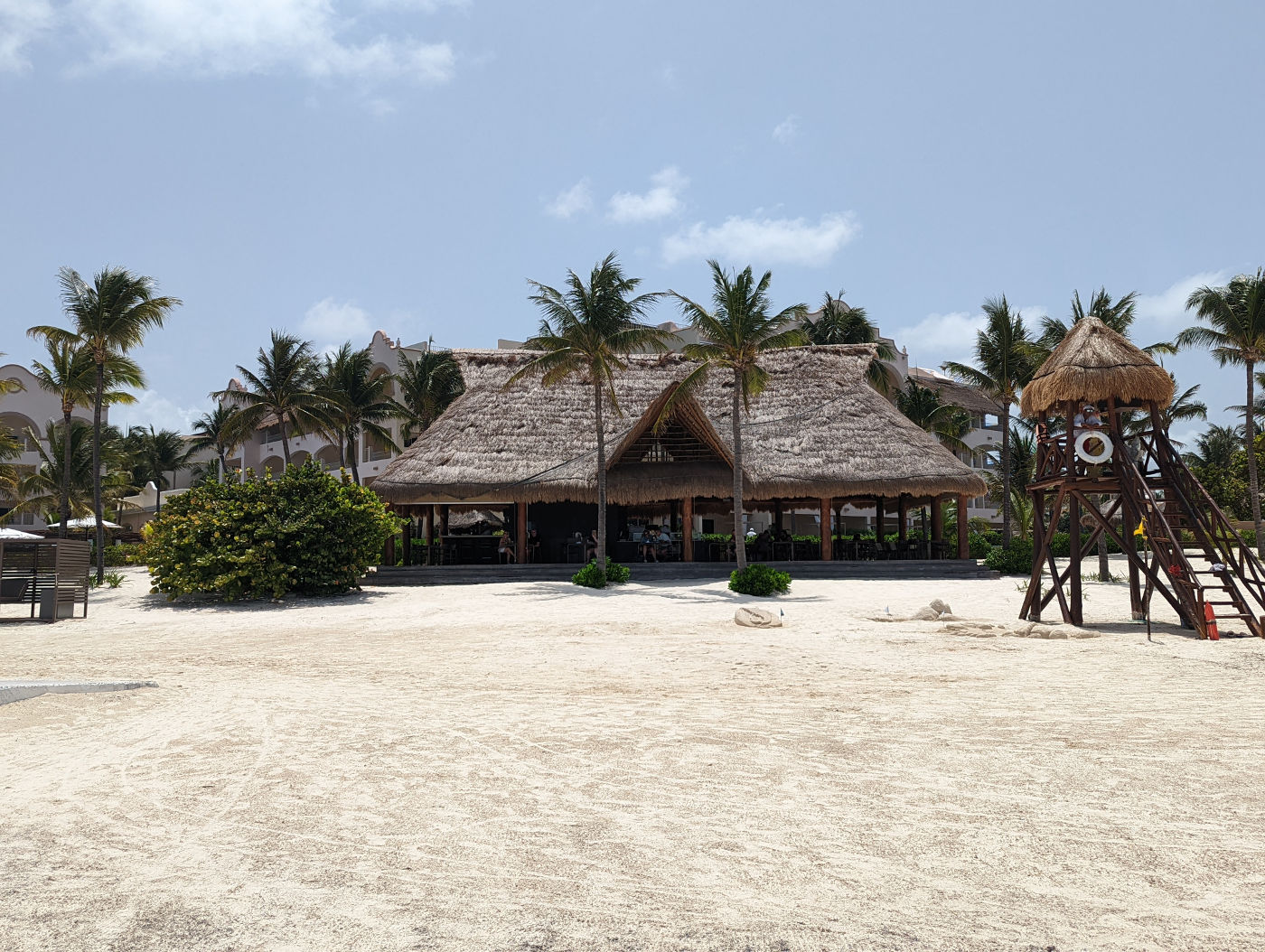 Excellence Riviera Cancun also offers 10 distinct restaurants, covering everything from traditional Mexican cuisine, Indian, French, Italian, Spanish and more. One of our favourite evenings was enjoying a meal outside at Oregano, overlooking the beach and pool area, whilst a saxophonist entertained guests. We also had a lovely meal at The Grill with a fantastic steak and wine, and the best service you could ask for. At busy times, you may have to put your name down on a list if the restaurants are busy, but there is plenty of entertainment to enjoy in the meantime taking place in the main square.
We also made use of the room service on a few of the nights, part of a generous 15-page offering of everything from pizzas, burgers, sandwiches, pastas, snacks and more, alongside desserts and drinks. The food was always delivered on time within around 40-45 minutes, by lovely smiling, helpful staff. 
Which does bring me onto the staff. Each and every member of staff we met at Excellence Riviera Cancun, from maintenance, to cleaners, to serving staff in the bars and restaurant, was so polite, friendly and helpful. Cleaning staff met you with a friendly 'buenas días' on your way down to breakfast, the serving staff around the pool remembered your favourite drinks orders after just one day, and the bar staff made the best cocktails with a smile. 
The hotel has six gorgeous pools, including a lazy river with a world-class spa in the centre. The pools offer different experiences, from the main pool and pool bar offering a party vibe with activities, volleyball, music and more, to the quieter pools perfect for relaxing. Pool floats are available but often taken early and heavily guarded! We tended to relax in the pool by building six, which was busy enough to be interesting throughout the day, but quiet enough to be able to fully relax.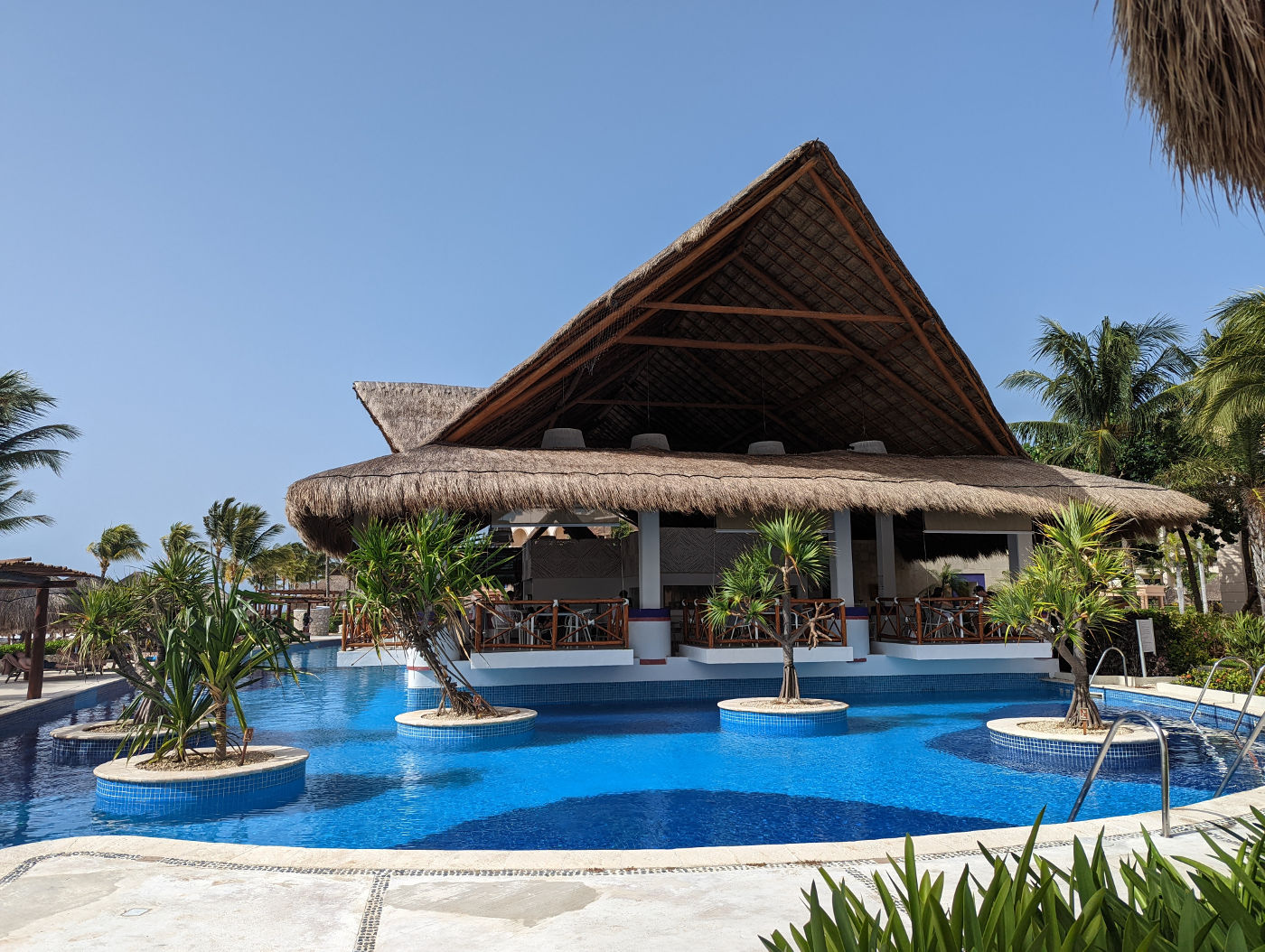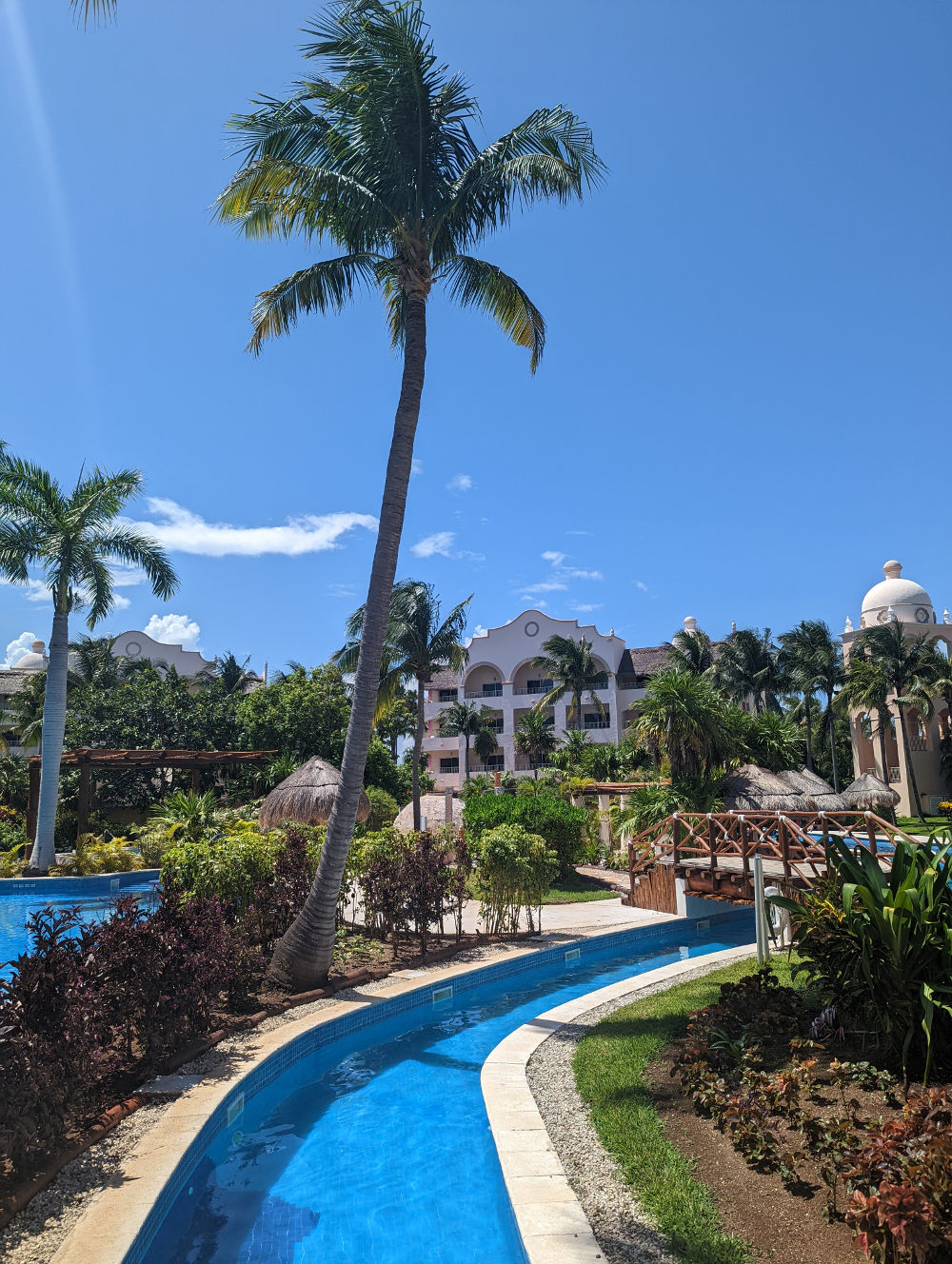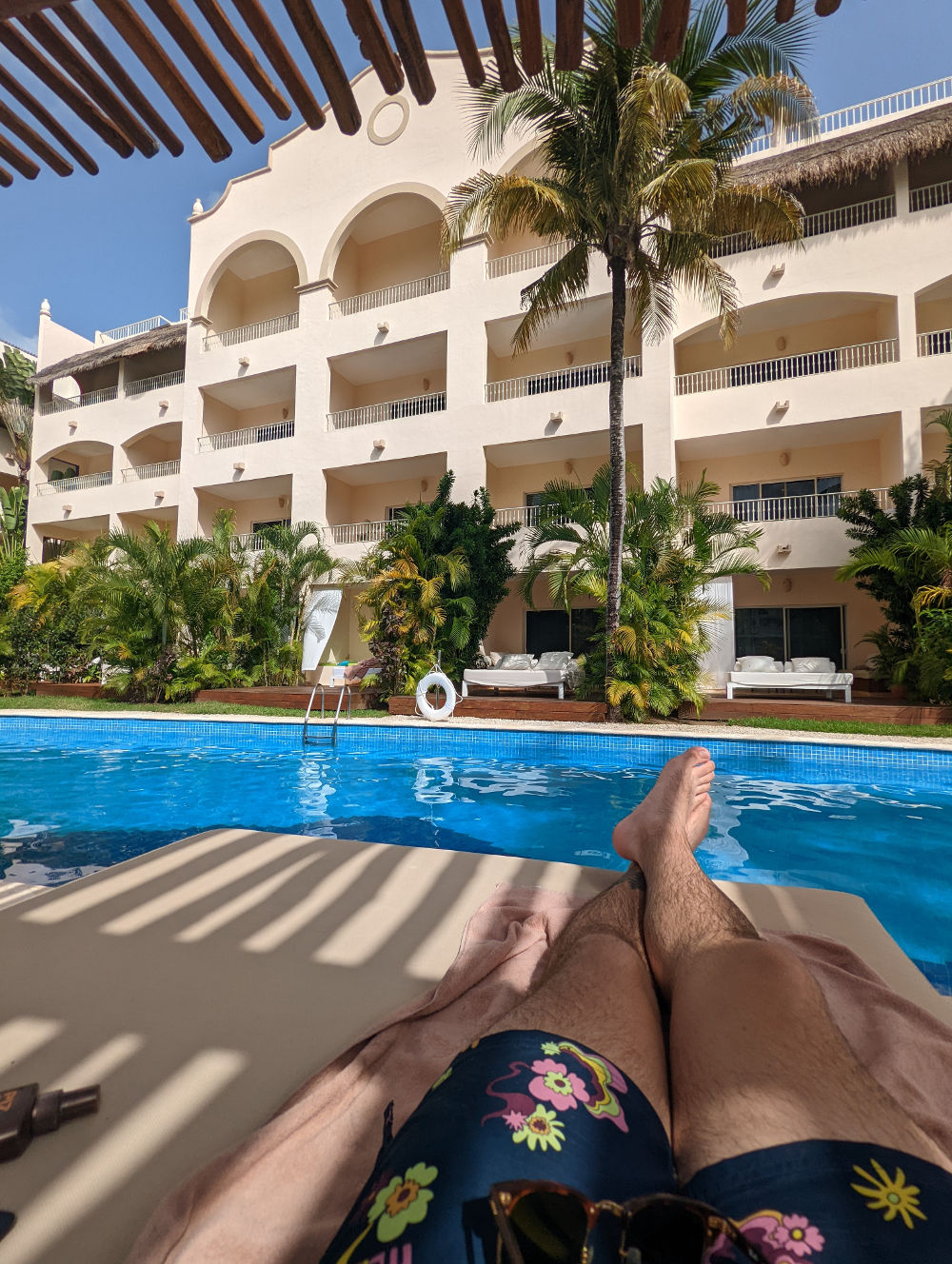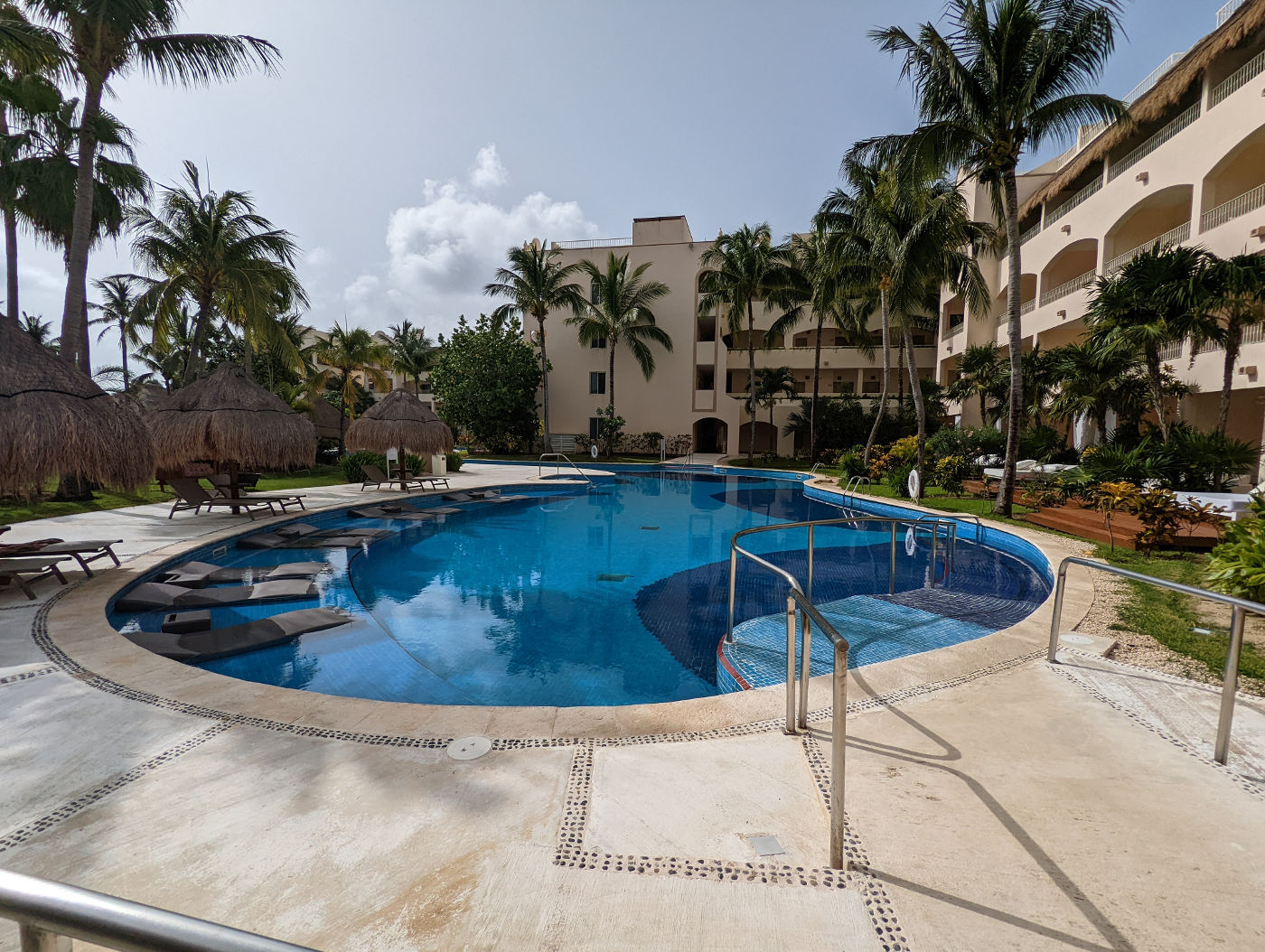 In the evenings, there was plenty of entertainment to enjoy in the theatre or the main square, fire acts to casino nights and Michael Jackson tributes. We enjoyed taking these in whilst waiting for tea or after we'd eaten. There's a large bar in the theatre but servers also head around those seated taking orders for drinks, so you don't even need to leave the comfort of your seats!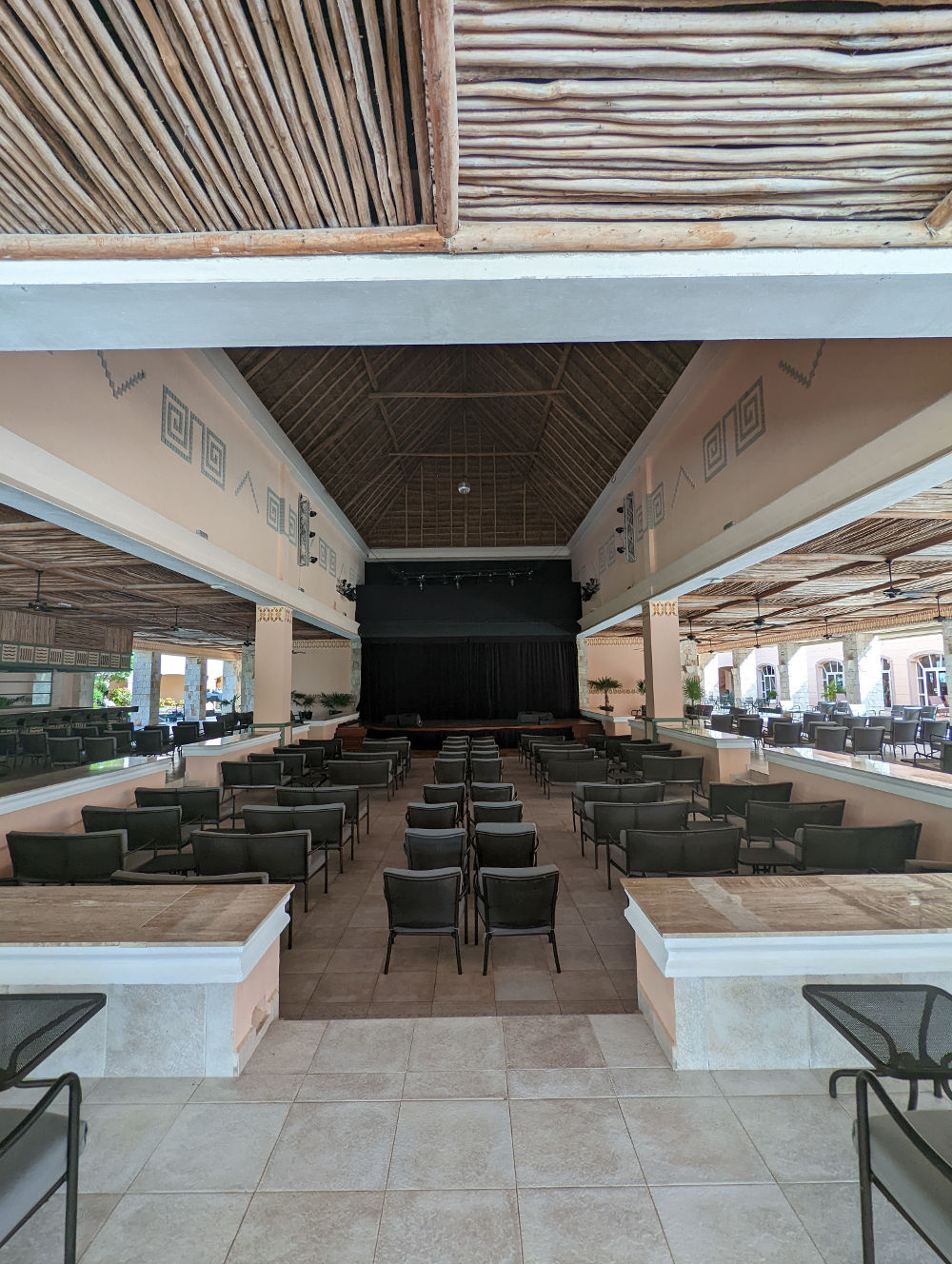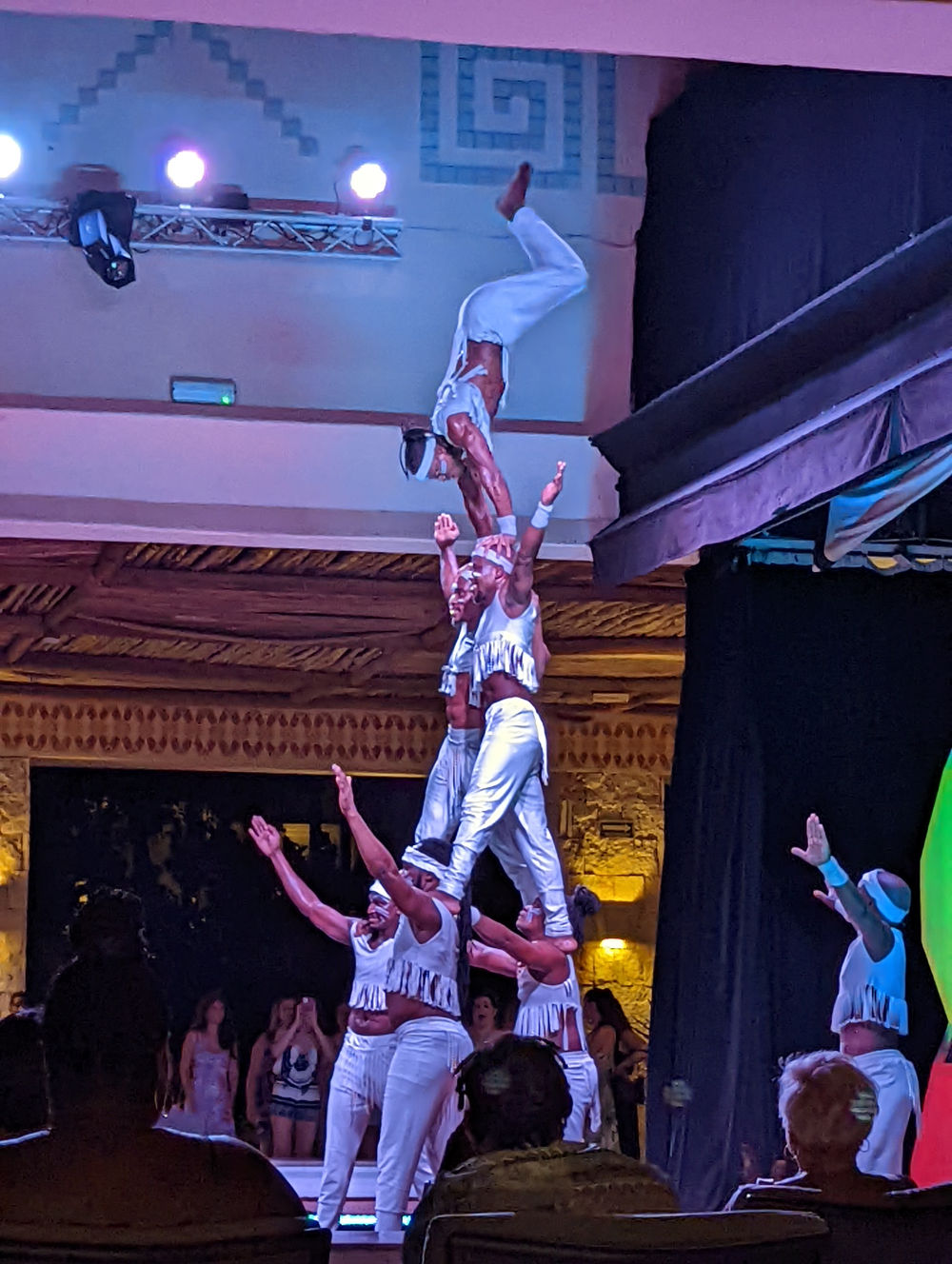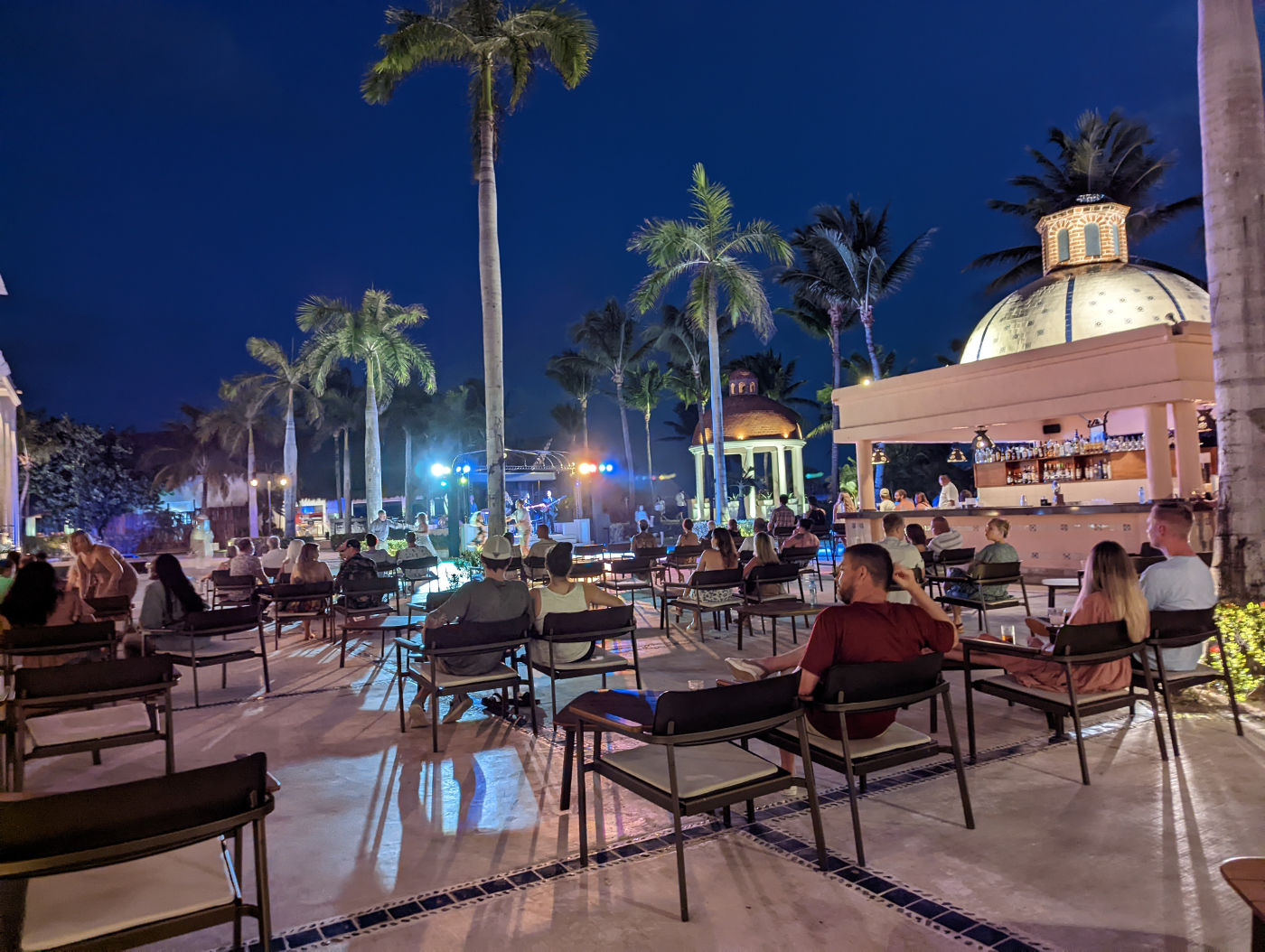 One afternoon, I took a walk along the beach to the local town of Puerto Morelos. The 45-minute walk is enjoyable, especially in the late afternoon sun, taking you past a number of other resorts along the way (including a nudist resort!). I had a wander around the shops and through the small town, before sitting in the front of Pangea Cafe with a couple of beers, overlooking the beach and the local life. As grey clouds rolled in, I decided it was time to head back, but I couldn't outrun the huge storm that absolutely drenched me. Thankfully I had a waterproof bag to throw everything in and quite enjoyed the cool down on the way back. By the time I got back to the hotel, the sun was out again and I managed to dry off on the balcony.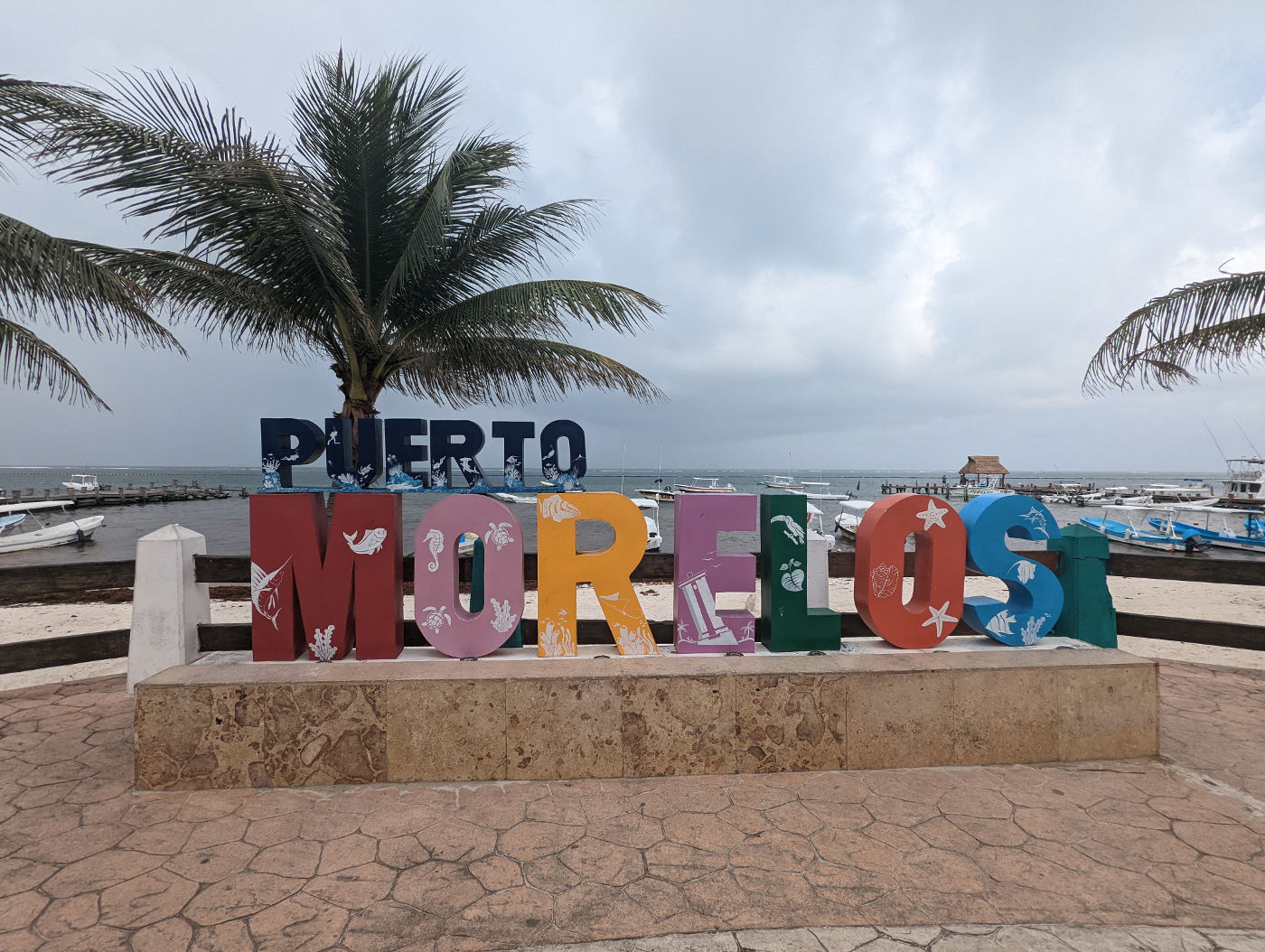 On our final day, we easily checked out of the hotel at 11am and caught our pre-booked taxi to the airport. The airport was much more relaxed than when we arrived, and the check-in process was easy. We wandered through the airport but mainly spent the couple of hours we had to wait in seats overlooking the runway. Neither of us had mobile data that we could use in Mexico. There seemed to be WiFi available but neither of us tried connecting to it. 
The flight from Cancun to Miami was fine, however as we landed we were told that we had nearly had to be redirected to Palm Beach as the weather was really bad in Miami, but we managed to land fine. We did have to wait on the runway for an hour or so as there was a backlog of flights accessing the gates due to the earlier bad weather. However, by this point we had already realised that our flight from Miami to London Heathrow was delayed by a couple of hours so there was no problem. 
There was some confusion as to whether we needed to collect and re-check our luggage, as the check-in staff at Cancun said we didn't but the flight staff we did have to. We took the gamble that we did not need to re-check them and thankfully everything was fine. We had to go back through busy security at Miami, however there was a separate, thankfully smaller, queue for connecting flights. 
Once through, we spent a few hours in the main airport, buying a couple of pizzas and very expensive $12 beers. On top of the delays we had already had, we were then delayed boarding as the plane was not fully stocked. We had the same issues once we finally boarded, as the catering truck had already left without fully stocking the plane. 
Finally, after around 4 hours of delays, we flew back to London. I managed to sleep a little  but Liv didn't sleep much at all. We got through passport control easily enough and managed to collect our bags which had made their way from Miami, before taking a black cab from the airport back to Renaissance Hotel where we were to collect our car. We originally looked for an Uber which was saying £27, but it's always worth checking with the black cabs too as these only charged us £17. 
We collected the car and began the 4 and a half hour drive home, which after travelling for almost 24 hours at this point with very little sleep was really tough. We had a quick stop en-route for the most sugar-filled frappe we could find at Costa Coffee to keep us going through the final slog, and arrived home by 6:30pm, 26 and a half hours after leaving the hotel in Mexico. 
It's always nice to get home after a trip, especially after a long journey home, and our cats were most certainly happy to see us. Our wedding and honeymoon were everything that we had hoped for and more.